What is the Bible?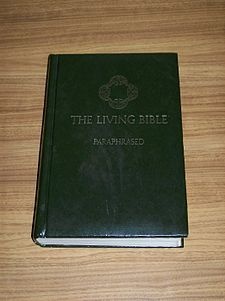 This is what the Bible I have says about it:
The Bible you have in your hand may appear at first to be a "stony field". It is a challenging book, but it is filled with rich spiritual treasures. These spiritual treasures are truths that can bring peace, joy, power, and new purpose to your life now.
But far more important, these spiritual treasures are the foundation on which God can create a new life in you that will never die. This eternal life, as the Bibles calls it, is of God.
The Bible says in John 1:12-13, "Yet to all who received Him [Jesus], to those who believed in His Name, He gave the right to become children of God - children born not of natural descent, nor of human decision or a husband's will, but born of God"
As you study the Bible and learn how to discover its spiritual treasures, you will realize the beautiful meaning of this statement.
This spiritual treasure is stated in other words in the Bible: "But these are written [ in the Bible] that you may believe that Jesus is the Christ, the Son of God, and that by believing you may have life in His Name." (John 20:31)
-- The Devotional Study Bible, p. 8
I've been reading the Bible since my high school days; that was some 50 years ago. Truly, it has given me love, and joy, and peace, and hope, and meaning in my life; I've come to believe and trust in the God and Savior in the Bible; and since then, I feel I am blessed by Him all of my days.
The Bible is a means by which we come close to the God of this universe; to know Him, to communicate with Him, to receive His blessings, and most of all to know what He wants you to do so that You can be with HIm in eternity.
God bless you.
Thanks for reading.