This is my second attempt to participate in "The bitLanders C-blogging." Feel free to check out my first C-Blog: "Bitlanders C-blogging: Dubai Smart City."
In Micky-The-Slanted-Salerno's recent post, I joined the Querlo chat where Hillary Summers shared new ideas for "The bitLanders C-blogging." The chat inspired me to look through the videos shared by "60 minutes" on YouTube to find a topic I might be interested in.
Here is a description of this channel:
"60 Minutes," the most successful television broadcast in history. Offering hard-hitting investigative reports, interviews, feature segments and profiles of people in the news, the broadcast began in 1968 and is still a hit, over 50 seasons later, regularly making Nielsen's Top 10. "60 Minutes" has won more Emmy Awards than any other primetime broadcast, including a special Lifetime Achievement Emmy.
I began with this video:

                                                                          

Video credit: "60 minutes" via YouTube
Among the "Playlists," this one drew my attention: "Remembering George H.W. Bush." The videos moved me to research about this outstanding person.
George Herbert Walker Bush had been faithfully serving his country for all his life, - with a weapon in his hands during the war and at high government posts in peacetime.
The 41st President of the United States led his country at one of the most important stages of the world history. He had political wisdom, so even in the most difficult situations, he sought to make thoughtful decisions.
I have selected several curious facts and other interesting information about George H. W. Bush. Join the chat below to check them out, please. Respond to my replicas choosing among the given variants.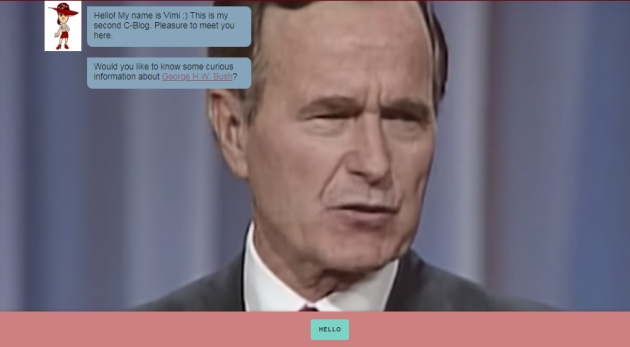 Image credit: Screenshot of Querlo chat

I am really thankful to bitLanders for the opportunity to participate in the project "The bitLanders C-blogging" that is claimed to be the future of blogging. Creating the second Querlo chat was much easier than my first experience due to the educational videos that I found in Micky-The-Slanted-Salerno's blogs.
Thanks for reading!