video credits: KinoCheck International via youtube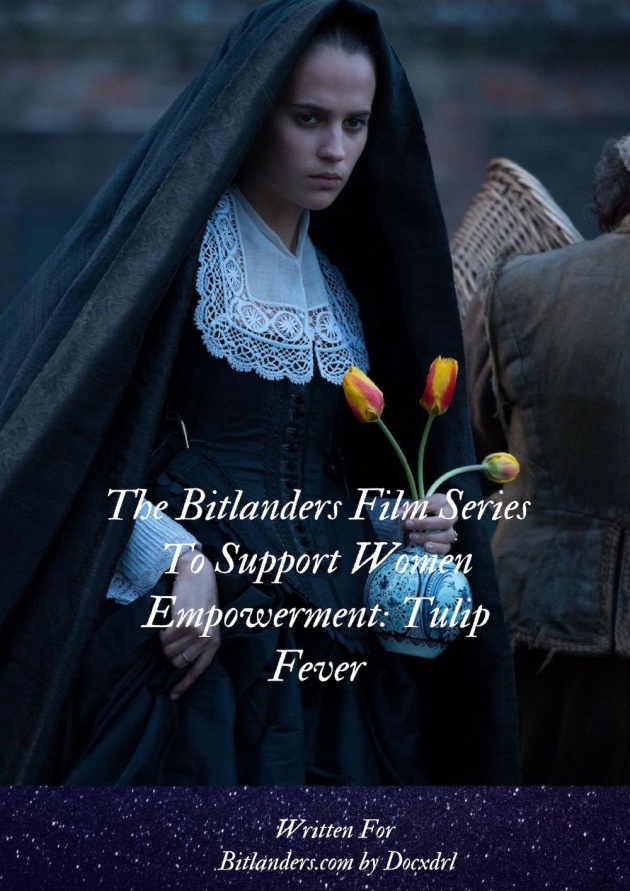 Image Edited on Canva by Docxdrl
The Bitlanders Film Series to Support Women Empowerment: Tulip Fever
A movie in the era of Tulipmania , an orphan girl's life is set in motion for destruction, betrayal, deceit and unfathomable lies in order to be with the one she's lusting for. In many ways, her life falls apart when she reconsidered what she has done and set out to be a good woman.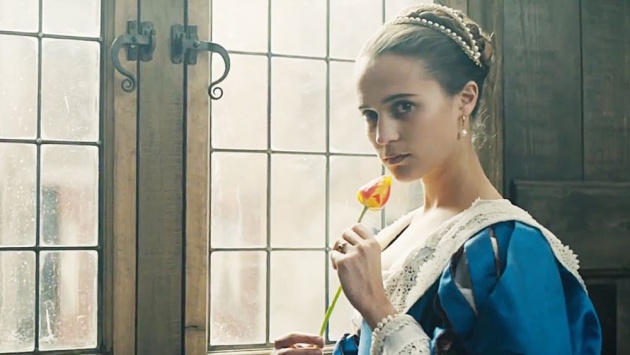 image credits: IMDB
In recent years, more films are trapped down in genres like sci-fi, fantasy, action, action-thriller. In my own opinion, it is because they are easy to make. But when dealing with historical movies like Dunkirk, care and detailed attention is needed. Dealing with societal issues, lust, deceit, the obsession with becoming rich overnight and a wife's unfaithfulness, watch out for TULIP FEVER.
Tulip Fever is a historical romantic drama film directed by Justin Chadwick written by Deborah Moggach and Tom Stoppard. The movie was filmed in Norwich Cathedral, Norwich, Norfolk, England and UK and produced by Alison Owen and distributed by Batrax Entertainment and ACME. Tulip Fever was an R-rated film because of its nudity and sexual content.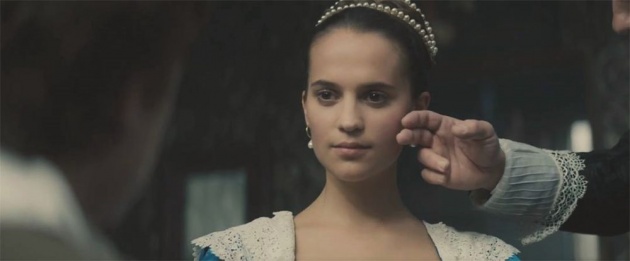 image credits: IMDB
The movie stars two Oscar winners. Alicia Vikander (The Danish Girl) who played Sophia Sandvoort, Judi Dench, (Abbess) Dane DeHaan as (Jan Van Loos), Christoph Waltz ( Cornelis Sandvoort ) Holliday Grainger (Maria ), Jack O'Connell (Willem Brok), Tom Hollander (Dr. Sorgh) and Cara Delevingne (Annetje).
The Movie Story
Sophia an orphan betrothed ( or sold ) to an elderly rich widower called Cornelis in order to give him an heir, male child to inherit his wealth. In exchange, her sister at the convent will go home to New Amsterdam.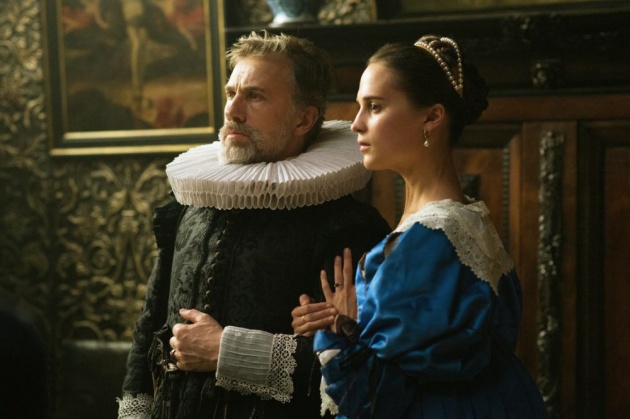 image credits: IMDB
Three years later, Sophia is unhappy as she has not conceived. Cornelis thought God is punishing him for his past mistakes with his late wife. His late wife had a miscarriage with the first child and during the second childbirth, Cornelis asked the doctor to save the second child instead of the mother, thus God punished him by taking both the mother and the child.
- Do you support women's empowerment?
One day, Cornelis decides to hire the services of a painter-Jan van Loos to paint a portrait of him and Sophia, so that he could be remembered for having had a beautiful young wife, should he have no heir to continue his legacy and inherit his wealth. After the painter's first visit, Sophia told her husband that they should hire another painter but later changed her mind. Jan van Loos had already fallen in love with Sophia, so also Sophia with him. The two started having an affair in secret.
Meanwhile, Sophia housemaid and friend Maria is in love with the fishmonger-Willem. Willem gave up the fish business for the underground flourishing Tulip market to make more money to be able to marry Maria. On a fateful day, Sophia burrowed Maria cloak to go see the painter. Willem mistook Sophia for Maria and thought that Maria and the painter were dating.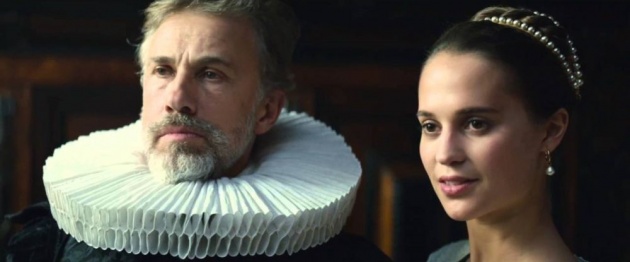 image credits: IMDB
Willem became crushed by the thought of Maria's unfaithfulness and goes down to the Tulip market to drown his sorrows. He was robbed of his hard-earned cash by a prostitute, when he tries to find her and retrieve what she stole, he was beaten to a pulp and forced to join the navy.
Jan van Loos wanted to run away with Sophia out of Amsterdam. Without enough money entered into the flourishing Tulip Market by attempting theft at the same convent, Sophia was bought for baby making. The abbess forgave him and helped him start the Tulip business by giving him Willem bulb as Willem has not been back for a very long time.
After a while, Maria realizes she is going to have Willem's baby. With Willem gone, having the baby out of wedlock is a disaster. She then explains her ordeal to her mistress Sophia. She threatens to expose Sophia secret if she told Cornelis about her and the baby. Sophia hatched a plan to save them both by faking she was pregnant after three years.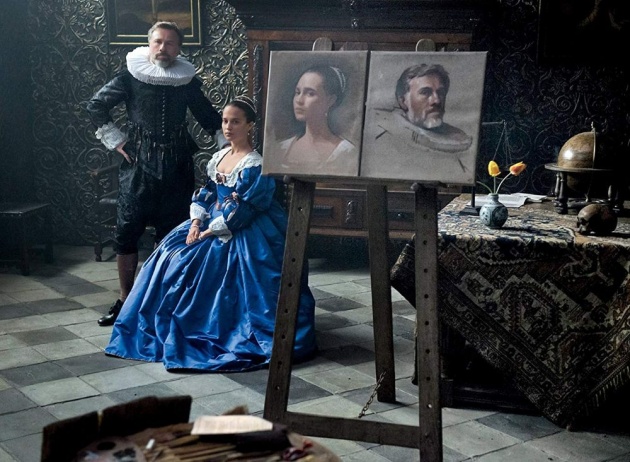 image credits: IMDB
The plan was to fake Sophia death during childbearing, so Maria can raise Willem baby as Cornelis child. The plan seemed perfect until Sophia grew a conscience after seeing Cornelis grief-stricken at the loss of his wife. Sophia realizes it was too late to undo what she has done, ashamed of herself, and her deeds, she ran away from Jan van Loos the painter.
A hideous secret like this cannot be kept hidden for a very long time. On a fateful day, Willem showed up, Maria was furious with Willem and Willem told her that he caught her cheating on him with the painter. Maria pointed out, it wasn't her but her mistress Sophia. Unfortunately, Cornelis was listening to the conversation and soon realize that what he did to Sophia was wrong, and forgave Maria for lying to him.
Cornelis made peace with the truth, moved out of his house, signed the deeds of his home to Maria and Willem. In the Indies, Cornelis found love and started a new family.
Eight years later, Jan was commissioned to paint a mural in the church. He saw Sophia amidst the orphans, she slightly nodded to him and Jan smiled back at her.
The Lessons in Tulip Fever
In as much as I love watching movies, I find that I am not so fond of this particular movie. There are several reasons why I don't like this movie;
Love
The first noticeable thing about this movie is the concept of love. There was no love between Cornelis and Sophia. She's bought with a price tag
she's a baby making factory, there is no love, nor affection of any sort. All that is there is for her to be a good wife and give Cornelis heir to inherit his wealth
As Cornelis rightly pointed out – a man may wish to leave something behind, a child to inherit his wealth and legacy.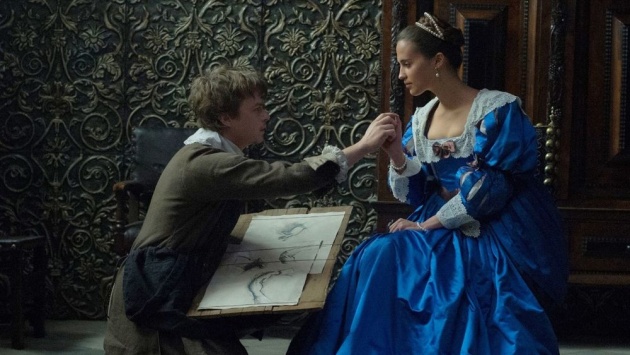 image credits: latimes
The love Sophia had for Cornelis was out of creating a safe passage for her sisters. This is the genesis of the failed relationship between Cornelis and Sophia. At some point, Cornelis did really love her, because we see it clearly when he broke down as he learnt his wife died during childbirth.
Men Misconception of Women
I'm a proud Nigerian. This is still a problem in Nigeria right now. Men Misconception of Women as baby factories. We are so keen on needing a male child that we forget the feelings of our wife. Sophia became unhappy when she realized that she could not bear children for Cornelis.
Children are a gift from God.
Behold, children are a gift of the Lord, the fruit of the womb is a reward

Psalm 127:3
A woman should not be considered a slave, a baby factory, and some instrument to be used for keeping legacy or keeping wealth within the family. This is where Cornelis failed in the movie, to realize the love for his wife, and when he did, it was too late. To any barren woman reading, God has a scripture for you.
He makes the barren woman abide in the house as a joyful mother of children. Praise the Lord!

Psalm 113:9
No matter the category you fall into, there's a scripture for you.
A Cheating Wife & a Faithful Husband
In as much as, there's going to be controversy to the above sub-heading, I would point out some things. It is a truth that the husband was old, blinded by his ambition, greedy and even stooped so low to call Sophia his wife an investment. In the course of the movie, Cornelis never cheated on his wife or done something to show otherwise.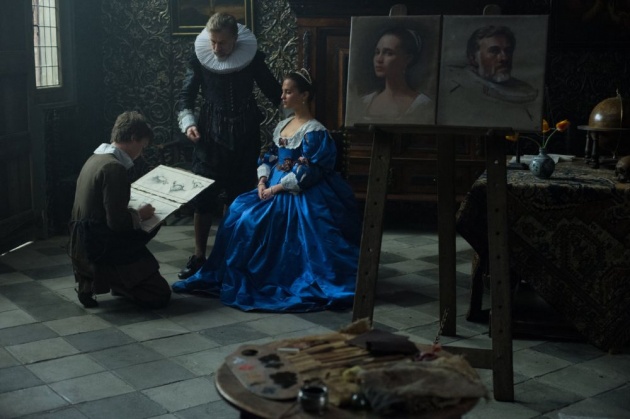 image credits: steelfrogblog
Sophia on the other hand, cheated on her husband, she was deceitful, she successfully ruined her marriage and many lives in the process as she lusts for Jan. A single shameless act ruined everything! This story portrays the mind of a deceitful woman at work.
-What kind of movies do you like?
How a woman can be a mastermind shifting player around like in a chess game just for a selfish desire. The mind of a woman who needs to be free from the obligations of being married as an investment. Women are great but can also be vicious snakes one has to beware of from time to time. tulip fever portrays the lustful woman's fever!
On A Final Note
I honestly admired the relationship between Maria and Willem, I liked the message in the movie Tulip Fever. But to be honest Tulip Fever is a waste of time, a movie with bad feedback and only suited for adults because of the sex scenes. I wish the story could have been told better in a way it conveys the message of Love & unfaithfulness.