This Saturday, I had asked my husband James if we could visit a cafe specifically the Cat Cafe PH in SM Seaside because I want to take photographs of these cute creatures. He agreed and so just a few minutes past 11 in the morning, we were already inside the mall.
Video credits: Jean Beltran via bitLanders
Cat Cafe PH is obviously a cafe with lots of cats living in it. This type of cafe has been famous in some other parts of the world. In the Philippines, there are also other cafes which feature cats and other animals but what really had encouraged me to come here was Judy's recent video where her twins went to a cat cafe in Japan and they had a great time with their aunt who was babysitting them.
So I had been looking forward to also visiting a cat cafe since then. Finally, that plan had been realized. Let's see how was my experience that Cebu City's very own Cat Cafe?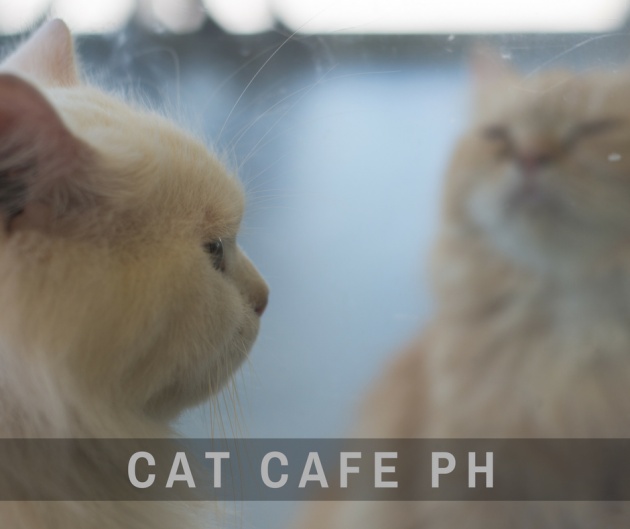 Image edited via Canva credits: Jean Beltran via bitLanders
About Cat Cafe PH
The 1st Cat Cafe in the country located in Cebu City for passionate and Cat loving people that want to cuddle our 15 adorable babies. Come dine & unwind.

Information from: Catcafephilippines
Originally established in Guadalupe, Cebu City, the Cat Cafe PH had moved their location to SM Seaside's Sky Park where the children's playground and other restaurants are also located. But since the cafe is in the middle of the Sky Park, one has to go out of the mall and walk a few steps to reach the cafe.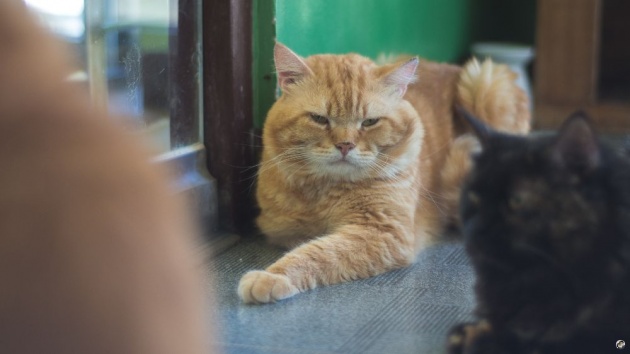 Image credits: Jean Beltran via bitLanders
A few years ago, Cat Cafe PH had only 15 cats now, they have 20 Persian breed cats who are living inside the cafe, yes they are here 24/7. The cats have their own names as follows:
- Chong
- Boogie
- Cheech
- Samurai
- Stimpy
- Ninja
- Kush
- Smoke
- Bubblegum
- Lola
- Pumpkin
- Cotton
- Thundercat
- Mcmood
- Shogun
- Hunter
These are their published names, while the rest of them are not yet given, however, they will get their own handles sooner or later.
The Cafe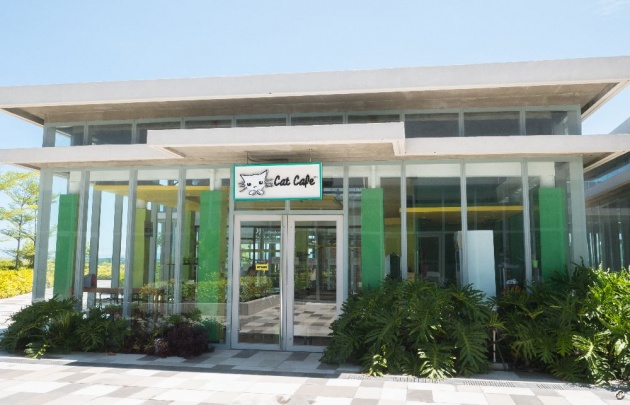 Image credits: Jean Beltran via bitLanders
James and I took the elevator on our way to the top floor of the mall, it was still early so there were not much mall goers yet. As we came to the third floor, we walked towards the Sky Park. From where Seafood and Ribs Warehouse is located, the Cat Cafe PH is already visible through the glass walls.
The cafe's signage has the cafe's name in it with a cat cartoon figure, I pushed the door to get inside. In front of me was already a white Persian cat looking at the door. It felt like it wanted to go out so I quickly closed it as soon as James was inside.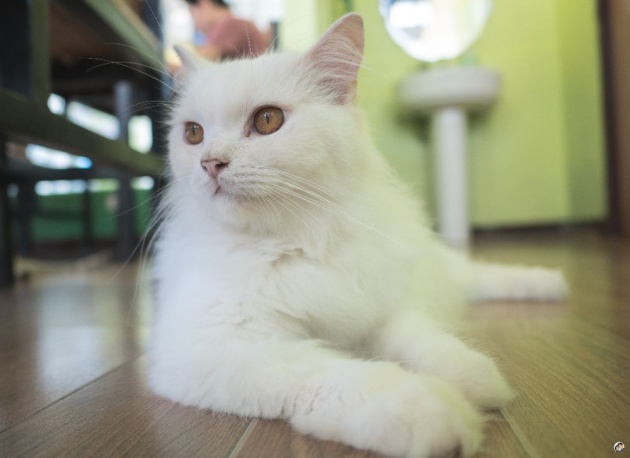 Image credits: Jean Beltran via bitLanders
On my right was the front desk and cashier at the same time. It seemed like only one staff was on duty that time. I went near the desk as James looked for a table to sit on. The cashier staff told me to order first before we get into the cat lounge and so I did.
I ordered their Chocolate Mocha Frappe while James asked for a Super Halo-halo. Obviously, we didn't have lunch yet but because of Cebu City's temperature, we were both cravings for some desserts and cold treats!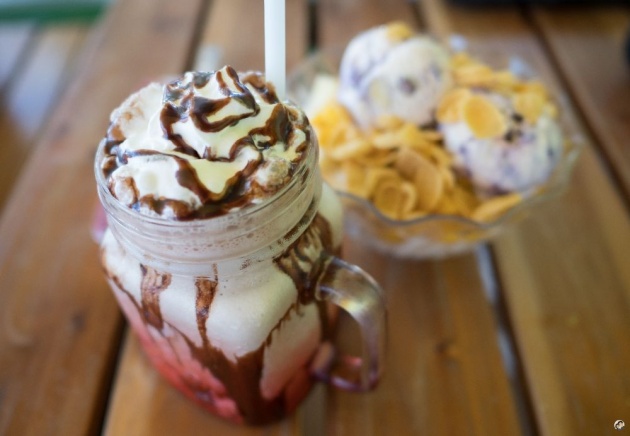 My Chocolate Mocha Frappe costs Php 105. Image credits: Jean Beltran via bitLanders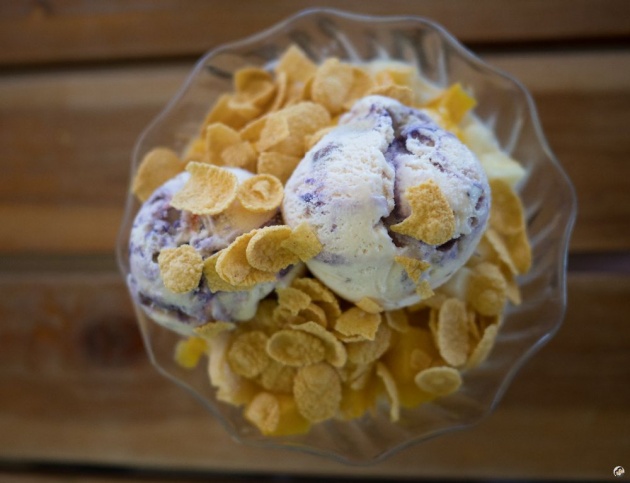 James' Super Halo-halo costs Php 150. Image credits: Jean Beltran via bitLanders
The sweet treats were very okay, James liked that his Halo-halo contained some fresh fruits! Serving was also fine!
A Php 50 fee is included if a guest would like to go to the cat lounge and since James is fine to be on the table editing on his laptop, I only paid well for one person.
Aside from the two of us, there was a family at the other end of the room and it looked like their kids were really enjoying the cats. I felt like the entire family loves kitties and fur!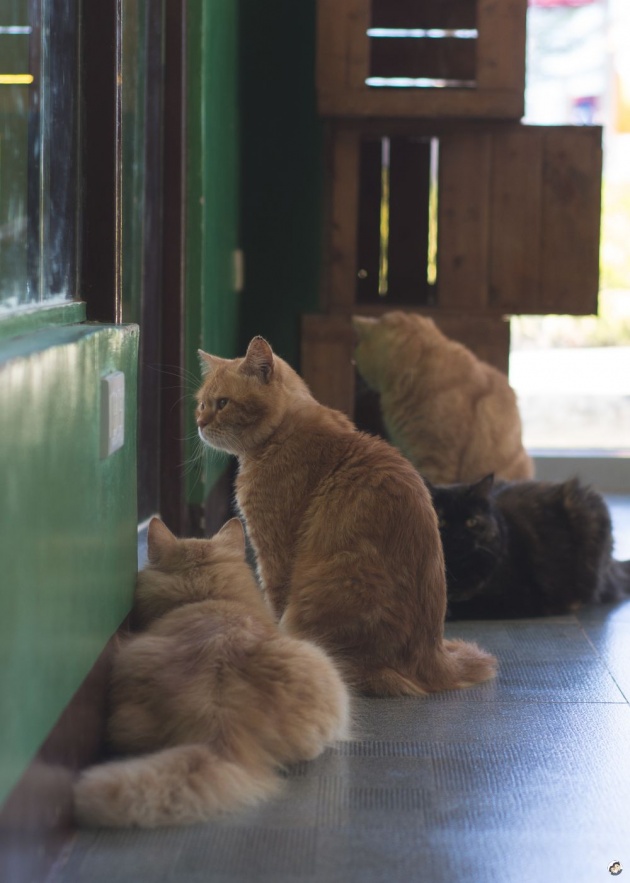 Image credits: Jean Beltran via bitLanders
For me, the cafe is very basic. There were only tables and chairs but very less aesthetic components. There's a bookshelf on the left side of the main door but it looked unmaintained and very basic with just a few books and a little accessory for beautifying the cafe.
Some disinfectants were placed in some areas of the cafe as it is required to wash your hands or disinfect it first before and after dealing with the cats.
But what really discouraged us at first was the smell inside the cafe. There's a very distinct and it was suffocating at first. James was already telling me about it when he first came in and was almost about to get out but I had to insist on staying as I want to take photos of the felines and he agreed but he was already complaining about it when he sat on his seat.
Upon research after the visit, the smell was really because of the cats' urine most especially those coming from the male cats. I guess the staff who was mopping the floor was using some kind of freshener to hide the smell but it was still very obvious.
The Cat Lounge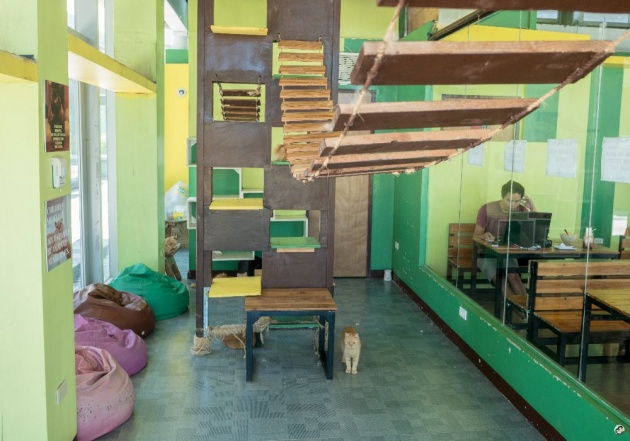 Image credits: Jean Beltran via bitLanders
Two cats were outside the lounge when we arrived, a fat white Persian cat and a yellow one were playing with each other. Inside the lounge were a few kids taking photos and selfies with the cats.
I went ahead with my camera, left my footwear outside and opened the door. It was a little hard to open the door, it seemed stuck but I was able to manage it after giving a few strength to push.
There were more than 20 cats inside and most of them were yellow ones. But they were not excited to see humans inside their lounge! Most of them were just lying and sleeping in the counters and chairs.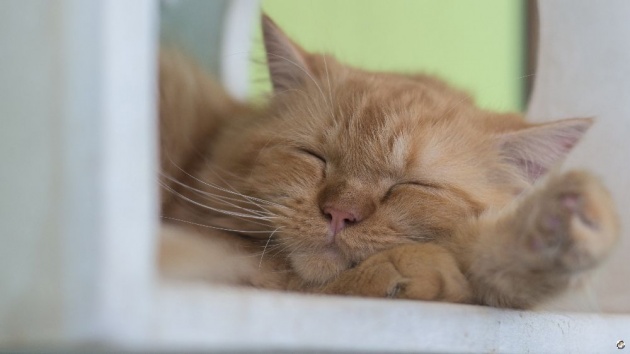 Image credits: Jean Beltran via bitLanders
I could still smell the same bad scent but it is manageable. When the kids opened the door to get out, two cats found their way out too! I felt a little bad that they got out of the lounge while I was looking at them.
Anyway, it was a bit challenging to take photos of these cats, either they were sleeping and their heads were hidden under them or they were just in their cupboards hiding and very uninterested to whatever is going around them. They were bored toms!
Also, they lack grooming! All of these felines were wearing long furs and cat hairs were all over the place! Their bean bags were also full of cat scratch and their playpens and boards look very unclean!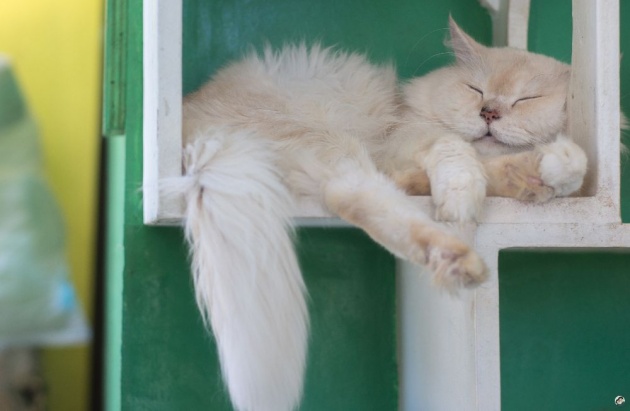 Image credits: Jean Beltran via bitLanders
I don't know if it was just me but I really felt like this is of a low-quality cafe. Their cats were not clean, they got some dirt in their faces and I even saw some of their feces behind the chair which the cats were smelling! I couldn't find a litter box for them too!
I had enough of photos and I really felt these cats were not well loved inside. So when I got home, I checked for their previous location's ambiance and found it to be better than what it looks today. I don't know what happened but the Cat Cafe PH today looked really bad, it lacked a lot of things and I felt they are just up for their business.
Video credits: Jean Beltran via bitLanders
On Google Maps, I rated them 2 out of 5. The surprise was when we were about to go, the Air conditioning started pouring like there's rain inside the cafe. The cashier staff had to pull out some pails to catch the water but it was already unmanageable when the pipes started leaking too! I was really sorry for the staff. She has to mop the entire cafe plus the one inside the cat lounge.
This blog entry was written and published by Jean Beltran-Figues for bitlanders.com.
Join me, click here to sign up.