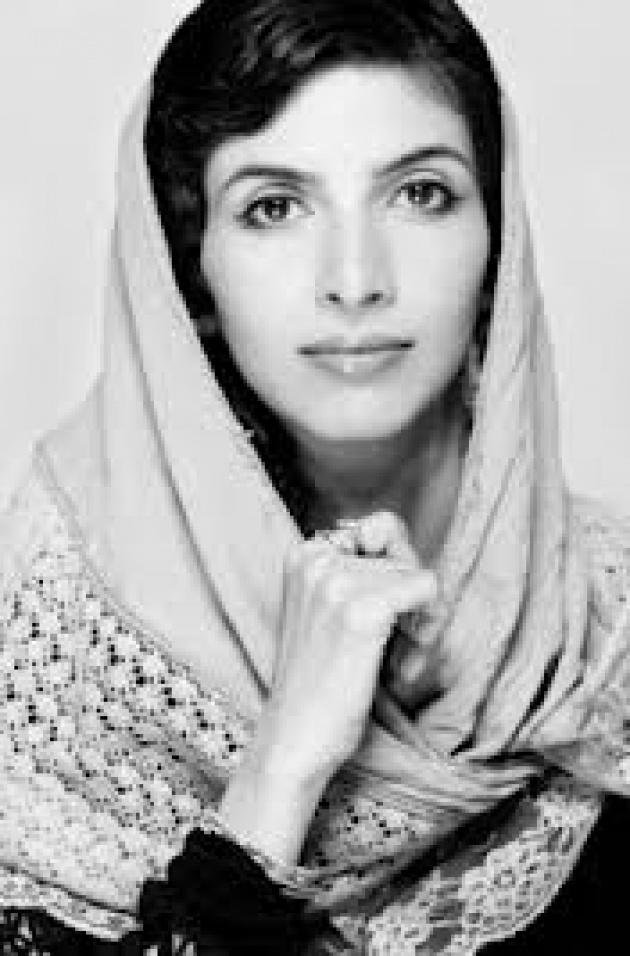 According to the dictionary, courage is "what makes someone capable of facing extreme danger and difficulty without retreating. Courage implies not only bravery and a dauntless spirit but the ability to endure in times of adversity." Courage is the ambition to break barriers that haven't been broken. It's the commitment to arrive where others haven't been. It's the willpower to succeed where others have failed. All despite the risk to lose everything, including your life.
Courage is Roya Mahboob.
Roya is a 25-year-old female entrepreneur, CEO of Afghan Citadel Software, a company that provides IT assistance to various businesses and institutions in Afghanistan, including hospitals and schools. Roya is unique. Not because she's young, but because she is an independent woman in a position of authority in a country in which women are denied most basic rights, including opening their own business. Roya is currently leading a team of 20 software programmers who recently graduated from Afghan universities. One of her goals is to continue to offer job opportunities to these young professionals, especially women, giving Afghanistan that breath of fresh air that is deeply needed after so many years of war. In Afghanistan there is a huge range of opportunities that have a potential to be developed, and business entrepreneurs from all over the world are starting to pay attention to it. Roya doesn't want to miss the train. Actually, she's ahead of the times. Her company's projects are currently worth half a million dollars, and she is currently collaborating with Film Annex, an American company that offers a web-based platform for independent filmmakers to broadcast their work. They joined forces to implement the Afghan Development Project, which plans to build Internet classrooms in 40 schools in Herat, the third largest city in Afghanistan. They will be offering logistics and curriculum to about 160,000 children, who will have the chance to not only be connected to the World Wide Web, but also to utilize this connection to strategize ways to develop more professional opportunities for themselves. This will translate into more opportunities to improve the economy of Afghanistan, contributing to the growth that this country will experience once the situation gets more stable and safe.
Everything sounds beautiful, but nothing in the world comes without a price to pay. Because of her will to break with a male chauvinist tradition, Roya has been exposed to social and professional discrimination, as well as psychological and emotional threats. It can be discouraging, to say the least. One thing is not to be able to succeed because of lack of resources. One thing is having the resources, but being discriminated just because you happen to be a woman. This is Afghanistan today. Culture is a beautiful thing, but when it prevents individuals from achieving what they strive for, it's just an obstacle to progress. And I'm not just talking about professional opportunities. Women remain second-class citizens in Afghanistan, especially in rural areas. They spend most of their lives hidden within the walls of their home. When they get out, they must cover their entire body and need to be accompanied by a male relative. They can't choose their spouse, and need to be ready and willing to be given as wives at any time during their lives with no objection. Domestic violence is rarely denounced and remains mostly undocumented.
Roya's family is very supportive of her career, but the world in which they live is not so supportive. The threats she is receiving are extended to her family members as well, as some think her behavior is bringing shame upon the community. It becomes clear that what represents a huge opportunity not only for Roya, but also for all the women who work with her, comes to a price. As for now, she's giving many women the chance to work from the safe hidden walls of their compounds. Until culture changes, many women will at least be able to use virtual technology and benefit from its practical application in the real world. However, more is needed in the next future for a more radical cultural change. And this is where Roya is playing her role.
Roya is not just a phenomenal entrepreneur. And she's definitely not a self-centered, self-serving or egocentric businesswoman. She's a symbol, a symbol of opportunity, inspiration and courage. Opportunity for every woman who has the strength to join her. Inspiration for every woman who has the heart to get up and demand respect for her rights. Courage for every woman who has the will to fight for those rights.
Roya is giving voice to all Afghan women who can't speak out. Her voice is their voices. Her courage is inspiring global courage. And global courage changes society. It always has.
Giacomo Cresti
http://www.filmannex.com/webtv/giacomo
follow me @ @giacomocresti76