The Dakota was built between 1880 to 1884 on the highest point of Central Park West overlooking Central Park at 72nd Street in New York City. The land belonged to August Belmont (The Belmont Stakes), who was a banker for the Rothschild Family in NYC. August sold Edward S. Clark two lots for a total of $200,000. The first lot is obvious, where the Dakota sits today, and the second lot is where The Mayfair Apartment House sits today (a large white modernish apartment tower that was built about 1974, right next door to The Dakota). That site was first called "The Dakota Gardens" and had a croquet court, clay tennis court, and stables for horses. The Dakota was the first luxury apartment building in Manhattan. Clark hired Henry Hardenburgh, the archeitect (also known for designing The Plaza Hotel in 1907), and Frederick Gilbert Bourne, the Project Manager, to build this architecturally significant landmark. Now, this New York City landmark home to the rich and famous. When the Dakota opened in October of 1884, it had 65 large apartments on floors 2-7, and numerous rooms on 8,9, and 10 for the domestic help that lived there and worked in the apartments below. Today, there are 103 apartments in this beautiful apartment complex.
The Dakota is famous as the site where ex-Beatle John Lennon lived and was tragically killed in 1980. Yoko still lives there on the 7th Floor overlooking the beautiful "Strawberry Fields" memorial she created to honor John's life. She lives in what was originally Edward Severin Clark's apartment, the eldest grandson of Edward S. Clark whose brainchild it was, and whose money from his Singer Sewing fortune financed the building's construction. Following his grandfather's death, when he was twelve, Edward Severin Clark inherited The Dakota. He had three brothers, who also inherited vast amounts of real estate in New York City and Cooperstown, New York as well.
Clark named it the Dakota because of his love of the Old West. During that time, New Yorkers lived downtown, because the city was settled and grew from Battery Park / Wall Street to the North. Critic's would comment that "nobody will live there, it's like living in The Dakotas (referring to the Dakota Territories, as they were known then). My great-aunt's father was Commodore Frederick Gilbert Bourne, and he oversaw the construction of The Dakota for the Clarks, and lived in the grandest apartment in the house. My ancestor's apartment was originally designed and built for Alfred Corning Clark, who was Fred's best friend. They met when Frederick was in the Trinity Church Choir, and Alfred was a patron, as well as a vocalist. Edward S. Clark never got to see the building finished, as he tragically died from a sudden heart-attack in 1882. He left Fifty Million dollars to his son Alfred (roughly 5 billion dollars today!) Alfred was not interested in running Singer, so he left the manangement of the company to Frederick Bourne.
Alfred pursued his interests in the arts. He was on the original Board of Trustees of The Metropolitan Museum of Art. He went to Paris to build his own art collection and commissioned art for the museum, while construction of The Dakota moved forward. He told Frederick Bourne that he wanted to live there when he returned to New York City, so he asked him to build a comfortable home for him on the first floor complete with 15-foot ceilings, fireplaces, a ballroom with organ, and a swimming pool to do his laps!
When the architect Alfred Clark arrived back in New York City for opening day in 1884, Alfred was touring the Dakota with Frederick and his wife Emma, who had lent a female touch to the design process. Alfred asked her, "Are you happy with the job?" Emma replied: "Yes!" Then he asked Emma: "Did we miss anything?" She responded: "It's all here!" Then Alfred inquired: "Will women enjoy the kitchens and baths?" "Yes!" Emma stated. Alfred then asked: "Would you live here"? And she said, "Oh Alfred, of course!"
With that, Alfred he reached into his pocket and and handed the keys to Emma and said, "Good, I'm glad these are for you and Fred"! Their apartment had roughly 23 rooms and today is four apartment units. Clark probably never intended to live there, as he had a huge Fifth Avenue Mansion on 58th & Fifth Avenue next to The Vanderbilts, and he needed someone to watch over his magnificent building for him. So, who better to give it to than his best friend and trusted advisor! Bourne would later oversee the Singer Manufacturing Company from 1882 to 1905. Singer became the first international conglomerate and the Singers, Clarks, and Bournes fortunes grew enormously.
The Dakota is a special place. When you enter the property through it's impressive archway and into a central courtyard with lili pond, it's as if you are stepping back a hundred and thirty years in time. Not much has changed: the big sturdy doors, wood-panneling, gracious hallways and iron wall sconces, it's all there. The hydraulic elevators are original. So much art and culture has been inspired by the Dakota including, "Time and Again" a story of time travel that jumps back and forth beyween the 1880's and the 1970's. "Rosemary's Baby" was filmed there in 1967. And, numerous celebrities and personalities have called it home over the last century including the Steinway Family, Schiff Family, John Browning, Lennon and Yoko, Leonard Bernstein, Lauren Bacall, Sting, John Madden, Boris Karloff, Nureyev, Gilda Radner and Gene Wilder, Graydon Carter, Roberta Flack, Jane Rosenthal and Craig Hatkoff, Rex Reed, all the Presidents of Singer until 1959, when the Clark's sold the building to a developer named William Zeckendorf, who cooped it the following year. The list goes on and on...
There's a great book called, "Life At The Dakota", written by Stephen Birmingham in 1979. There are numerous stories, some a little spooky, which is 'natural' for such a Neo-Gothic Castle-like structure! Ghosts of children are reported to play with a ball in the hallways each Halloween. An old "Victorian Age" bloody dress was found in a closet upstairs. The inscription, "Kilroy was here" is etched into a rooftop door and has been there since the end of World War II. When Tschaikovsky, the talented composer, came to see the Steinways for a party in the 1890's, they took him to the roof after dinner and were talking and he was amazed at the size of their house with the stunning views of the city, apparently he thought the whole building was their Castle!
The building still fascinates me today, and I've been lucky to be invited to see some of its amazing apartments including the former apartments of my ancestors. The Dakota inspired me to come up with the idea for a movie called "Lady Liberty", the love story behind the face of the Statue of Liberty, which was written by my fellow historymaven John Barrett. You can read the movie synopsis on this blog page.
I'm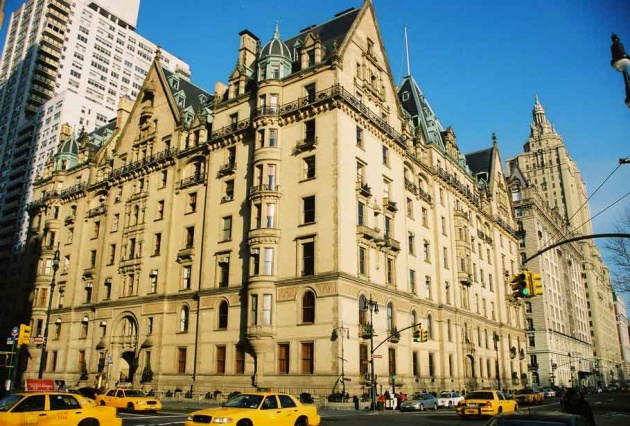 happy to give guided tours that start at the Dakota and finish at The Conservancy Pond in Central Park, where you can sit for a drink or coffee, after a lovely walk that covers Strawberry Fields, Bethesda Fountain, The Boat Lake and Bow Bridge, The Mall and Poets Walk (lined with statues of world-famous poets and writers),The Bandshell and The Summer Stage, Rumsey Field, Alice In Wonderland and Hans Christian Anderson Statues, etc. You can also take-in the model sailboat regattas and other park-friendly sights, while at the Conservancy Pond Patio. Book it on a beautiful day (short notice not a problem), and I'm sure you will walk away with a new perspective of old New York. Tours last roughly two hours. Feel free to call me at 212 772-6598 or email me at jsado@nyc.rr.com for more information.
By Jeffrey H. Sado