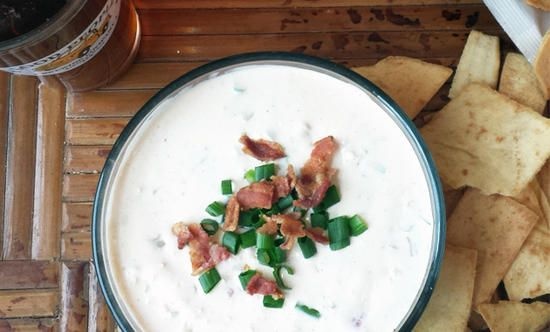 Put down that container of premade dip. Yeah, that's right I see you. I know you're in a rush, and you hate dishes (I do too), but you can make your own dip in five minutes. Really.
And it won't be your run-of-the-mill dip either. This recipe comes from Ethan Stowell, executive chef of Chippy's Fish and Drink in Seattle. What makes it so delicious? Three ingredients: clams, bacon, cream cheese.

The only small snag: finding smoked clams. (They should be in the canned tuna aisle at the supermarket.) No biggie if your store doesn't stock them—grab some smoked oysters or plain chopped clams instead. Then you pretty much just dump everything in a bowl and mix it together. Garnish with bacon or green onions, if you like; then dig in. You could use chips or veggies, but I won't judge if you eat it off a spoon.

Smoked Clam Dip
Recipe by Ethan Stowell, chef/owner at Chippy's Fish and Drink in Seattle, WA

What you'll need:
2 (8 oz) packages cream cheese, room temperature
1 (16-oz) container sour cream
2 Tbsp Crystal or Tabasco hot sauce
2 Tbsp freshly squeezed lemon juice
1 tsp pepper
4 (6.5 oz) cans smoked clams, drained or 7 (3.75 oz) cans smoked oysters
4 slices bacon, cooked until crispy, then crumbled
1 bunch chopped chives, with some reserved for garnish

How to make it:
In an electric mixer, blend the cream cheese, sour cream, hot sauce, lemon juice, and pepper until smooth. Use a spatula to fold in clams, bacon, and chives. Salt to taste. Serve with potato chips, pita chips, or veggies. Makes 14 to 16 servings.