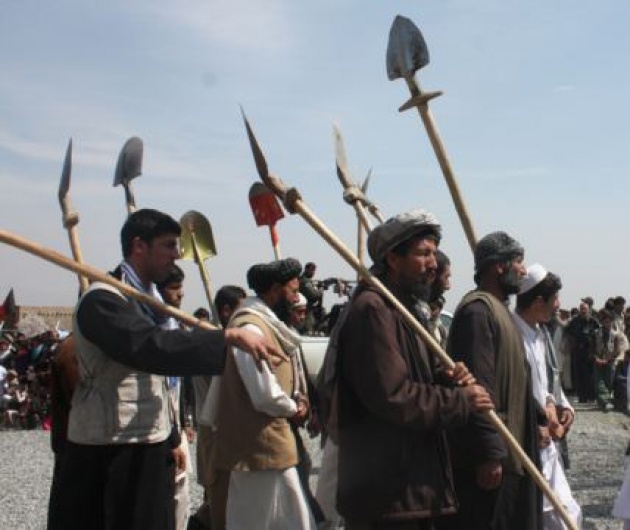 Jashn-e-Dehqan or the Farmer's Festival is celebrated on the day of Nawroz (solar New Year), in which the farmers walk in the cities as a sign of encouragement for the agricultural productions. Recently, this activity is being performed in Kabul and other major cities, in which the mayor and other high governmental personalities participate for watching and observing.
This year Farmer's Festival was held in Badam Bagh of Kabul City. Afghanistan's agricultural products and handicrafts were displayed on the occasion. The exhibition will run for three days.
After the inauguration of the exhibition, farmers began their parade and performed some entertainment activities.
Speaking on the occasion, Agriculture Minister Mohammad Asif Rahimi announced that his Ministry has planned to launch a number of projects aimed at strengthening the agriculture sector during the year of 1392.
Minister Mohammad Asif Rahimi listed establishment of agricultural banks and modern cold storage rooms and repairing and restoring of silos as the Ministry's priority plans for the year 1392.
Nowruz means New Day and it marks the start of the New Year. It usually occurs on March 21 or the previous/following day depending on where it is observed.
Nowruz is the celebration of spring—a new season which indicates the "rebirth of nature". Preparations for Nowroz start several day beforehand. Spring cleaning or Khanah Takani (literally means 'shaking the house') or 'complete cleaning of the house' is commonly performed before Nowroz. In association with the "rebirth of nature", extensive spring-cleaning is a national tradition observed by almost every household in Iran. This is also extended to personal attire, and it is customary to buy at least one set of new clothes.
On the Eve of Nawroz, families dine together. Sabzi (Spinach) is the traditional food cooked on this day, as it signifies the greenery of spring, symbolizing rebirth). On the New Year's Day, families dress in their new clothes and visit one another in the form of short house visits, which are usually reciprocated.

May the year 1392 be a year of prosperity, peace and unity for all the Afghans. :)