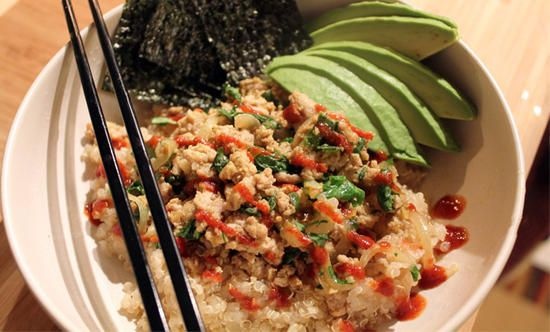 "Hunger is the best sauce in the world."
Without seeming disrespectful to the Don Quixote author, I have a slight tweak to his legendary quotation.

"Post-workout hunger is the best sauce in the world." —Paul Kita

Whether you're a runner, a swimmer, or a lifter, you know the feeling I'm talking about. It's that eat-everything-in-the-fridge-while-standing-in-front-of-the-fridge urgency. It's that ravenousness that clutches your stomach. It's basic human instinct.

During moments like those, you need a meal fast. You need a meal like this.

Lemongrass Turkey Quinoa Bowl
Recipe by Bill Kim, chef of bellyQ in Chicago

What you'll need:
1 Tbsp extra virgin olive oil
¼ cup thinly sliced onion
1 garlic clove, minced
½ lb. ground turkey breast
1 tsp curry powder
2 Tbsp finely chopped lemongrass
¼ cup Napa cabbage, chopped
1 Tbsp fish sauce
Small handful cilantro, chopped
1 cup cooked quinoa
½ ripe avocado, sliced
1 sheet of nori, cut into four pieces

How to make it:
1. In a medium pan over medium-high heat, add the olive oil, onion, and garlic. Saute until the onions are translucent, 3 to 5 minutes. Add the turkey, curry powder, lemongrass, and cabbage. Saute until the turkey is browned and cooked through, about 5 minutes. Remove from heat and stir in the fish sauce and cilantro.
2. Divide the quinoa between two bowls. Divide the turkey mixture between the bowls. Divide the avocado slices and nori squares. To eat, take a nori square, add the ingredients, and eat like a mini hand roll. Makes 2 servings.