On May 1, 2013, the graduating Bachelor of Arts Fashion Design students presented their final collections in the Future of Fashion show at the Fashion Institute of Technology. Though the buzz on 27th Street is at a constant hum throughout the academic year, the senior fashion show brought on more activity than usual. The evening before the show, two projectors displayed moving images on the outdoor facade of the Fred P. Pomerantz Art and Design Center. On the day of the show, a crew worked together to roll out a red carpet.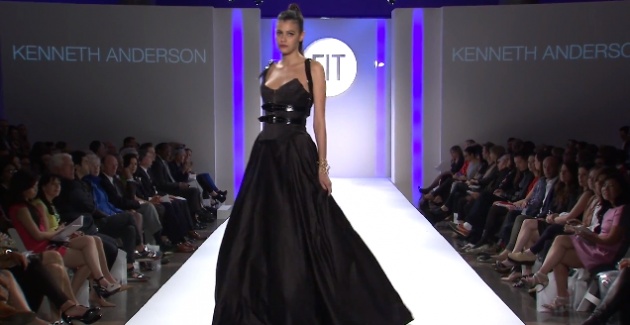 While much preparation was taking place on the corner of 27th and 7th, the graduate fashion design students were completing some preparations of their own. Just over a week ago, Kenn Anderson, a graduating senior at the Fashion Institute was preparing his ensemble for the Future of Fashion event. I had the pleasure of catching up with Anderson post-show and gained insight on his look, the show and his hopes for the future.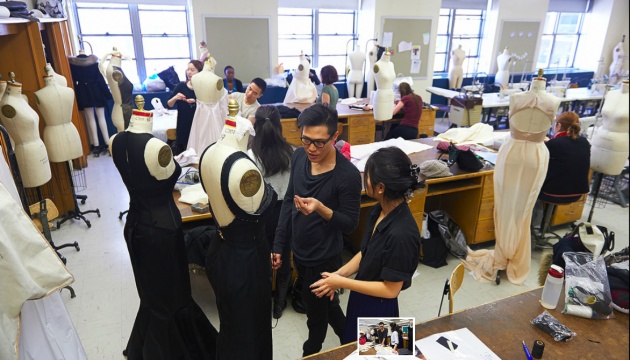 Anderson's featured ensemble was, in a word, stunning. "The ensemble I designed is a fully-lined black corset with a matching ball gown skirt made of duchess satin. I collaborated with Accessory Designer, Kelly McGovern, in pairing the look with a black patent leather harness with gunmetal hardware." Kenn notes his desire to keep the look dark, edgy and sexy, and used a combination of black fabric, the harness and a corded bodice to do so.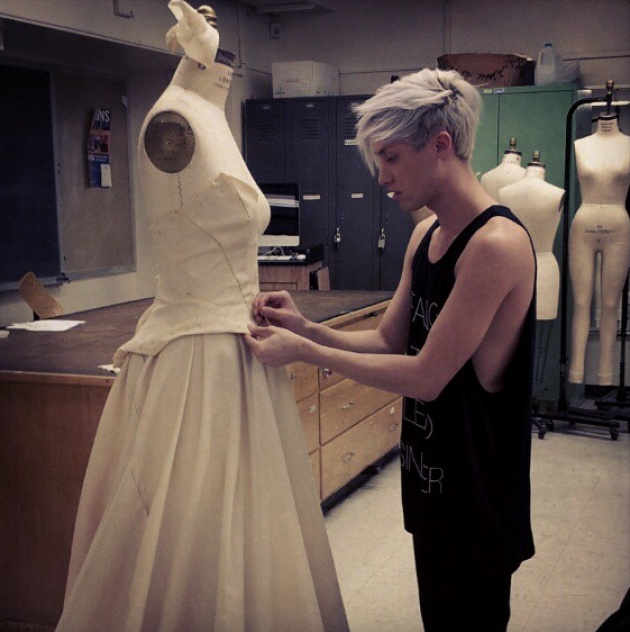 When asked about the promotion of his designs for the show and on a day-to-day basis, Anderson points to, you guessed it, social media. "[It] is definitely a huge part of being a designer because it's an easy way to get your work out there and build a fan base." I previously wrote an article for Models WebTV that discussed the increased social media use by designers over the past few years. I'm pleased to see this theory confirmed, yet again, by Anderson. "I am always promoting myself and my designs via Facebook and Instagram." Anderson also notes that social media serves as an excellent resource for inspiration and fashion trends.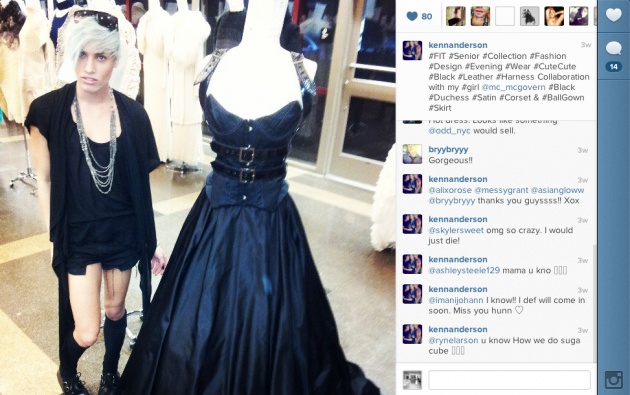 It seems as though Anderson's social media promotion paid off. After all, Facebook is where I first caught a glimpse of his ensemble just days before the Future of Fashion event. Since May 1st, he has been busy shooting his ensemble and networking with connections made at the event. "Post-show, I am so thankful to have worked with creative director, Thatja Andrade, in having my dress shot by the amazing and talented photographer, Fabio Cabral." (A side note directed to the upcoming participants in the Future of Fashion show, Anderson emphasizes the importance of networking at the show. "My word of advice to young designers is to get business cards because it is an easy way to exchange information with someone who could possibly help you succeed in your career.")
In addition to the amazing evening he had at the event alongside couture designer, Maggie Norris, Anderson is thrilled with the networking opportunities, exposure and images he received. For his own future in fashion? "I hope to work for a designer specializing in eveningwear and/or bridal. I'm currently working on a montage video and have awesome footage to work with thanks to Modelswebtv!"  -KSS
 Watch the Future of Fashion Runway Show: