Been planning this for more than a year and finally, James and I had visited this interesting museum. What's so interesting with it? Well, it's the illusion that it creates when posing with the paintings in it. Yes, this museum is quite unique because majority of its items are just paintings but they are the different kind of painting. If you want to know further, continue reading.
• Going to the Happy World Museum •
Staying at home for the whole week makes me really want to come out during the weekends. Not that I miss the daily out of the house work but I just miss to see other things aside from the four corners of our condo unit. So, that is why, before the end of the week, I am giving James hints on where to go and it's up to him if we should pursue it or just stay at home but usually, he agrees with whatever I suggest so this week's Friday was a holiday because of the Muslim celebration, we decided to get ourselves out of the house off to the Happy World Museum in Cordova, Cebu.
Video credits: Jean Beltran-Figues via bitLanders.com
Nine ante meridiem is their opening time and so we planned to leave the house at eight because as per Google Maps, the location will take us an hour drive. I know, an hour drive is long and tough of course because of traffic and heat but we gotta get our butts out so we thought it's a holiday Friday, perhaps people around Cebu are just staying at home, enjoying their free day only to find out that when we stepped out, there were lots of vehicles on the road, well it seems they were all enjoying their free offs outside their roofs too, like us!
Anyway, it was really challenging when you travel with the use of Google Maps because it is very honest and law abiding. Honest in a sense that it gives you all the routes that can possibly be used and would even prioritize the shortcuts! I love that feature however, the only issue with that it is that the application isn't notified about any issues in the road like for instance, we followed Google Maps' short cut direction only to find out at the end of the road that it was undergoing road repairs so we have to make a Uturn. Of course you know what happened next, there's frustration and headaches as well as time delays. But all is well as we safely arrived at the museum.
• Miracle Art Happy World Museum •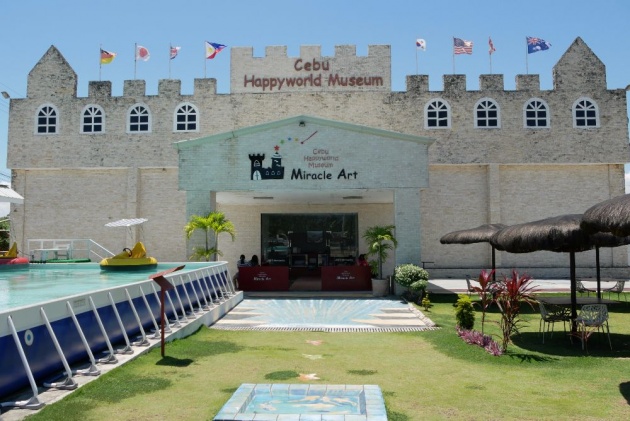 Photo credits: Jean Beltran-Figues via bitLanders.com
Its actually called Miracle Art Happy World Museum and I understand it is referred as such because everyone who comes in becomes a happy fellow. And so that was what we thought it would be and guess what? We were the first customers! Hooray! That means, we could have the place to ourselves until other visitors arrive.
But before I share the entire experience, let me expand further what this museum is all about.
About Miracle Art
The entire place showcases 2D paintings and artworks which becomes lively and somehow realistic when taken into picture. As per their brochures: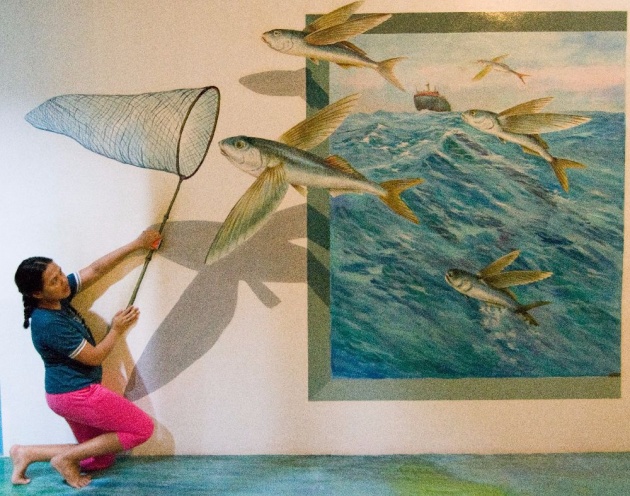 Photo credits: Jean Beltran-Figues via bitLanders.com
This is culture contents place where 2D plane painting becomes 3D art. The spectators can be a part of the painting which can not surpass into before in a museum. Miracle art, which imagination is approaching reality, comes closer to painting is composed of various themes such as Illusion art and Magic art. It is a five-sensory experience museum where you can have magical experience by participating directly in the work.
But aside from paintings, the location also provides other services such as water bumper car locate outside the museum at the entrance area, it also has cottages outside and a mini canteen for anyone who wants to dine in, they offer drinks and snacks too as well as some meals.
And they also have this 4D rider on another building just right next to the water bumper plus a happy post which is the largest mailbox in the Philippines. This Happy post is 5.4 meters high and 4 meters wide. But one more thing that is cool about it inside is the option to wear traditional Korean Hanbok costumes.
The letters of wishes written by all the visitors.Video credits: Jean Beltran-Figues via bitLanders.com
I was glad about their mission:
Our main objective is not just to gain but we want Cebuano's and all Filipinos to experience this extraordinary activities without spending much to fly other country just to explore and experience it, as well as to educate people specially the young ones, the wonders of three-dimensional pictures.

Information reference: miracleartcebu
• Experiencing Miracle Art •
As early birds, we had this mindset that we'll be able to have the place to ourselves but then it didn't take long before another person opens the door. Bummer!
There were around 70 paintings inside, I didn't count them by the way but that's the number that they mentioned in their brochure. I was overwhelmed with the numerous paintings inside when we got in. I was torn between this painting and the others. I can't decided which to take first and so on.
These paintings have been divided into 6 Sections which are the following:
World Famous Art Section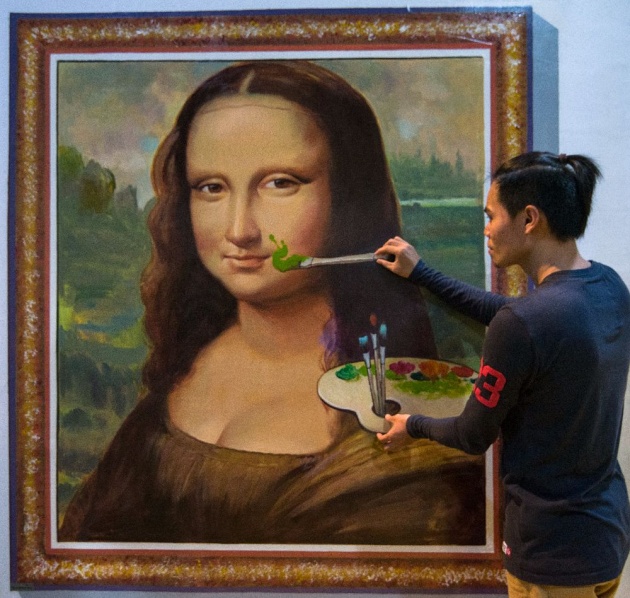 Photo credits: Jean Beltran-Figues via bitLanders.com
Here, we get to see certain famous arts from all over the world. There's Mona Lisa and some other paintings which I don't recognize if they're famous but they were listed here so I guess they are indeed famous. It was only Mona Lisa which was familiar to me.
Anyways, as I was overwhelmed when we were inside, I was requesting James to pose so I can take a photo of him but he doesn't like being in the subject always and we didn't bring our tripods with us which was another reason to be frustrated. So I was then played the subject and I was in almost all the photos.
There's a magical parts here though, that part where a head is in a plate which James had obliged to be in and a couch which half of a man's body. It's weird but it was cool in the photos.
Religious Beliefs Section
The part where there were paintings of certain bible story figures and such. We didn't get to take a lot of photos here since I don't think Jesus looks like that in the painting.
But there's a unicorn inside which I did pose for the photo, it was cool. Anyway, moving onwards...
Ocean Section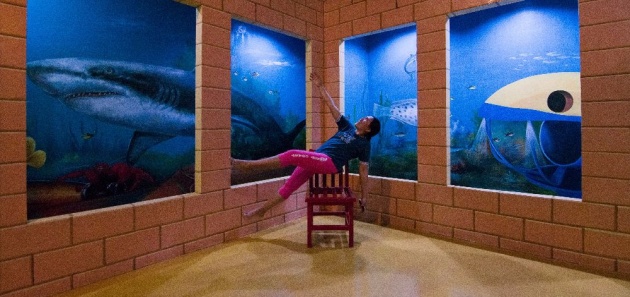 Photo credits: Jean Beltran-Figues via bitLanders.com
Ah the ocean part has a magical part in it as it has a red chair in the middle but there's another tricky sitting portion just right above the main chair and when in the photos, it creates in illusion that I was just floating in the water or so.
I had fun in that part. There were also other paintings such as a shark, a whale and etc.
Jurassic Animal Section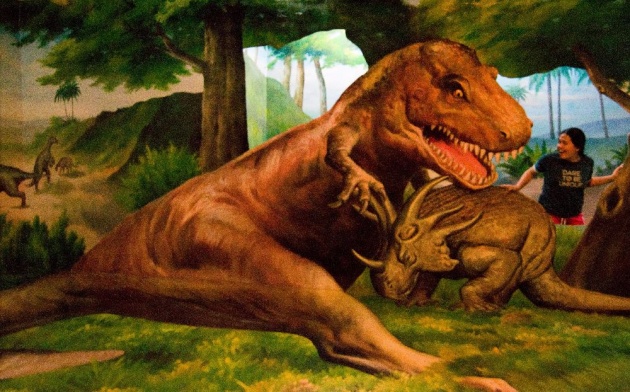 Photo credits: Jean Beltran-Figues via bitLanders.com
Huge paintings covering the wall and the floor for these Jurassic Animal section. It composes of different kinds of dinosaurs, huge ones which creates a tricky illusion that they were behind you.
Philippine Pride Section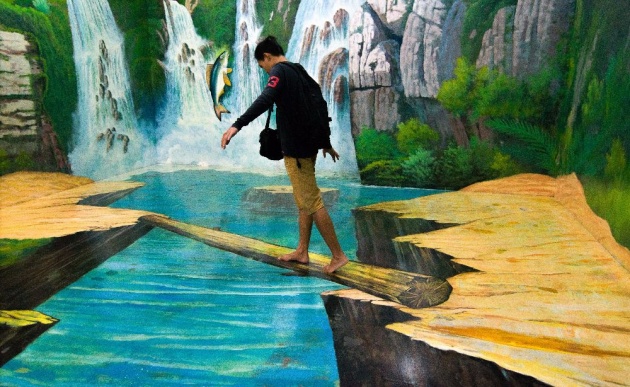 Photo credits: Jean Beltran-Figues via bitLanders.com
Boxing, Philippine waterfalls, presidents, landmarks and others were in here. My favorite part is the waterfalls area. It was a painting out of a real waterfall in the country named Pagsanjan Falls. The painter created these wooden bridge and I posed as if I was going to fall. It created the illusion pretty neat.
James ended posing too!
Ending Section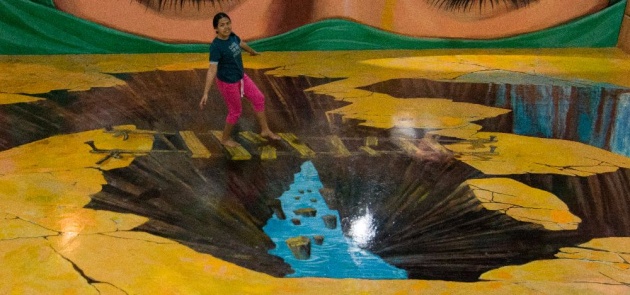 Photo credits: Jean Beltran-Figues via bitLanders.com
The ending part are those which reminded me of instagram and facebook posts from other citizens outside the country. There were paintings in the streets and so. Those ones which looked like someone is falling in a waterfall or a building. There's one which shows holding onto a steel while looking like the pole was placed deep.
They were quite fun to look at in the photos. Actually, we didn't appreciate them until we got to see the results in the camera.
• Reminders •
The Miracle Art Happy World Museum management has set some important reminders and rules when coming into the museum. Here's the list:
No Shoes Allowed.
The establishment has imposed strictly no wearing of shoes inside the building. One can either have their socks on or just bare foot. Shoes are placed in a tray outside at the main entrance, don't worry as someone is assigned to watch for it while the visitor is inside.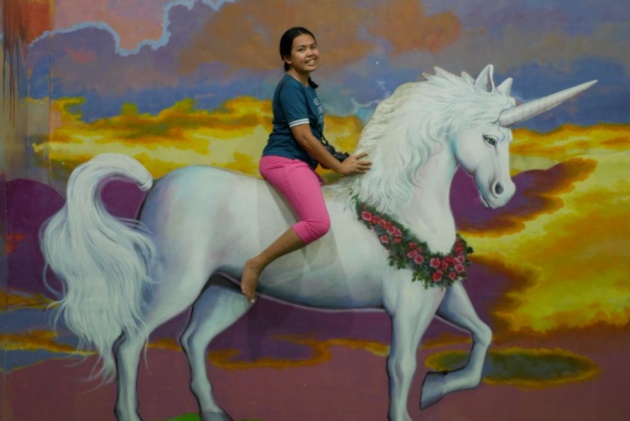 Photo credits: Jean Beltran-Figues via bitLanders.com
No Eating.
This is indeed required to be followed because if there are any food drops inside, it might damage the paintings and damaged paintings mean huge business problem. Anyone who wants to eat can do so outside in their cottage and snack bar area.
No Running.
Another strict reminder is that the guests and visitors should not go running around the museum specially children. So parents should monitor their children with this. There's a tendency that the kids might be running and hit on some areas of the paintings.
• Pros and Cons •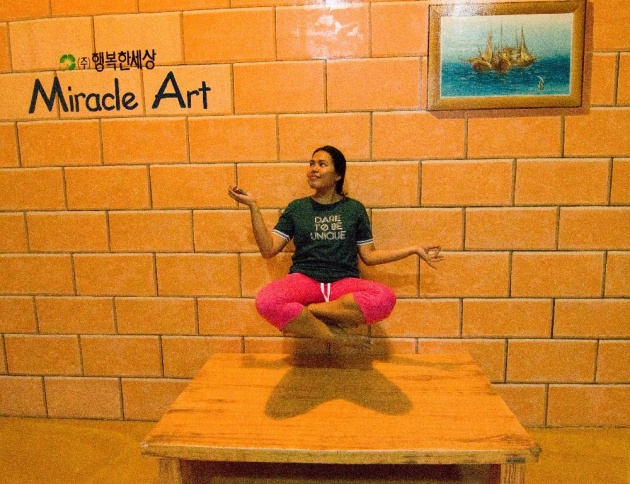 Photo credits: Jean Beltran-Figues via bitLanders.com
Both James and I thought that the museum is good for a one time visit only. Although it does offer a fun experience specially for families and group of friends, it is not suitable for solo visitors. Couples can go there as long as they have a tripod with them because there are no personnel who can give a hand and take a photo of you or your partner together. The staff are limited and they can't guide you inside the establishment. They'll just let you in and you have to do it your own. In fact if there were no posters plastered inside showing how one should pose or do stuffs, the guests will be lost.
I show families and group of friends who had fun inside while posing and acting. I actually have fun too but the frustration that both James and I felt when we were trying to take photos were really high because of the lighting. There were lots of fluorescent lights over us but all of those were turned off. They only turned on a few lights which were not enough to give justice to the paintings.
Every photo we took were too dark that if we increase ISO lighting in our photos, it turns the photo very grainy and noisy thus bad photo quality results.
Aside from that, there was no proper air conditioning inside. It was hot that I was in a hurry to come out. The establishment is a maze of paintings and with numerous people coming in without air conditioning, I am afraid we'll all get choke with the lack of oxygen.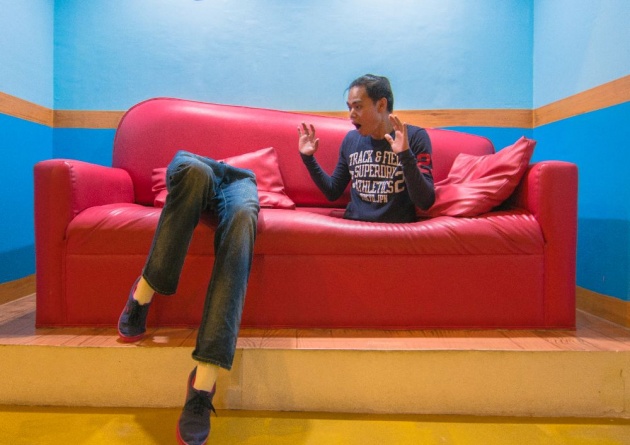 Photo credits: Jean Beltran-Figues via bitLanders.com
I really thought that the price of Php 350 is too much for each individual who'd be coming in for around one or two max hours inside taking photos of these paintings. It was too much considering there were no proper lighting and air conditioning.
I believe that if they had turned the lights on and there was good air conditioning, then the amount would be enough taking into consideration as well the amount of paints they had used to build this up but no, the experience is not as fun as I conceived it to be.
So yeah I have to say great paintings but bad experience. I figured out that it was not just us who have this kind of feel. I checked their fan page and lo and behold, there were more people with the same grievances. The bad news is that the owner had been reading all these comments and feedback but did nothing about it. I should say they have control over these comments because there were lights available and all they got to do is to turn them on but they didn't so I totally believe it is a cost cutting act which is not a solution.
If they'd like every visitor to really have fun, they should give them the run for their money. That's all!
Check out the other photos for this trip: Miracle Art Museum
xoxo,
Jean