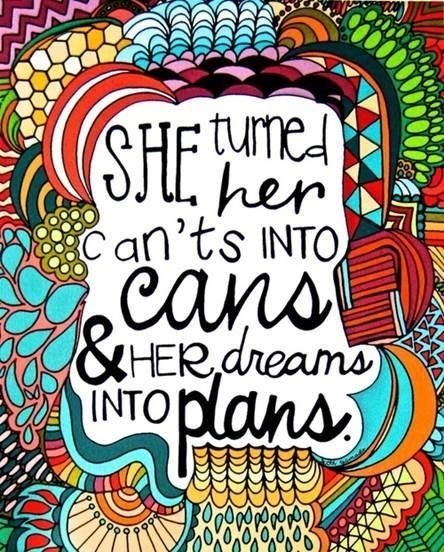 picture taken from Pinterest.com
Motivation
When we get up every morning, we are faced with two choices, one is to get up and chase your dreams and the other is to hit the snooze button and go back to sleep.
Focus on the two choices, my whole blog revolves around these two choices, getting up or not, good or bad, yes or no, now or then, happiness and sadness. you know what is the main ingredient in between these two words that moves us from right to left? it is MOTIVATION! yes, motivation is the main aspect that makes our life or destroys it. I'm using the word destroy because we never know what we are missing till the time is gone, if we look back, we will regret our not getting up or not going to school regularly or not joining that job because it called too early, it fills our life with regrets, and regrets lead to a sad life where we lose all our motivation and hopes and spend our remaining life feeling sorry for ourselves, regrets are poisonous, they kill you from inside. you need it to get out of your system.

picture credits: corpdata.com
Don't you ever feel sorry for yourself, no matter what you did, how you destroyed your life, maybe you are 50 now, but no sorry means no sorry. When we feel bad, we lose our motivation, the moving on gear, that's when we lose control of our remaining life and sit on our mothers couch watching sad movies, eating filth, not caring for our bodies, spending too much time in thoughts rather than using that time to meet new people, going to gym or any sport facility or even reading. Stop making excuses, stop complaining, no one cares. you need to make only one person HAPPY and that is YOU!
Meeting new people clears our mind, when we meet new people, we share our lives, our thinking, what we do for a living etc. the people are so generous that they not only listen to what you have to say but even give you solutions. If you lack motivation, they will provide you with that. Many great successful people, like 1 in every 10 got mentors, the one person that motivates them, that gives them advice when they need it or when they feel down, they uplift their spirit and motivated them to move ahead. We all need that one person that motivates us.
Looking for A Mentor
It's a global world, what we did not have 20 years back, we have it now. If we cannot find any motivating personality where we live, although its unusual not to have anybody but in case if you do not have facilities to go out and reach for them you can always look online for mentors, they are very generous people that invest most of their times helping out others, they even offer their services online to those who lack this facility in their free times. What I mean to say that there are numerous ways and many people who are here to help us the only thing we are lacking is the first step, we just need to take the first step, reach out and hold someone's hand. then you will see the change that happens!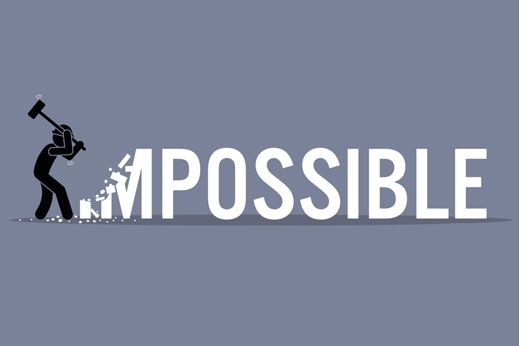 picture credits: dus.psu.edu/mentor
Believe in yourself
The most important thing, believe in yourself, if you do not believe in your strengths and your capabilities, most chances are you cannot change or excel even with a mentor motivating day night. No matter what people say, don't give up on yourself. First thing first, don't ever listen to the negative compliments others say, you don't know whats going through their mind. They must be frustrated with own lives and all they can say is filled with frustration. Stay calm and have fun with all you have, you will feel the difference.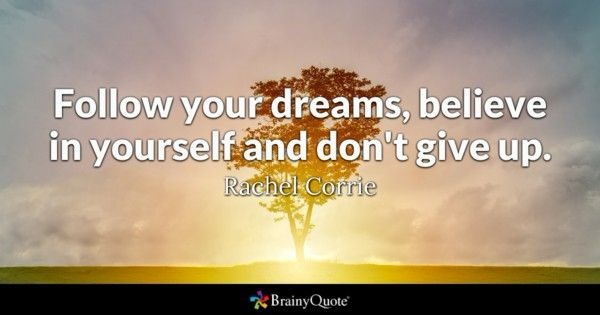 picture credits: Brainyquote
Don't give up
Don't ever give up, you never know when your time comes to shine. You need to keep on going no matter what the circumstances are. Most of the people work and work for years till some fruits begin to grow. You need patience and motivation to keep on going. Will Smith has worked in some of the major motivational movies which teach none other than not giving up and believing yourself. The most incredible one was The Pursuit of Happiness, you need to watch it if you haven't now. Watch this video and if you felt a spark in your heart do share it with me.
Video credits: Ben Lionel Scott from youtube
Determination
When you finally decide that you will never give up and promise to believe in yourself, you need determination, you need to stay determined on your choices and their outcomes. The following picture says it all, if you look at each word you will figure out what determination really is! All these things, goals, strength, willpower, courage etc. determination is the core to all, to success.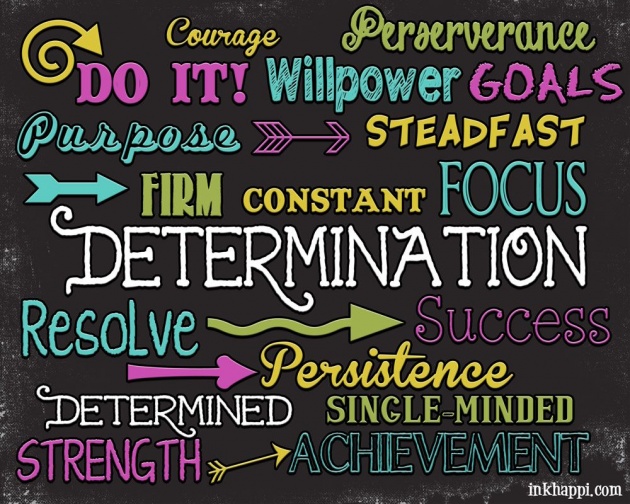 picture credit: inkhappi.com
Fear of Failure
People are so scared to lose that they don't even try at all. I know that there are many people that will be grateful that you fail and will discourage you not to try again and that " I told you so" phrase but you have to keep trying, keep going till you succeed. There is no way room to leave what you doing and start something else. Keep doing what you do till you succeed, don't give up! it's not over until you win!
We spend most of our time studying other people's success and failure that we forget to study ourselves, to know ourselves, to know what we are best at, what is our key to success. We assume that if Will Smith can act out of this world I can act as well, what if you were not born to act but to make people act. You can find your inner strength only by investing time in yourself. Do not fear the outcomes! Invest in you, you need to invest in yourself, study yourself, figure out your uniqueness, your purpose, stop copying other people.

Picture credits: Alix Needham
What will people say?
First of all, what other people think about you or say about you is none of your concerns! seriously, they have their minds of their own, they think about other people with their minds, now how can a person think well of other people if all they can think about is trash! We want to make other people happy, how can we make others happy if we are not happy inside. When we make ourselves happy only then we can make others happy. Focus on yourself! make yourself happy, do things you want to do, go to places you want to visit, eat food you like to eat. Do it for yourself! One life, you only live one life, theres no second chances, so why not spend it our way! be happy!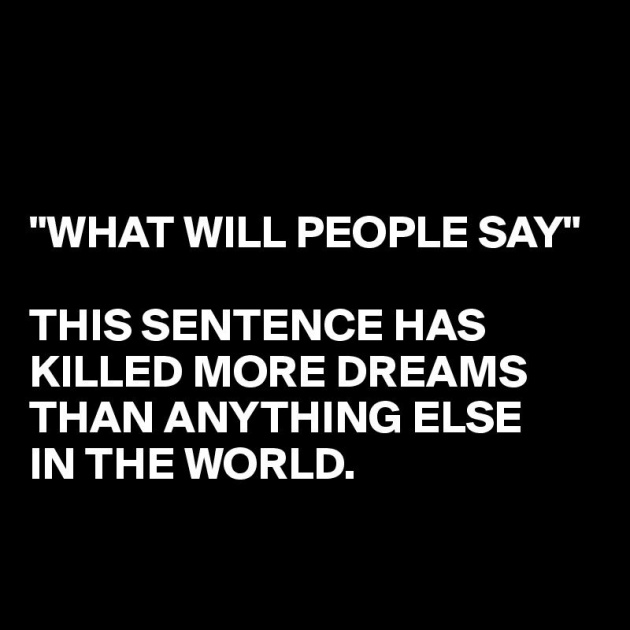 Picture credits: boldomatic.com
You have to stop this from happening, dont let anyone kill your dreams too. People are people, you cannot change their minds, they will act strangely. Think of it as they are not well or they are sick, they need help. Then you can stop focusing on thier useless comments and strange behavior. You need to stay focussed on your dreams, when you are focussed on your dreams and goals, all these things will become minor and you will feel studpid to even listening to them.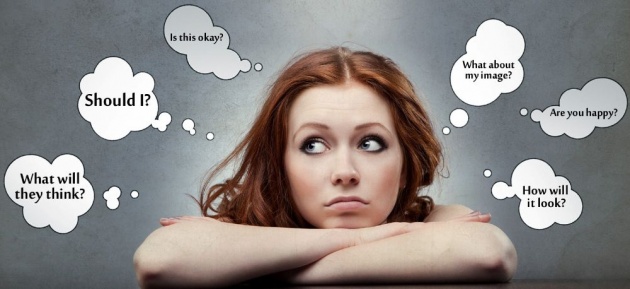 Picture credits: bringordertothechaos.com
HARD TRUTH
Heres the hard truth, people dont neccesarily want you to succeed, said by Tom Bilyeu, and the bigger your dream, the more people will come out of woodwork to stop you. As Oliver Emberton says, "The only way to avoid pissing people off, is to do nothing important".
Victor Hugo said, "If you have enemies, GOOD! its because you stood up for yourself at some point of life".
Mark Twain said, " keep away from people that belittle your ambitions, small people always do that, but the really good ones will make you believe that you too can become great."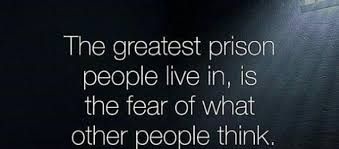 Picture credits: selahsomeonetotalkto.com
Final statement
I dont want to stop here because there are still a lot to say, alot to learn, a lot to mention. There are many people that are busy taking care of other people, motivating others to feel the happiness that they feel, to live a life to the fullest, to figure out what gift we are born with, to focus on our dreams and stay steady, determined, dont ever give up! Don't give up until you win! Believe in yourself.
I will leave you with this video, tell me what you think.
Video credits: daily motivation from youtube