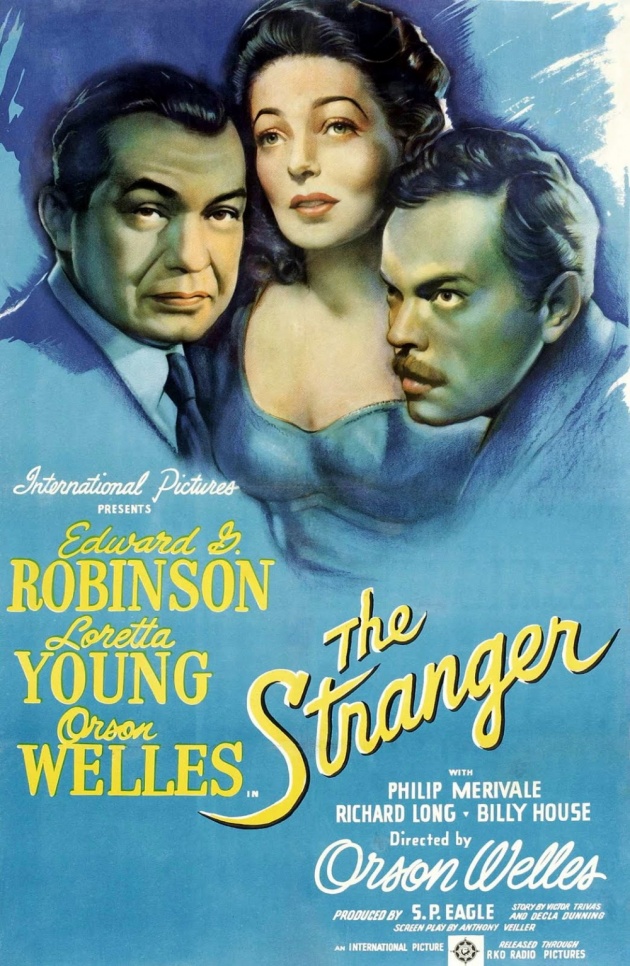 Orson Welles, already a radio legend, burst onto the film scene by making "Citizen Kane" at age 25 in 1941 (The #1 film on AFI's Top 100 of all time!) and followed that masterpiece up with another brilliant film the following year, "The Magnificent Ambersons." While these two films are critically hailed today, they were financial disasters of their day and Welles was effectively blacklisted for four years. In 1946, Welles returned to the helm for "The Stranger" starring himself, Edward G. Robinson, and Loretta Young. Humbled somewhat, Welles had to accept an assigned script and contractually promise not to alter it upon production. Actors were chosen. A future 3 time Oscar winning producer ("On The Waterfront," "The Bridge On The River Kwai," and "Lawrence of Arabia") in Sam Spiegel (then known as S.P. Eagle) would be the watchdog for the studio. Welles also agreed to pay any additional expenses out of pocket!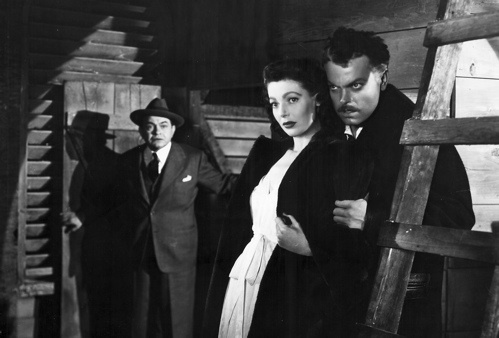 Despite these restrictions, Orson Welles made "The Stranger" distinctly Wellesian. I'll admit Welles is one of my favorite directors and part of what I love about his films is the camera's involvement and the lighting. "The Stranger" starts off with a low angle shot on a door with a sign reading"Allied War Crimes Commission." Inside that door is a high angle shot on Edward G. Robinson's Mr. Wilson telling his peers they must let one nazi go so he'll lead them to an even worse nazi and emphatically stating that it's a duty to rein in these obscenities. The scene changes to the released nazi Konrad Meinike (Konstantin Shane) who scurries about in and out of shadows. Mr. Wilson follows Konrad to Harper, Connecticut where the high angles continue to frame Mr. Wilson and low angles on the scuttling Konrad. These seemingly simple techniques are used with such enthusiasm on "The Stranger." They frame the picture, the person, the background. The lighting is used hand in hand and just as brilliantly. Welles seemed to pick the cream of the crop when it came to his directors of photography and Oscar winner Russell Metty (for "Spartacus") would shoot this film (and Welles' awesome noir epitaph "Touch of Evil" in 1958).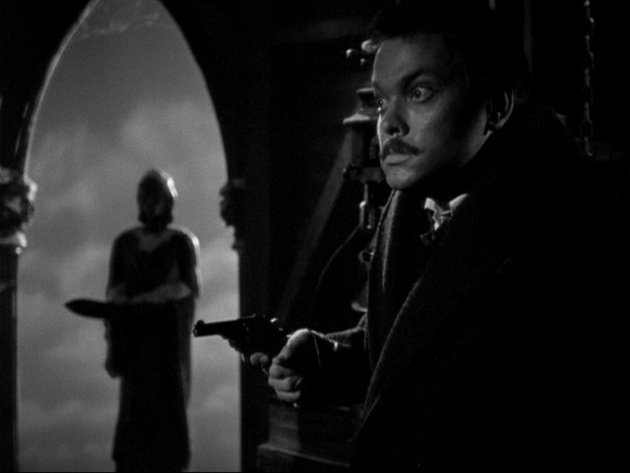 It is crazy that "The Stranger" would be available in the public domain but that's where it is. The good folks at Kino re-issued a blu-ray dvd mastered in HD from an original 35mm print preserved by the Library of Congress. It's a pleasure to watch Orson Welles AND Edward G. Robinson together. Interesting that Orson Welles wanted his Mercury Theater buddy Agnes Moorehead, who was in his first two movies, for the role of Mr. Wilson but was shot down by the producer. His background characters are always acted superbly as well and this film is no different. My favorite is the general store's owner Mr. Potter, played by Billy House. He's like the town watchdog from his perch behind the cash register counter, which always has a game of checkers set up and ready to go. In a flash, he's got his visor on and he's ready for action. Billy House was like the Andy Serkis of the 30s and 40s as he was used as a live-action model by Disney animators for the dwarves in "Snow White," and in particular: Doc.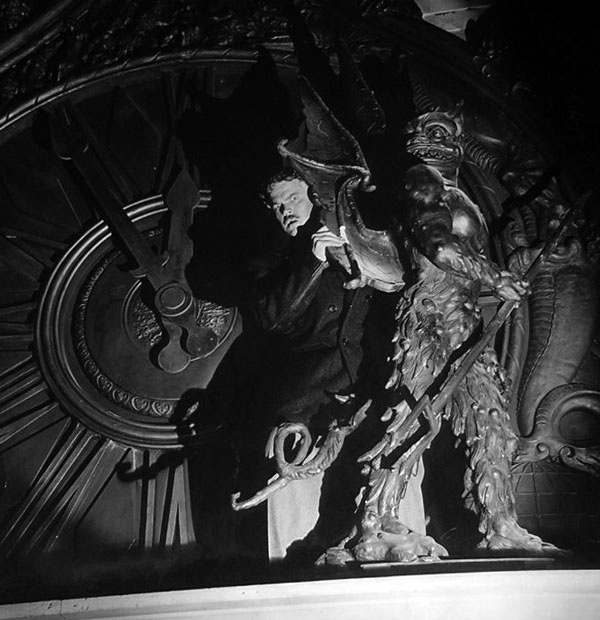 "The Stranger" is definitely nourish in theme and look. It was the first film to use real holocaust footage. Mr. Wilson uses the footage to educate Loretta Young on her new husband's not too distant atrocities. The story has dark overtones but never feels heavy, its more background than foreground. "The Stranger" is a great watch and if you've never seen any Orson Welles, you really should and why not start with his only box office success? Enjoy!
You can watch "The Stranger" on You Tube at http://www.youtube.com/watch?v=yu8-V9JRX_g