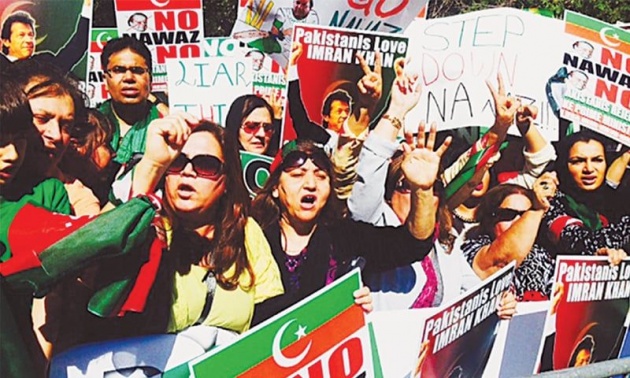 PTI supporters demonstrate against Prime Minister Nawaz Sharif outside the United Nations building in New York while he addressed the UN General Assembly —Online file photo
For many Pakistani-Americans, home is not where the hearth is
---
The paradox is fascinating: on November 4, as America went to mid-term polls, Pakistani-American cabbie from New York City, Mustafa Hussain, was arguing that participating in the US votes is just a waste of time. In the same breath, he proudly boasted that he had, along with his three friends, participated in a September 27 protest organised by the local Pakistan Tehrik-e-Insaf (PTI) chapter in front of the United Nations when Pakistani Prime Minister Nawaz Sharif was addressing the General Assembly (UNGA).
Hussain's case is associated with a large debate attached to the Pakistani Diaspora in the US these days, one that centres on whether they have integrated enough into their adopted country. According to different estimates, up to 500,000 Pakistani Americans live in the US, with the largest populations concentrated in New York, Houston and Chicago, followed by northern and southern California. With a near 100% increase in numbers since 2000, Pakistani-Americans are the second fastest growing Asian immigrant group in the US.
Despite their numbers, social scientists studying the Pakistani Diaspora in America believe that there exists a "myth of return" — that one day, they would leave their adopted country and go back to Pakistan. This notion is among the greatest challenges to integration and socio-cultural assimilation for the Pakistani Diaspora in the US.
"I have been working as a physician for the last 15 years and am settled with family here," says a physician in the town of Alexandria, Virginia. "But it is also a fact that eventually we have to go back to Pakistan permanently as the US is not our country."
M Asim Siddiqui, who works with a local Urdu newspaper for Pakistani community in Virginia, argues that after 9/11, Muslim populations in general and the Pakistani community in particular felt insecure and preferred to stay within their community. "Many Pakistani-Americans live in ghettos, mainly near the mosques or Islamic centres, and this is because of their social, cultural and religious culture," he claims.
A section of analysts think differently.
"Those Pakistanis who are high-end professionals, such as physicians, IT engineers and scientists are easily assimilating in the American culture. But the issue is with low-income Pakistanis who are working as cab drivers or grocery store clerks, and especially with those who came to the US through illegal means or by seeking asylum," said Pir Zubair Shah, a New York-based researcher, who had worked with the New York Times in Pakistan.
Some analysts believe that it will take time for the Pakistani community as a whole to be fully entrenched in the larger mainstream community. "Pakistanis like to live close to each other and socialise only among themselves," declares Abdul Quayyum Khan Kundi, a political analyst and former president of the Pakistan Chamber of Commerce USA. "This cuts them off from the mainstream, and reduces contact at the cultural and community level. Their interactions [with others] are only limited to work."
Integration in American society
Pakistanis are still a newer community in the US. The majority of them arrived in America in the late 1970s and early 1980s. Those arriving were well-placed professionals, such as physicians, engineers, software workers or scientists; many either came directly because of a demand in their profession or as students who stayed back after graduating.
Along with these professionals came their less educated relatives, who were either eligible for migration under immigration visa preference for relatives or through the visa lottery scheme. This demographic is largely working blue-collar jobs.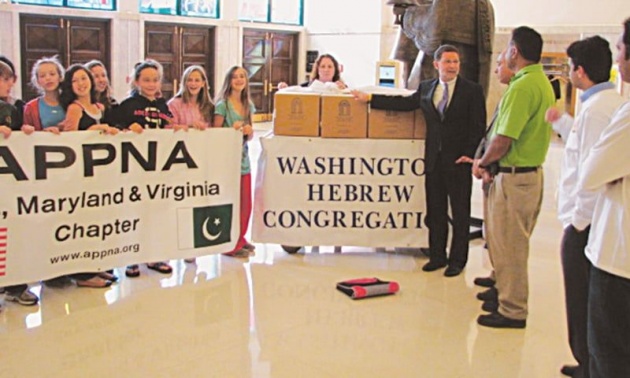 In 2010, as Pakistan reeled from the effects of the worst-ever floods in its history, the American Jewish Committee teamed up with the Association of Physicians of Pakistani Descent of North America DC Chapter (APPNA), the Maryland Muslim Council, and the Washington Hebrew Congregation to donate 13,340 meals to flood victims.