The winter is hard, it often makes those who live in that climate why they didn't select a warmer place to live. Stepping outside of the w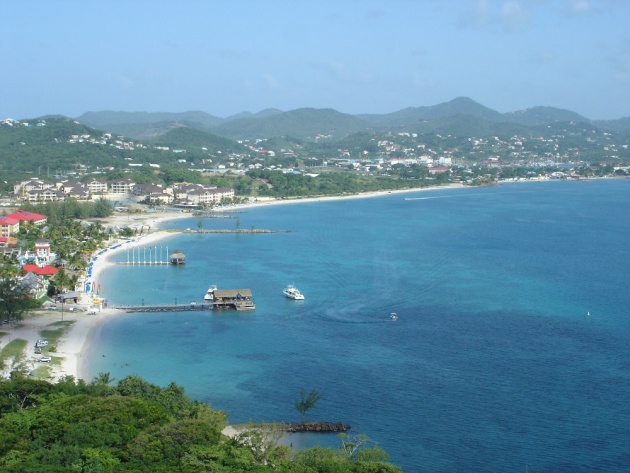 arm confines of the the living room's fire place is a task for only the most brave. In order to get through this season, the best idea might be a change of scenery. While very fun, one's travels can often become a hassle. Getting to and from the destination is never easy, packing luggage for the said amount of time is often quite a challenge, and sun screen, is just never enough. Selecting the right vacation spot is the utmost important task. Pick a place the wrong location and you be stock in a tourist trap or end up back in the hotel without a wallet you left with the morning of, or both.
St. Lucia, a small Caribbean island, with warm weather of about 80 to 90 degrees fahrenheit everyday, is the perfect choice. On this island there is a lot of fresh fruit such as mangoes, papayas, and coconuts. The water is a clear, and it has some amazing coral reef, as well as diving sites to go and see it. The rain forest, more inland has waterfall that is 50 feet (15 meters) high. This small Island also has few high-end luxury resorts.Lonely planet, a well respected review site, calls it "two Islands in one" because the north side, Rodney Bay, has "modern comforts" like nice hotels, which are perfect for days to relax and not do much. The south side, conversely, has beaches where few go and two volcanoes known as the photogenic Pitons. The south side is for the adventurous type to take the road less traveled, while not going to far from civilization. Visiting Saint Lucia, one gets a chance to not only stay at high-end resorts and comfortable hotels, but also explore the hidden gems of a Caribbean Island untouched by modernization.Some of the sites include places such as Malgretoute Beach, on the south side, which has incredible grey sand and pebbles. It's a perfect place for offshore snorkeling. On the north side, Reduit Beach the sand is white. The water of the sea turns from a clear blue to a light turquoise. Another amazing site is the Sulphur Springs, it is the world's only drive in Volcano. At this site there is a small thermally heated river has been created by a dam so visitors can have mineral-rich baths in it. Saint Lucia is a perfect Island from the grueling winters of the northern hemisphere. Crime is minimal and the Island is adapted for travelers. The best part of Saint Lucia as opposed to other Caribbean Islands is that it is not as developed, this Island still hold its exotic beauty.