...The Return of Superman (슈퍼맨이 돌아왔다)...

Image Source: Google
Can you imagine what would happen if a father had to take care of his own children without the help of his wife? What will going to happen when the father had to do things that usually had been executed by the mother? This kind of theme which encouraged me to watch The Return of Superman. And in fact, this show had been able to make me fall in love since the first episode! Not only entertaining, but it also gives a lot of inspiration. This show tells us, although the father is a figure that is less able to take care of children than the mother, but they will try their best. By watching this show, we can be sure of one thing that "every father is a "superman" to his children"


█ What is The Return of Superman??
The Return of Superman or also known as Superman Returns, is a Korean TV Show that recently gained high popularity not only in Korea but also outside the country. Premiered on September 19th as a Chuseok holiday special program, this program has been getting tremendous response from the audience. After the broadcast of three special episodes which is aired from Sept 19th - 21st 2013, due to the positive response, this program became one of the regular show on KBS2.

This show documents the daily lives of the celebrity dads as they take care of their children without the help of anyone including their wives. During the 48 hours, while their wives are leaving home to enjoy some relaxing time, the father will take care of their children. It starts from preparing their meals, take them for a nap, and playing with them.
...Lee Hwi Jae and His Twins son's Lee Seo Eoun & Lee Seo Jun...
Image Source: Google

....Cho Song Hoon and His Daughter, Cho Sarang....
Image Source: Google

Moms will give dads a task to do for 48 hours such as bringing their kids for medical examination or take them to school. However, sometimes dads also planning something by themselves like exploring new activities, visiting new places with their kids, or bringing their kids to their workplace.

...Tablo with his daughter, Haru at his studio...
Image Source: Google


...Song Il Gook and His Triplets son's Daehan, Minguk, and Manse at the park...
Image Source: Google


In order to film them, the production team set up the cameras and the cameraman who hiding in tents and playhouses at each of the celebrities' actual home. If they have an activity outside the home, then the cameras will be installed in their vehicle, and the cameraman will follow them to record their activities.
...It's morning kisses from the triplets to "Uncle Cameraman"...
Video Source: Youtube


Each family will have its special segment on each episode consisting of a brief interview of a father or mother to recount their experiences in that day. However, for families who have children who are old enough, the production team will personally ask their opinion.
...Lee Hwi Jae talked about the development test of the twins...
Video Source: Youtube

█ It's Time to Meet the Superman Family...


The first family is Choo Sung Hoon (MMA Fighter) and his daughter, Cho Sarang. Sung Hoon is married to a top model from Japan, Shiho Yano. They lived in Japan and joined on the show when Sarang was two years old.
Besides cute and adorable, Sarang is also very intelligent. She can speak in two languages, Korean and Japanese, and know when she needs to use them. If she spoke with her mother or the neighbors, she will use Japanese language. Meanwhile, when she's talking with her father - who is Korean, she will use the Korean language. Although she's just learning the Korean language, sometimes she taught her mother how speak in Korean. Look how Sarang teaches her mother how to say "many" in Korean.

After joining the program, Sarang has starred in 13 ads in 2014 including baby toiletries, ramen, dairy products, home-study materials, a pharmaceutical company, camera, even social commerce, and was named as a the upcoming commercial queen.
...Sarang & Cho Soong Hoon CF Seoul Milk Yogurt... (Image Source: Google.com)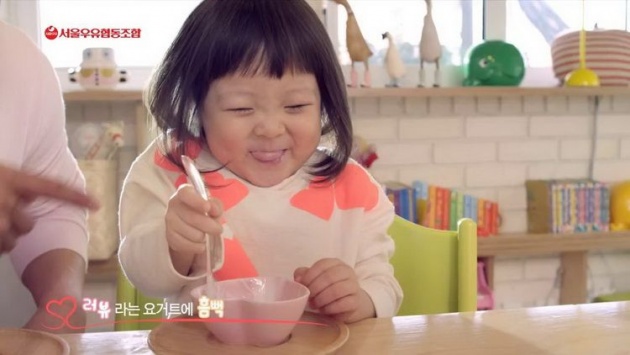 ...Sarang - CF Delmonte... (Image Source: Google.com)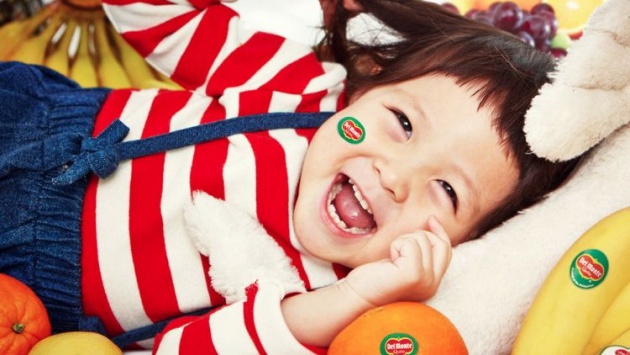 ...Sarang & Cho Soong Hoon CF JackWolfskin... (Image Source: Google.com)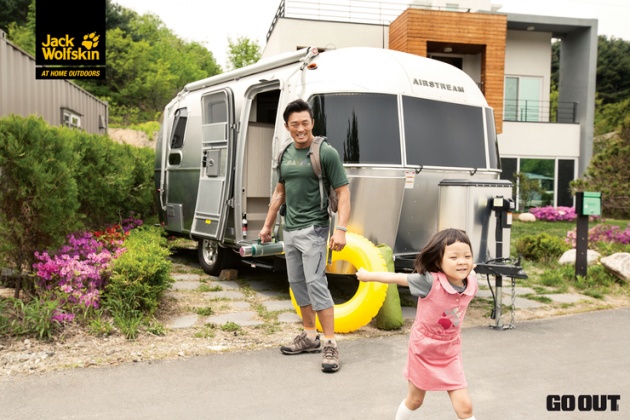 ..............................................................................................................................


The second family is Lee Hwi Jae (Comedian/MC) and his twins' son, Lee Seo Eun and Lee Seo Jun. From all of the families who participated in this show, it's just the twins who haven't be able to talk much. But they're still adorable anyway. Fortunately, their father is very funny. So, watching their part won't be boring and the children seemed to understand their father joke. Moreover, watching the twins is also very touching because we'll witness their development.

...The Twins Breakfast Time (August, 2014)...



...Daddy, What is this?? (February, 2015)...

...Lee Seo Eun and Lee Seo Jun Baby Photoshoot... (Image Source: KBS)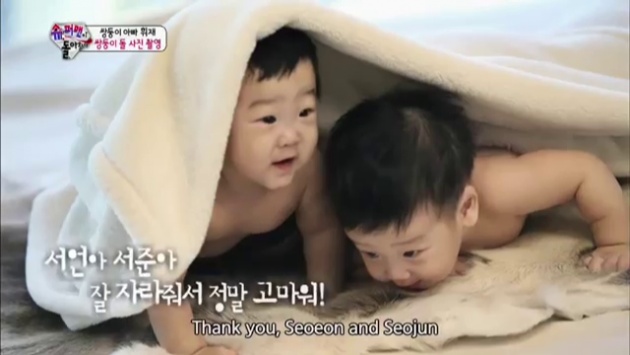 ...Lee Seo Eun and Lee Seo Jun ELLE Magazine Photo shoot... (Image Source: Google.com)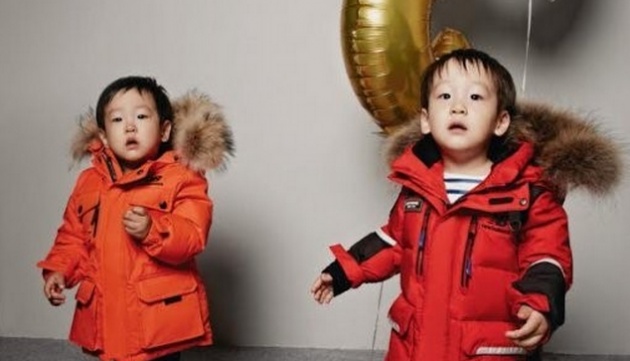 ..............................................................................................................................

Well, this third family is the family that makes The Return of Superman is getting more popular. Yes, Song Il Gook (Actor) and his triplets' son - Daehan, Minguk, and Manse. Not only because as a father figure Il Gook is very gentle, but his triplets' son are so cute and adorable. Although they're remarkably troublesome, but they could brought us into laughter with their behaviors.
...The Triplets' Enchanting Dance...
The triplets joined the program in mid-2014 and has captured the hearts of many viewers. Their name is a sentence in Korean language which means "Republic of Korea, Hooray!". Daehan means Republic, Minguk means Korea, while Manse means Hooray. Well, their names also reflect the distinct character of each of them.



Daehan - Republic, is the eldest son. His character is like a brother, who take care of his younger siblings and became the most dependable one. Even in the womb, he was the one who made his brothers could survive because of his position that supports his siblings. His father also admitted that he showed the character of a brother. When they have activities outside the home, his father would ask Daehan to hold his brothers hands.

...Daehan always takes care of Daddy's bag...


...Daehan is a good big brother...


Minguk - Korea, is the middle child. His character is also like the middle child, which are spoiled and somewhat jealously. However, who can stand with his cuteness?? His cuteness would melt everybody hearts and Minguk powerful "weapon" are his smile and his wink.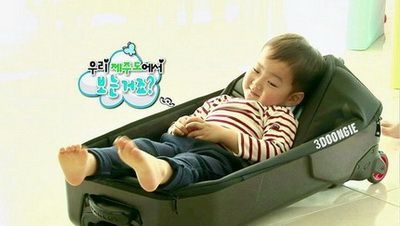 ...Morning Angel Song Minguk...


Manse - Hooray, as the name suggests, he is a free-spirited kid. Mischievous and nosy are two behaviors that can't be separated from him. As the youngest son, he may not have the character of a brother like Daehan or adorable like Minguk, but Manse is the one who always bring a cheerful atmosphere.

...Mischievous Song Manse...
...The "Song Vehicle"...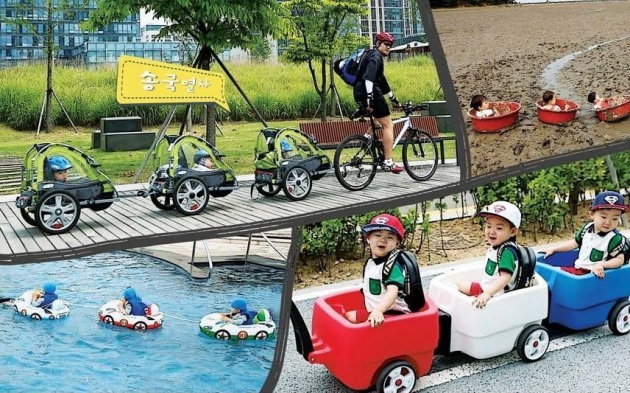 ...Minguk and Manse - The Bromance...
...The Triplet & Daddy...


...................................................................................................................................


This last family is one of my favorites. Tablo (Rapper of Epic High) and his daughter Haru. They retreated from Return of Superman on December 2014. This father-daughter couple is quite unique. Because, Haru is a beautiful daughter, but sometimes she has a flat expression while talking. It is very cute and often made his father speechless. While his father, Tablo, is a chic man on stage, but he's very easily moved even cry when he was with Haru.
Tablo always melt because of Haru's sweetness and her unpredictable words.
Like the time when Tablo asked "Haru, do you know what is love?"
And she replied: "Love is when appa (father) made me smile. It's called love."
The answer is very innocent, but for a father answers like that certainly will make his heart touched.
...Haru touches Tablo's heart...



...Haru & Table - Mud Game...


..Haru and Tablo - Baseball Game...
For those of you who love children and are looking for an entertaining spectacle at once inspires, you definitely should watch this program. There are tons of reasons that will make you a fan. If you're already fall of Korean TV Show, this one will attract your attention. However, if you've never watched Korean TV Show before, this program should be your fist!