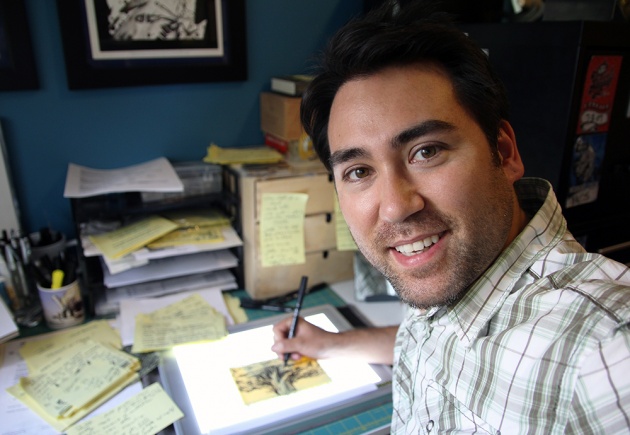 (Me animating my segment in Yellow Sticky Notes | Canadian Anijam)
In 2007 my short animation, Yellow Sticky Notes, was garnering a lot of success on the festival circuit screening at over 80 film festivals and winning the Prix du Public at the Clermont-Ferrand Short Film Festival. It even got nominated for an Emmy® and is now close to reaching 2 million views on YouTube. With all this success and gaining a really large fan following, I knew I had to do some kind of a follow up. Also, I just love drawing on Post-it Notes.
In my 2010 feature length documentary, One Big Hapa Family, I had six independent animators including myself create animated sequences for the film in our own unique styles using a variety of animation techniques from classical, paint on glass, and stop motion animation. The effect created an eclectic candy shop of animation styles and techniques that really helped define the look and feel of the film. I loved working this way and giving my animator friends complete creative freedom to tackle their own animated segments.
As well, ever since I saw Marv Newland's 1984 animated short film, Anijam, I've been fascinated with trying to make my own 'anijam'. An 'Anijam' is a collaborative animation with various animators who do individual short animated segments that link together to make one larger film. For Marv's film, he brought together 22 animators from around the world to collaborate on Anijam. The unifying factor in his animation was a character he created called Foska that each of the animators had to use in their animated sequence.
When I created Yellow Sticky Notes, I coined the term 'animation meditation' as a way to self reflect on the world around me using an animated stream of consciousness. I believe strongly that animation is a meditative process and I wanted to see how other animators approached this. So the concept of my anijam was to get 15 animators to utilize 'animation meditation' by drawing on only 4x6 inch yellow sticky notes with nothing but a black pen. As well, they had to pick one 'to do' list that happened on a day of their lives and then self reflect through 'animation meditation' on that day.
My producer, Ruth Vincent, has been working in animation for years. So after talking to her about my idea, she suggested I ask Marv Newland for his blessing to use 'Anijam' in the title of the film. Marv is one of my animation heroes and a huge inspiration. Up to this point, I had met him on a few occasions. To contact him, I actually wrote and mailed him a hand written letter to request a lunch meeting. He really appreciates those old school kinds of things like receiving a letter over email and I think he loves paper more than I do. So we met for lunch and he loved the idea of the sticky note anijam. So he gave me his blessing to use the 'Anijam' in the title. Then I asked him if he would like to do one of the animated segments. He said of course and then offered to help connect me with some of Canada's greatest independent animators. After that the rest is Canadian animation history!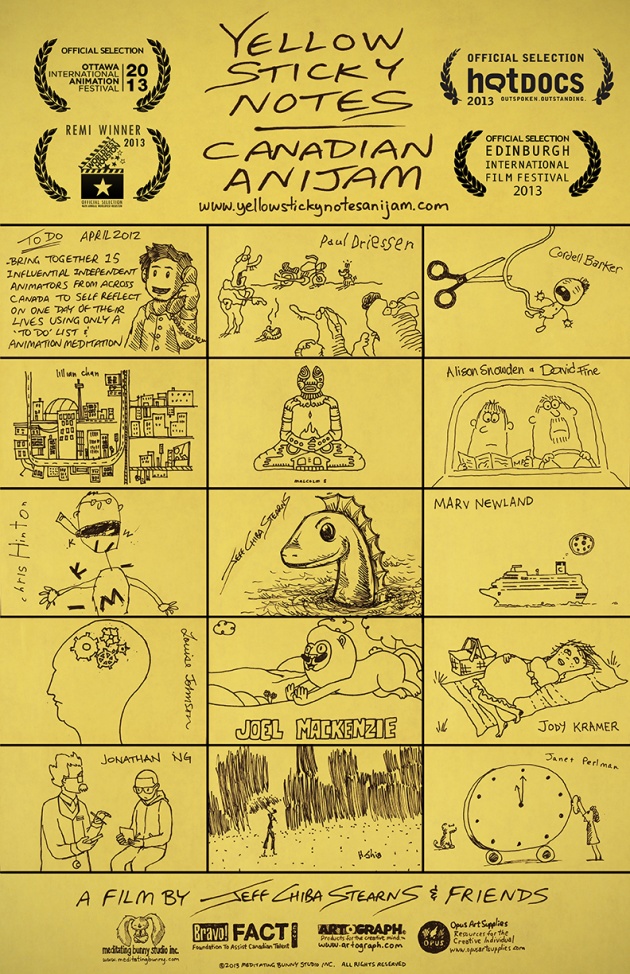 When I was developing the film, I had originally wanted to do an international anijam with animators around the world. We ended up getting a BravoFact grant from Bravo to help produce the film. This meant that we had to have Canadian content and animators. I actually then switched gears and thought this would be great because it meant I could start with Canadian animators and then move to doing more anijams with animators in other countries in the future. Thus, I compiled my wish list of Canadian animators I wanted to work with on the project.
It really helped having Marv confirmed as an animator because all of the other animators I spoke with really respected Marv and came on board right away. It was really important to get some of heavy hitters mixed with some rising talent. As well, I wanted a to make sure we had a good representation of female animators and have animators from coast to coast from Vancouver to Halifax and all parts in between.
It still boggles my mind that I was able to make a film with such legendary and Oscar nominated animators such as Paul Driessen, Chris Hinton, Janet Perlman, Cordell Barker and Oscar winners Alison Snowden and David Fine. Chris Hinton who now owns a farm in rural Quebec, even came out of animation retirement to create a segment for this film and surprisingly, he was one of the easiest animators to convince to take part!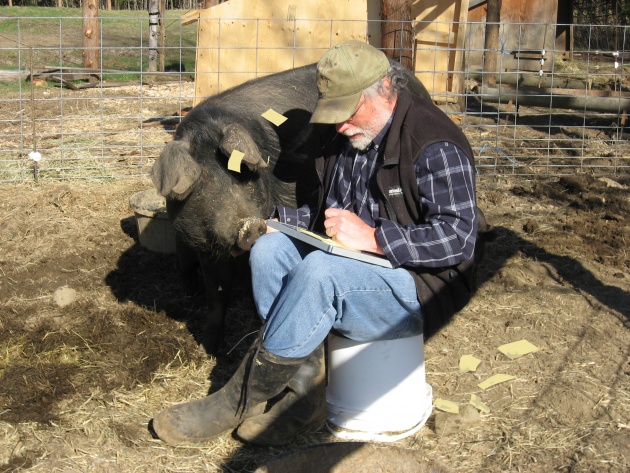 (Legendary Academy Award nominated animator Chris Hinton animating his anijam segment on Post-it Notes with his pet pig on his farm in Quebec)
It was truly an honor and makes me really proud that these animators would want to work with me on this project. As well, all revenue made by Yellow Sticky Notes | Canadian Anijam are going to start a foundation called the Yellow Sticky Notes Foundation which will help teach kids and youth how to classically animate on sticky notes as a way to self reflect and express their creativity. All the anijam animators were really excited about this part of the project because they are all huge proponents of using classical animation in their own work and this is a great way to inspire a future generation of animators...
Part 2 which explores more of the 'making of' will be posted in a few days but for now, you can watch Yellow Sticky Notes | Canadian Anijam below, here on Film Annex. Please subscribe for updates on new blog posts and video uploads! Thanks!