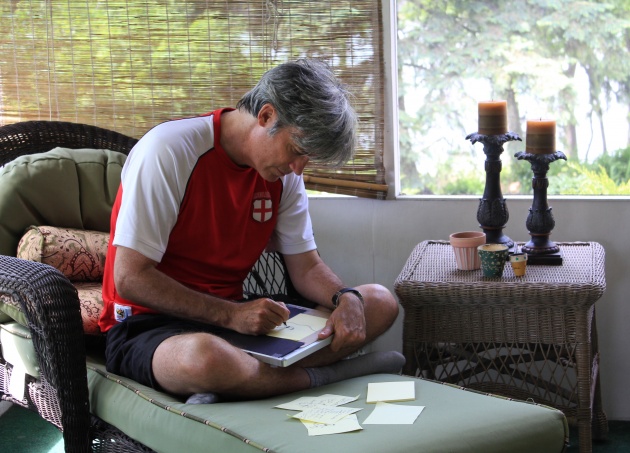 (Oscar nominated animator, Cordell Barker, animates on Post-it Notes from his home in Winnipeg, Manitoba)
This is Part 2 of a previous blog post. You can read Part 1 here:
http://www.filmannex.com/blogs/the-story-behind-yellow-sticky-notes-canadian-anijam-part-1/88593
When making Yellow Sticky Notes | Canadian Anijam, I can honestly say I had no idea what I was going to get from each animator that participated, which was why this was such a fun film to make. Every animator received a kit consisting of an Artograph LightPad, 4 pads of 4x6 Post-it Notes, 4 black pens, a copy of the original Yellow Sticky Notes film and a letter outlining the project and the approach. After that, they had to pick a day in the life, mundane or monumental, and animate a 'to do' list self-reflection. It could be anywhere between 10 to 25 seconds in length which is around 100 to 300 drawings. Although some of the 'anijammers' created over 400 drawings!
Each animator had around five months to get their animated sequences back to me so I could shoot all the animation consecutively. The first sequence I got back was from Paul Driessen. I remember flipping his stack of sticky notes and getting a good chuckle out if his bizarre sense of humor. As the other sequences came in, I realized just how different everyone's animation styles was which is exactly what I was hoping for. Each sequence is a full representation of each of the animators drawing style, sense of humor, pacing, and sensibility. Chris Hinton's was exactly what I was expecting from Chris, it was done in his unique style, a total abstract and surreal stream of consciousness. I can honestly say I had no idea what event even he was referencing when I first watched it.
When I played the entire film back for the first time, I couldn't believe how magical it was seeing everyone's animations contrasting each other. Although they were all held together through the medium of using the same yellow sticky notes to animate on. I made sure that the sound design for each of the animator's sequences was inspired by their previous films. Each animator provided his or her own sound notes for the sound designer, Raphael Choi. Genevieve Vincent, who created the score for the original Yellow Sticky Notes, came back and scored this new stick note film too. Genevieve has scored the last four of my films and I really love her sensibility. Her creative process really compliments how diverse all the animations are but she is able to find a way to connect it all together through the originally composed music.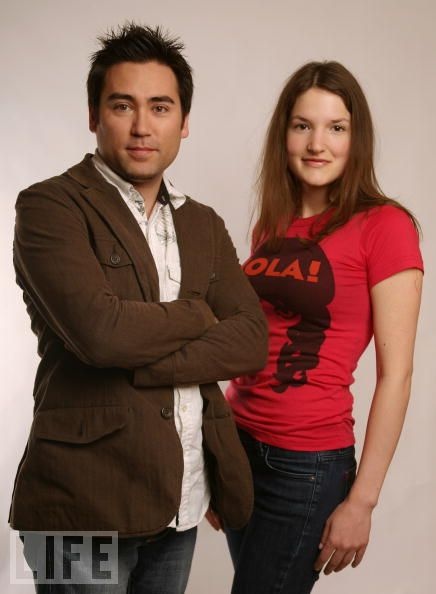 (Me with Yellow Sticky Notes composer, Genevieve Vincent at the Tribeca Film Festival 2008)
I struggled for a long time to find out how I would arrange the sequences. Each animator started with a blank Post-it Note and ended the same way, with a blank Post-it Note. That way I would be able to choose who came after whom. Each animator had to date and sign their 'to do' list. This was so that it could give the viewer a clue on what event the animator had chosen to self reflect on. When I made Yellow Sticky Notes, the events are all arranged chronologically from 1998 to 2007. So for the new anijam, I realized I could do the same thing by arranging the animator's sequences from oldest event to most recent event.
Paul Driessen chose a childhood memory so his was the oldest. Janet Perlman chose a future event from September 16, 2043 so she was the last sequence by default. All the other animations were arranged chronologically in between those two animations. What happened was truly magical because we get naturally get a humorous start that moves to inspiration and then from irony to activism…and then ends off funny. Which in my opinion is a perfect progression. What I love is that the animators actually determined the sequencing without even knowing!
When I made the original Yellow Sticky Notes in 2007, it premiered in the US at the Tribeca Film Festival. Well, they put the film in the documentary competition and screened it in a documentary shorts program. I remember the famed documentarian Albert Maysles even attended one of the screenings. It took me a while to realize that Yellow Sticky Notes could be seen as a documentary because I was so stuck on the fact that I had created an animated film. Although, in reality I had created an anidoc (animated documentary) because the film was a self-reflection of the last 9 years of my life told through 'to do' lists and animation. It was all an abstract reflection of real events and documented a period of my life through animation doodles and 'to do' lists.
Therefore, I realized that Yellow Sticky Notes | Canadian Anijam could also be considered an anidoc because it was documenting a day in the lives of each of the animators. So figured along with animation festivals, I would apply to documentary festivals too. I love that the film had it's Canadian Premiere at Hot Docs Canadian International Documentary Festival because I really feel that this animated film is very much an experimental documentary with its approach of documenting the past, present and future. One may not realize it at first but Chris Hinton's animation sequence is about WikiLeaks. I made all the animators write artist statements to help explain their sequences and the inspiration for their animations. You can read them all online at www.yellowstickynotesanijam.com
You can watch Yellow Sticky Notes | Canadian Anijam below, here on Film Annex. Please subscribe for updates on new blog posts and video uploads! Thanks!