As it would seem our former foreign minister also known as the 'decorous doctor', Mr Zalmay Rassoul hasn't been short of tricks though lately ( which reminds me of the famous show 'Tricks of the trade'). At this time if I am not wrong all the Presidential Candidates are more than willing to spent the peoples' money they have earned… oh sorry! the money they have actually stolen from the people. In all these years too many have suffered across the country due to corruption though the elites (corrupt) have prospered and they are spending back, 'of course to buy votes'.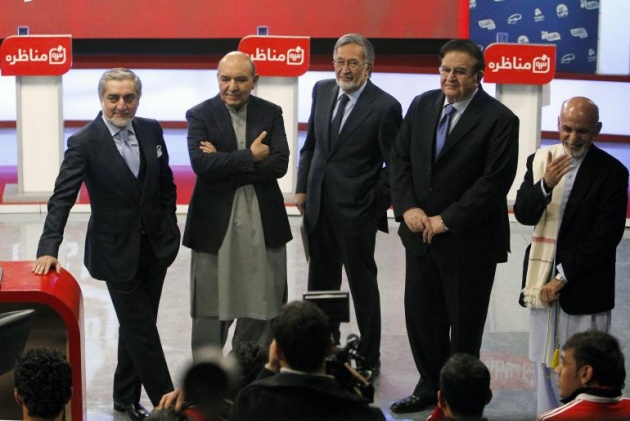 The current president Mr. Hamid Karzai though stated that he won't show preference towards any of the candidates however the ground reality talks different as 2014 elections are almost a knock at the door away. It is the president who is behind Zalmay Rassoul. Mr Rassoul, who quit his job as foreign minister and did that because he was sure of Karzai's support to his campaign, making him the 2nd favorite candidate following to Dr Ashraf Ghani.
Realizing the importance of the seat and value of time, all the candidates are giving their best though in the worst possible way. Just yesterday, the 'Ministry of Education' asked all the female teachers of Kabul schools to attend an event commemorating International Women Day in Kabul however all of them ended up in Zalmay Rassoul's campaign at Loya Jirga Tent while the so-called paid media (TOLO Group) exaggerated the candidate's amazing support and stated it as a huge success for the Mr Rassoul.
A shameful act of treachery with the whole nation, what hollow success would that be which is full of lies just to be the next President. I wonder whether this act would be publicized by the authority and Zalmay Rassoul would have to justify it or maybe these elites are bigger than the system and the situation is just too big for everyone. So big that right and wrong doesn't seem to matter at all and what matters most is the success.
'Fake, fake is all you are,
Fake and fake is what you'd be
What none has hoped,
that the nation has yet to see.