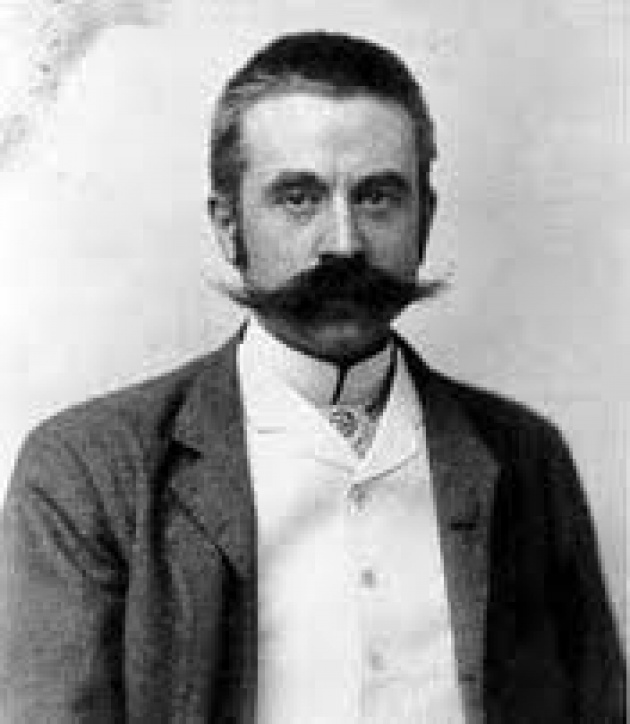 Stanford White was born in 1853. White was a famous American architect of the late 19th and early 20th Century who created many wonderful and memorable buildings in his hometown of New York City, as well as numerous estates for his wealthy clientele. He built magnificent homes for the Astors and Vanderbilts, as well as other Fifth Avenue and Newport RI. Mansions. White also built the first Madison Square Garden bordering Madison Square Park. He kept a private office and tower apartment there too, overlooking the Park. His family conveniently lived elsewhere.
He had just finished building 18 East 64th Street, a beautiful limestone mansion on 64th between Fifth and Madison Avenues, when he was gunned down on June 25th, 1906 in a jealous rage, by Harry Kendall Thaw, who shot and killed White atop Madison Square Roof Garden during an evening of entertainment. The roof was used to premiere Broadway shows and for partying.
Thaw dressed in a black suit, in the middle of Summer stood out like a sore thumb. He had a pistol under his coat. The coat-check girl had asked him several times if he wanted to check the coat, but he refused. After a few songs and dances, Thaw approached Stanford White's front row table, and put three bullets in his face. White slumped over and fell to the floor, and a man at the next table placed a couple of tableclothes over White to shield his bloodied face from the guests. He was dead on the spot. As Thaw emptied the remaininbg bullets into his hand, and held the gun up above his head, to show the crowd that it was empty, and that he had stopped firing. Some people laughed, thinking that this was a part of the show. Thaw exited to the elevators and met his wife, the young and beautiful Evelyn Nesbit, with friends who were waiting for him. She saw the gun and asked him "My God, What have you done?" and Thaw replied: "I've saved you." Nesbit had had a fling with White, and Thaw was jealous of this affair. White liked them young and glamerous, mostly showgirls, but Evelyn was a hi-society beauty married to a young mogul.
The resulting court proceedings were dubbed "The Trial of The Century" by the gossip hungry New York City press. The lurid details of the trial are long forgotten, but not Stanford White, as his architecure remains an elegant element and stamp on what's left of Olde New York. Moral of the story... no matter how good your work is, and how admired you are... be careful who you play with!
By Jeffrey H. Sado