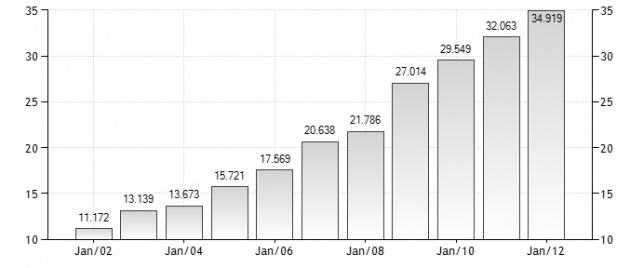 In the last few days I spent time on Skype talking to our cinematographers shooting Afghanistan videos for Film Annex. We are focused on documenting the success of businesses ran by Afghan women and the growing education system in Afghanistan. Both cinematographers reported that the economy of Afghanistan is getting stronger and more dynamic.
I also spent some time talking to my business partner Roya who is now traveling in India and is working on additional collaborations with other IT companies there. Roya also reported that the economy in Afghanistan is growing and allowing them to further their investment and reach outside of the country.
Film Annex's efforts to build schools in Afghanistan with the installation of advanced Internet Computer Classrooms, will result in connecting 160,000 Afghan Children to the World Wide Web. Doing so, we are targeting to increase the Afghanistan GDP per capita from $900 to $8000.
Current articles on Afghanistan seem to give a mixed prospective of the incredible progress and success achieved in the last 10 years, and I am not finding much truth in popular political blogs. So I must rely on veterans blogs from Marines like Jonathan Weinkiper and Jeffrey Moore.
Based on this week's experience, we also decided to interview some Wall Street people about Afghanistan's economy and their opinion on going long on Afghan education. Here two different but supportive approches by Mark G. Brennan and Michael W. Sweeney.
Side notes: Many ask me what the currency in Afghanistan is right now, and based on my experience I can say that the US Dollar is commonly used, which contributes to the growth of the economy of Afghanistan.
Others ask me what language Afghans use while doing business, and based on my experience I can say that English is commonly used for business correspondences. We are working with several Afghan writers contributing to video blogging websites like Film Annex.
If you have specific questions on how to establish relationships in Afghanistan and collaborations with Veteran businesses please don't hesitate to contact me at fr@filmannex.com.
follow me @rullifrancesco