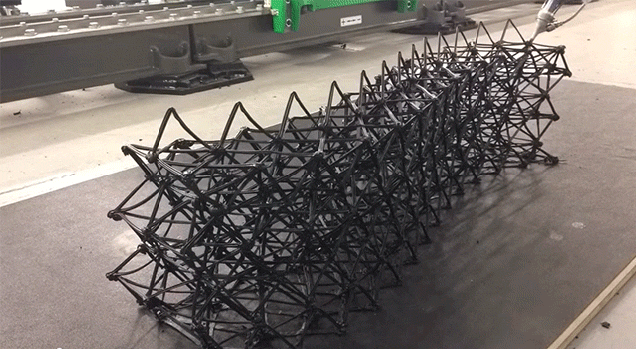 The dream of 3D printing buildings is not a new one and, typically, it's not a pretty one either. However, the visionaries at Branch Technology, a startup founded by architects in Chattanooga, Tennessee, want to change that—and they've built the world's largest free form 3D printer to do it.
The Chattanooga Chamber of Commerce flew me down to Tennessee to check out its gigabit internet and innovative startups. They paid for my hotel and fed me candied bacon.
Branch's mission is simple: Use 3D printing technology to create walls of any shape out of conventional construction materials. Building houses like this would give architects more freedom to integrate new geometries into their designs, namely shapes inspired by nature. The way that Branch prints walls is not unlike the way that the bones in our bodies are structured. There's a simple lightweight scaffolding onto which denser materials are added, increasing the strength and integrity of the overall structure.
The black scaffolding is 3D printed, while the spray foam, concrete, and stucco are applied at the construction site. You can also see the corner of a window that could be installed.
That said, only the basic scaffolding of the wall is actually 3D-printed. Using a repurposed automotive manufacturing robot made by Kuka, the Branch team built the world's largest free form 3D printer, a fast-moving machine that builds the scaffoldings out of ABS plastic reinforced with carbon fiber.
Each wall is custom-made and can curve or slope however the architect would like. From there, the lightweight scaffolding is shipped to the construction site where everything else—spray foam, dry wall, stucco, concrete, etc.—is added using the same tools that contractors use today. The contractors can surface finish the wall however the architect wants.
This is the part that prints.
"When geometry is not an issue, you can do almost anything," Branch founder and CEO Platt Boyd said at the startup's headquarters in Chattanooga. "If an architect can send us an original design file we can fabricate that."
Boyd himself is an award-winning architect with LEED credentials, so it's hardly a surprise that he's envisioned Branch to work as seamlessly as possible with existing construction methods. The technique not only enables Branch to start selling its 3D-printed walls without needing to reinvent work at the construction site entirely, but also ensures that the finished product will look like a normal wall, if not better. The individual walls then "fit together like Lego," Boyd says. The Branch team also insists that their walls will be stronger than traditional stud walls—and can also be manufactured more cheaply.
The 3D-printed scaffolding of an amorphous wall shape is shown to the left. To the right, is the finished version of a similar shape. It's strong enough to stand on.
This is a massive step forward for 3D-printed buildings. It was just under a year ago that architects started to 3D print a house in Amsterdam, a project that will take at least three yearsto complete. Last year, a team in China bragged about 3D printing ten houses in a single day, although calling the house-shaped hunks of concrete "houses" is a bit of a stretch. The Branch model emphasizes both speed and design, yielding beautiful structures in a little less time than a normal construction process. The company also insists that its model is more realistic than splashier ideas like 3D printing a bridge in midair.
Branch says it can produce 20 houses a year in its existing manufacturing facility and hopes to expand around the world in years to come. More architects contributing designs should eventually produce an entire library that Branch could pull from. The way the software works lets the company turn a design into a structure with just a few keystrokes. As Boyd put it, "We want to be the Shapeways of architecture," referring to the on-demand 3D printing factory for smaller designs.
Branch is off to a good start. The company officially launched this week at Gigtank Demo Day, the culmination of Chattanooga's boutique accelerator program. In fact, Branch won the Gigtank Investor's Choice Award and announced its first design competition for a 3D-printed home. Now equipped with its massive new free form 3D printer, Boyd and his team will continue to work out of INCubator, one of the nation's oldest incubators, in Chattanooga. In the same building, several other startups are using 3D printing in new ways too, creating everything from sensors to shoes.
The world's largest free form 3D printer and the wall that it printed.
3D printing structures cheaply and ubiquitously is still a dream, but it's a dream whose groundwork is currently being laid by companies like Branch. The small team in Tennessee has plenty of competition in companies based in the Netherlands and China—but if they can pull it off, there's hope yet for the future of American manufacturing.
All photos by Adam Clark Estes