Hi.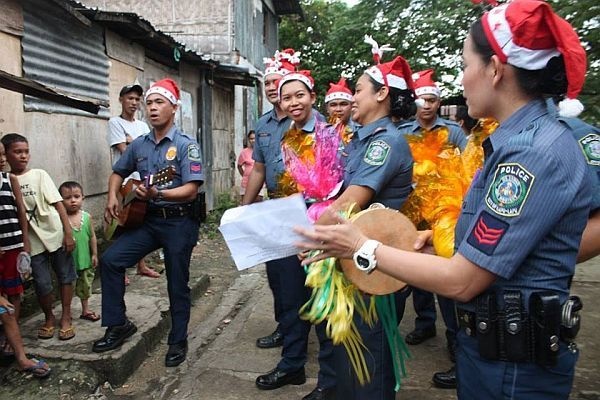 It's been a while since I wrote my last blog. How are you? I hope you're doing fine. I'm writing this during the Christmas season although the Christmas Day in our country has already passed, but I guess it's still not too late to write this blog because it's still December, so I think this blog is still a little bit timely. What I'll be writing is about the things Filipinos Do at Christmas. Every country has its own tradition of doing things and this blog is one of the best avenues to explain what makes Filipino Christmas different. Filipinos don't have snow to build a snowman dedicated to the holidays and they might not be doing what other races are doing so it's interesting to know how possible it is for them to be merry. Are you ready to know how they celebrate?
*NOTE: The methods below might differ in each place but these things in general are unanimously done by Filipinos.
#1. Putting Christmas Lanterns on Houses and on the Streets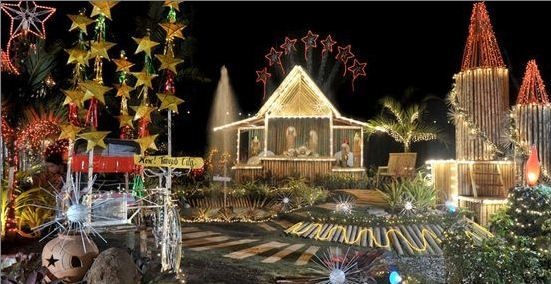 Photo Source: tangubcity.gov.ph
By the start of the 'Ber' months being Septem'Ber' as the first month, they start to decorate their houses and streets with colorful objects as they consider this month to be the start of the Christmas season. These objects are known as Christmas lanterns and most of the time they are paired with Christmas lights.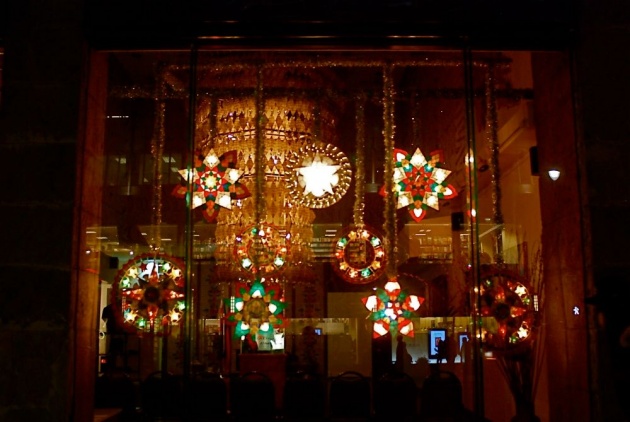 Don't you think these lanterns are amazing to see? With green, red, blue, or any other color, they can make you feel that Christmas is already around the corner and it's fragrance is refreshing to smell. Along with the coldness of the air, you will also feel that Filipino Christmas is different and you'll never forget how relaxing it is to see the lanterns.
#2. Having a Christmas Party
*Watch how much fun this group of Filipinos are celebrating their Christmas Party!:
Video Source: Rogiel Calizo (youtube.com)
I think other countries are also doing it so I'll just write what makes Filipino Christmas parties unique as much as possible. The invited guests come over to the host's party. A lot of delicious food is on the table and in most instances, there is also a Karaoke machine. The host prepares some parlor games also making Filipino parties more fun and enjoyable.
#3. Having Manito/Manita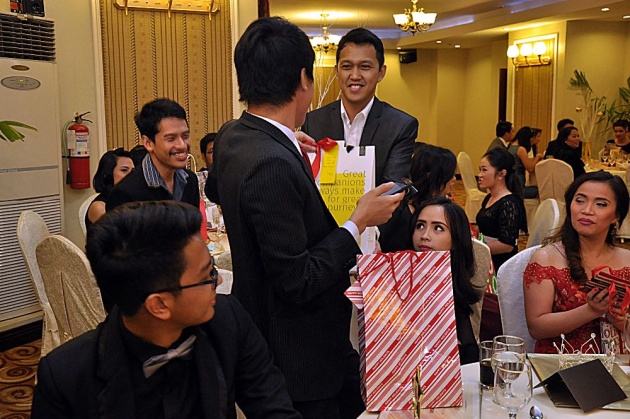 Or more commonly known as 'Exchanging Gifts', it happens in the later or middle part of the party. Weeks or days prior, each participant picks up a small paper roll from a container one by one and inside each of the paper rolls are the names of the people whom they will give a gift to. Likewise, the person who picked their names up will be their Manito/Manita who will give them a gift in return. Hence, the word Manito/Manita. Usually also, the participants write the gifts they want to receive in one wishlist so that their Manito/Manita could see what they could give during the Christmas Party.
#4. OFWs Coming Back Home and Reuniting with Their Families
*Watch this touching video of a Filipino family reuniting for Christmas:
Video Source: Jollibee Studios (youtube.com)
Situations such as #4 might be also common in other countries but as for Philippines, this is when Overseas Filipino Workers (OFW) and Filipinos working abroad come back home to spend time and reunite with their loved ones for Christmas. Filipinos are family-oriented so Christmas is the time when they want to be with their families the most no matter what happens. However, not all OFWs get to experience this envied moment as they have some important things to do, or are busy, or might be that they couldn't go home because their employers wouldn't allow them to, that's why it must be sad for these workers. Truth be told but some of the employers of these workers are not kind enough to grant their wishes. As they say, working abroad is good because you get to earn more than working locally. However, there's always a price to pay and the casualty of this difficult decision is the absence of your family.
#5. Attending Misa de Gallo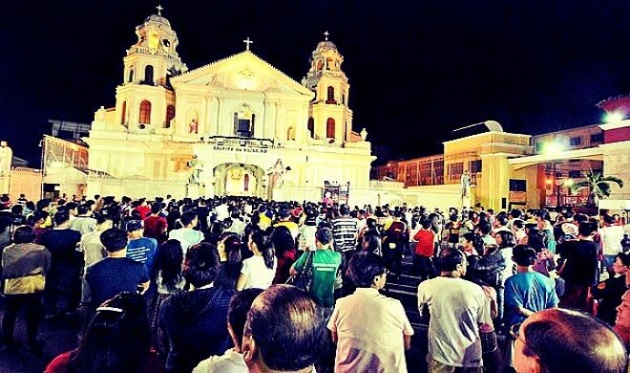 Or more commonly known as 'Simbang Gabi' in Filipino or 'Night Mass' in English, it is when Filipinos attend a Mass every 3:00 AM from December 16th to 24th. It is said that completing the 9 Mise de Gallos could grant whatever one wish you ask for during the mass. This is one reason why some do not want to skip even a single mass. Another reason is they just want to thank their Almighty Creator for the blessings they've received.
#6. Attending the Midnight Mass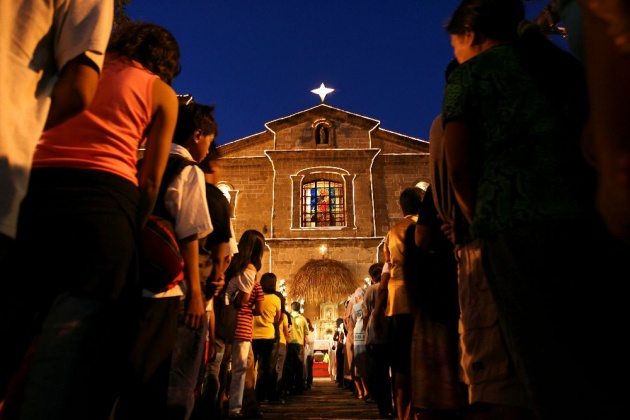 Unlike Misa de Gallo, this is the last grand official mass held in celebration of Christmas. This mass is also held at night but this one takes place three to five hours before the Nochebuena which is in #7. Most of the time, it starts within 7:00 PM to 9:00 PM and lasts for a maximum of two hours. It reminds the Filipinos of the real essence of Christmas. For other Filipinos, attending the Misa de Gallo means receiving the blessing to celebrate Nochebuena before going back home to enjoy the festivity of the holiday.
#7. Having Nochebuena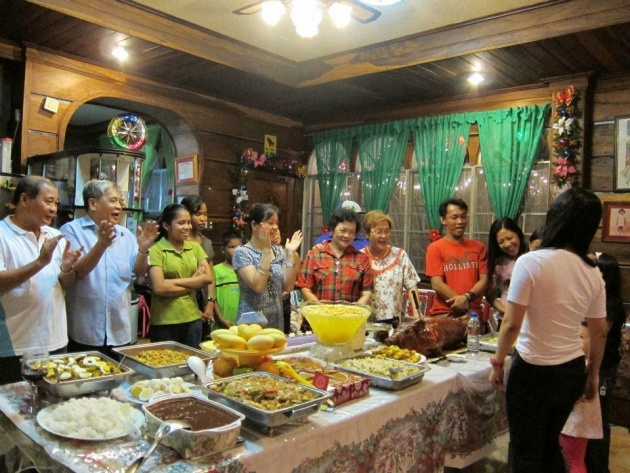 The word is actually of a Spanish Origin which means 'Christmas Eve' or 'The Good Night' in its literal meaning. It is a form or festivity where Filipinos prepare a sumptuous meal at each of their household and they get to enjoy it by the first strike of the clock of December 25th. This is done to celebrate the start of the Christmas day (December 25th). During this time, families get together and cherish this wonderful moment.

Among the conventional dishes on table are spaghetti, cake, Arroz Caldo, roasted chicken, fried chicken, Pansit or Filipino-styled noodles, ham, Queso de Bola, Lumpia, and many more. The dishes prepared will surely satisfy the cravings of everybody dying to eat them.
*This is what I bought for my own Nochebuena: Four pieces of burgers and six pieces of fried chicken. :)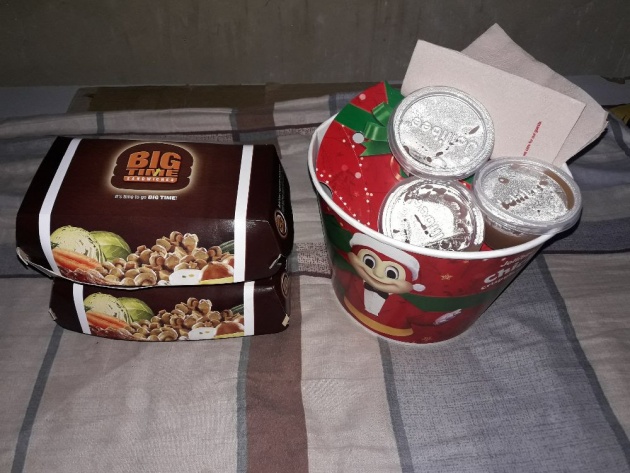 Photo Source: Jvanity1 (Bitlanders.com)
*This is what I cooked and served to a group of people for Christmas. Isn't it delicious? :)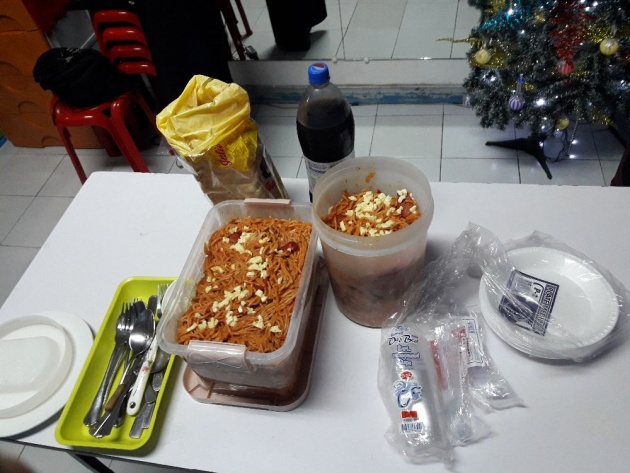 Photo Source: Jvanity1 (Bitlanders.com)
There you have it, my friends! These are the things Filipinos Do at Christmas. Did you enjoy what I just wrote? Can you imagine now how it is to celebrate the Filipino holiday? :) Which among the seven things you would like to try and why? Write them down in the comments section and have a great day ahead. Merry Christmas and a Happy New Year! :)