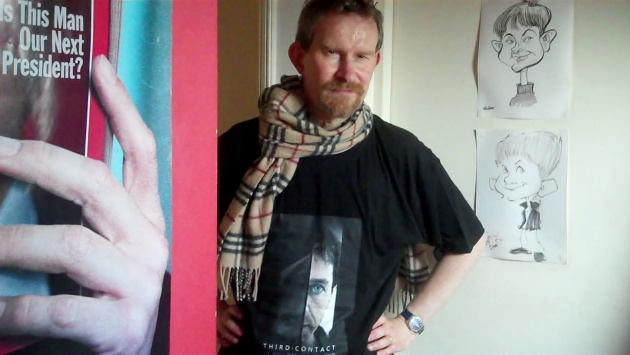 The Kickstarter funds have done their trick. London-based filmmaker Si Horrocks has had his BFI IMAX premiere of his £4,000 self-funded mind-bending drama, THIRD CONTACT on Monday 2 September. His backers have received their T-Shirts. That was the easy bit. But what next? Getting some form of cinema release in the UK is the obvious aim. But what doors are available to him? Let's go through the options.
The Traditional cinema release
Find a distributor willing to take it on and then hope they can place it in a cinema chain. This will involve the producer being given a set fee for the right to distribute the film in certain territories. This right will only exist for a given period of time whereupon they will either pass back to the filmmaker. The distributor may choose to sell the rights on to another company, which explains why certain films end up in film libraries. The film distributor may not necessarily release the film on DVD but it may buy the rights to do so and sell these to another company. This makes sense since the numbers of DVD distributors are far smaller than movie distributors.
In practice, for a niche film like THIRD CONTACT, you are looking at limited distribution primarily at the City Screen chain (now owned by Cineworld but, at the moment, independent from it) and the Curzon cinemas. The film will play for a couple of screenings a day for, perhaps, a week with a blanket release to coincide with the daily reviews (from the major newspapers). A good turn out on the first weekend of release might get it a second week. Essentially, pressures on screens will make this difficult (over 500 films are released in British cinemas every year). You need cinemas to keep it on for at least a couple of weeks, if not longer. On a recent visit to The Hague, I encountered the perfect cinema to keep the film alive. The Film Huis is a repertory cinema that has four screens, with auditoria having as little as thirty to fifty seats. Films are shown once a day a different times each day but are kept on week after week. Thus a four screen cinema offers a choice of twelve to fifteen films. It is not uncommon to see a film advertised with the words, 'Ninth Great Week'. This cinema is perfect for THIRD CONTACT. (Top Tip: get a distributor from Holland to see the film.)
Why is longevity important? What you want is the buzz of a group of friends seeing the film and talking about it ('what the heck was that about?'), then seeing it again with perhaps a different set of friends. ('Guess what that was about?') The film has the potential to be dinner party or pub conversation for weeks at a time.
The non-traditional route
It costs a lot to release a film and you need a supportive chain. However, there are different ways to release movies. Consider exploiting the network of regional film theatres. It has become recent practice to show a film once at fifty screens for one night only, followed by a Q and A (KEVIN HART: LET ME EXPLAIN was released in this way). There is no reason why a filmmaker could not just tour with a film, the way a band would tour. You start by establishing a Facebook campaign. 200 people pledge to see the film at their local Regional Film Theatre in exchange for the cinema screening it. The filmmaker acts as the distributor and takes their copy and uses the fee that a cinema would normally pay for the movie for travel and accommodation. You then post reactions (sometimes collecting these) and build word of mouth on the film's websites and other websites. You do local radio. The press see the film at the same time as the audience. Activists frequently use this self-distribution model as a means of getting their message out there.
But what about the repeat viewers? You can set a campaign for an encore screening and leave a digital copy of the film with the cinema in exchange for a small fee. Some of the chains might want in on this.
The British Film Institute contributes to the funding of a film's distribution if it has some artistic or cultural merit. (THIRD CONTACT undoubtedly does.) I've seen BFI money used to fund free previews to build up word of mouth. However, I think THIRD CONTACT does not need free previews. Capitalise of the publicity of the 'Si Horrocks' Kickstarter story.
Foreign distribution
There are certain countries where THIRD CONTACT will find an appreciative audience: France, Germany, Poland, Belgium, Holland, maybe even Russia. So why not see distribution there as a means of building the film's reputation. The exoticism of the film (in foreign countries) counts in its favour; they won't know where 106 Alexandra Park Road (the address of Erika Maurer) is. (Just down the road from me, in fact.) The British film that was a hit overseas then takes its reputation back to the UK so that people can see what all the fuss is about. But be warned. Foreign distribution can be like the Wild West. Check their reputation with filmmakers in those countries.
The British Council supports overseas screenings of unusual and challenging British films. They funded a friend of mine to travel with his film (a documentary on Derek Jarman) to Argentina. So approach them. My friend certainly did not have a distributor.
Realism
None of this is going to earn Mr Horrocks a huge sum of money. But it will build his reputation and prestige. He should not look to Britain to back his next feature. There's no reason why THE MAN WITH A BULLET IN HIS HEAD could not be filmed (in English) in Germany.