Alright lads!!! Bundesliga is here!! And I will be bringing you updates from the games being played in the German League!!
First up, the opener for the season was between Bayern Munich and SV Werder Bremen. Played at the Allianz Arena, home of the German giants Bayern.
Xabi Alonso, the Spanish midfielder opened the scoring at 8 minutes in with an awesome curling ball from outside the box. First goal of the Bundesliga season, hard to top that right?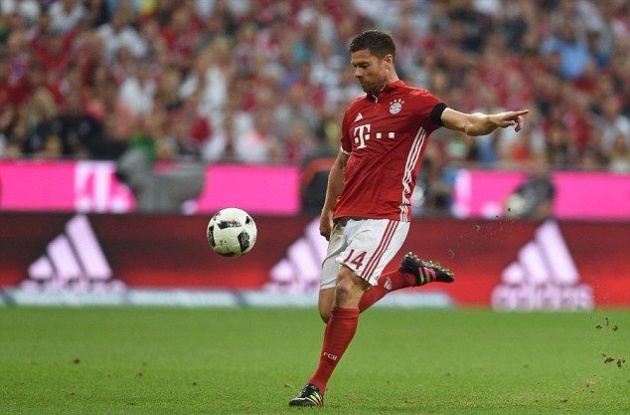 Alonso's majesterial volley from outside the box. Photo credits to AFP/Getty Images
Wrong! Second goal came in at 14 minutes, a beautiful strike by Robert Lewandowski, the Polish striker, beating the goalkeeper on the far post. Top quality striking. The goal was started by Franck Ribery, who slotted a beautiful through ball towards Lewandoski.
Third goal was another amazing volley by Lewy again as he recieved a cross into the box from Thomas Muller. Scoring it with the bottom of his boots, that goal reminded me of a lot of Zlatan goals. That was 40 seconds from the start of the second half. I almost fell of my chair at how fast that goal was!! And I really thought that the scoring would stop at that point. Boy! I was wrong again!!
Fourth goal was created by Thomas Muller again!! Slotting a beautiful 1-2 pass towards Phillip Lahm who was running towards the box, then slotting it home to beat the keeper in the near post. This goal shows the passing power of the German giants. Muller has 2 assists at this point. Goal was scored at 65 minutes.
7 minutes later, Thomas Muller again put a low cross in the box towards Franck Ribery who slammed the ball at the top bins past the keeper. Another beautiful goal scored by the German giants, and another notch for the Frenchie in his goal scoring career. Fifth goal at 72 minutes.
The game was over at that point after Ribery scored, Muller had 3 assists and I thought Bayern is gonna be slowing down. Then again, that is not the case. Lewandowski slotted home a penalty kick for a hat trick and giving an awesome start to Carlo Ancelloti's reign at the German capital.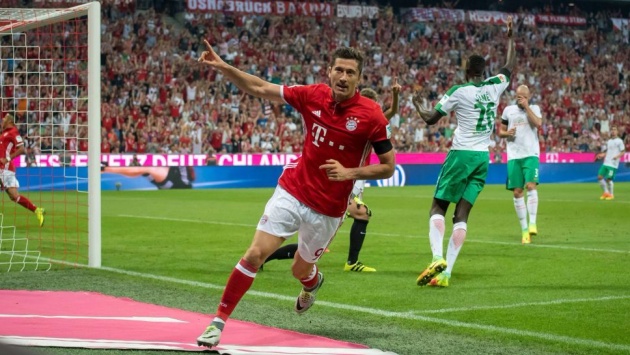 Robert Lewandowski, doing a victory run after scoring the first goal. Photo credits to Bundesliga
Alright lads!! That is it for today's Everything Bundesliga. Stay tuned for updates as I will be posting more games around the footballing world. Cheers!!
Article taken from my blog; http://footyandfoodie.tk