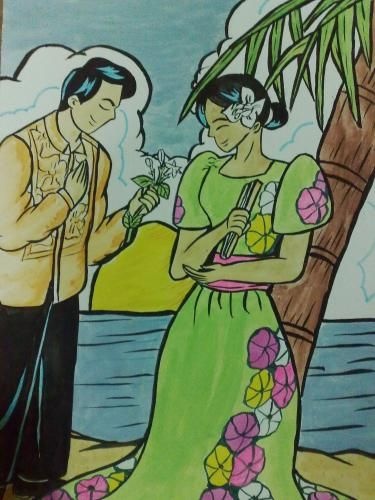 picture from: http://www.actlikeaman.org/wp-content/uploads/2011/03/1781434_Lady-and-A-Gentleman_400.jpg
Most of the Filipino women are still conservative in nature although many of the traits and culture we have are adopted through foreign countries. Old styles of courtship are already forgotten. The internet and media has also had a big influence with the way we perceive things. I will share to you my knowledge on how Filipino courts a lady today. Most of the situation today of being attracted to a lady is getting love at first sight because of their good physical appearances. Having a beautiful hair, attracted eyes, beautiful skin and a sexy body are mostly the reasons. Getting to know the attitude only follows. Others who already know the lady fall in love with them because of their good traits and attitude. They are kind and know how to really take care of you. Some fall in love with them because of their talents. They can dance, sing, can do lot of things like cooking and taking good care of things. Here are some examples on how Filipino courts a lady.
Since many are attracted the first time they see a woman and they don't know each other yet, the first option is to approach her nicely, ask for her name and don't forget to tell yours. Getting to know each other stage will now start. Ask what she does in life, what she likes and don'ts. This is applicable for a girl who doesn't have boyfriend. Most of the girls will not approach you well the first time if they already have a boyfriend. If you don't know if she already has, you can ask her nicely or do some jokes like asking her to eat in a restaurant and say to her this question "Is your boyfriend not going to be mad?" She will answer then if she already has a boyfriend. Getting her phone number, email, facebook, twitter and bitlanders will now follow. Those techniques are applicable for those who are brave enough to approach a lady. If you are diffident ("torpe"), the probable thing you can do is to ask help to your friend to ask and get her phone number. Again, she will not give her number if she already has a boyfriend. If you get her number, time for the next step of getting to know each other stage by texting her.
Making friends with her will now follow. Most Filipino ladies want to be friend with a guy at first to know him well. Most men hide many secrets to the girls or they are shy that these are the reasons the girl will not like them. Be open to the lady; don't tell her you are rich if you're not. Don't tell or act something that you are not. Be true to your self. Let her feel that you are really an honest person and make her feel that she is really taking care of. Drive or fetch her on her way home after school or after work. Ask her if she isn't hungry or if she wants anything.
Regularly visit her at her family home. Courting a Filipina is also courting her family. Be nice and respect her brothers, sisters and parents. You can bring them food for additional "handsome" points. You can also help them with their house work during your day off. It is a culture that been passed by generation. You can help them with the dishes after meal for example. Of course, they will not let you at first as they will say that they are not going to get rich if you help them. That is a superstitious belief and a joke of course. Starting to get the heart of her family is a big point in getting your girl's heart. They can be good allies for you and help you with their girl.
During a date or you are going out, always ask permission to her parents and be specific on the place and what time you are going to take her back home. Don't forget to bring them present or "pasalubong" so that when asking permission again, it will not going to be hard. You will get their trust. (haha)
Let your lady feel that she is always loved. Always bring her flowers, chocolates and gifts. Giving them love cards is additional point. Because of the technology, you can now send cards through phones and email. But seeing an actual card is what they really want. She will understand if you brought her not imported chocolates and not expensive gifts. What is really important is you give it from the bottom of your heart. Your effort is what really matters.
Be patient in waiting for the lady's approval of your love. Wait for her to love you back. Most of Filipino women don't answer "yes" immediately even though she already likes you. With this stage, she will test you more. If you are really patient, you will succeed. The lady will not let you court her longer if you don't have a chance or she doesn't like you. She will not let you hope and expect for her love if she doesn't like you.
The most difficult thing in courting a Lady is being practical due to poverty. If you are many courting her, she will not choose love instead, she will choose where she will not suffer poverty more. That is the most difficult scenario. Above are just some tips on how to court a Filipina lady. You can share your own style by adding your comment. Feel free to comment and suggest for additional tips.
Reference: http://www.ehow.com/how_4451950_court-lady-filipino-style.html