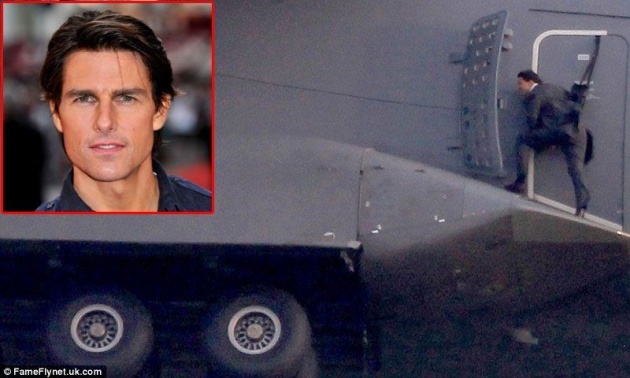 LONDON: World famous Hollywood super star Tom Cruise known for his action movies has stun everyone by performing a stunt 5000 ft above the ground for his upcoming movie.

Mission Impossible series hero, 52-year-old actor is busy in completing the fifth movie of Mission Impossible series.
the 52-year-old actor wasn't going to let someone else step in when he went 5,000ft above the British countryside for his latest incredible movie stunt.
The Hollywood actor surpassed himself when he put himself in great danger, hanging from the side of an Airbus A400M in a full tailored suit in character as Ethan Hunt.
The Air craft flew over UK. The action lover put his life on the line. He was hanging from the door of the aircraft.
Impossible Ghost Protocol was released in December 2011 and grossed more than $700million at the box office worldwide.