Anti-Cancer Benefits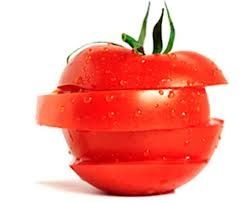 While not well researched for all cancer types, tomatoes have repeatedly been show to provide us with anti-cancer benefits. The track record for tomatoes as a cancer-protective food should not be surprising, since there is a very large amount of research on tomato antioxidants and a more limited but still important amount of research on tomato anti-inflammatory nutrients. Risk for many cancer types starts out with chronic oxidative stress and chronic unwanted inflammation. For this reason, foods that provide us with strong antioxidant and anti-inflammatory support are often foods that show cancer prevention properties.
Prostate cancer is by far the best-researched type of cancer in relationship to tomato intake. The jury verdict here is clear: tomatoes can definitely help lower risk of prostate cancer in men. One key tomato nutrient that has received special focus in prostate cancer prevention is alpha-tomatine. Alpha-tomatine is a saponin phytonutrient and it's shown the ability to alter metabolic activity in developing prostate cancer cells. It's also been shown to trigger programmed cell death (apoptosis) in prostate cancer cells that have already been fully formed. Research on alpha-tomatine has also been conducted for non-small cell lung cancer, with similar findings.
Along with prostate cancer and non-small cell lung cancer, pancreatic cancer and breast cancer are the two best-studied areas involving tomatoes and cancer risk. Research on tomatoes and breast cancer risk has largely focused on the carotenoid lycopene, and there is fairly well documented risk reduction for breast cancer in association with lycopene intake.
Other Health Benefits
While not as thoroughly researched as these other areas of antioxidant support, cardiovascular support, and anti-cancer benefits, several other health benefit areas are important to mention with respect to tomatoes. Diets that include tomatoes have been linked with reduced risk of some neurological diseases (including Alzheimer's disease) in multiple studies. Tomato-containing diets have also been linked in a few studies with reduced risk of obesity.