History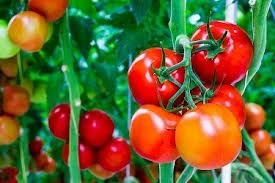 Although tomatoes are often closely associated with Italian cuisine, they are actually originally native to the western side of South America, in the region occupied by Columbia, Ecuador, Peru, Chile, and the western half of Bolivia. The Galapagos Islands off the coast of Ecuador are also believed to be part of tomatoes' native area. The first type of tomato grown is thought to have more resembled the smaller-sized cherry tomato than the larger varieties.
The tomato does not appear to have been first cultivated in South America, however, but rather in Mexico, most likely in Aztec civilizations and probably in the form of small yellow fruits. The word "tomato" may actually originate from the Nahautl (Aztecan) word "tomatl " meaning "the swelling fruit." It wasn't until the 1500's that Spanish explorers and colonizers brought tomato seeds from Mexico back to Spain and introduced this food to European populations.
Although the use of tomatoes spread throughout Europe (including Italy) over the course of the 1500's, tomatoes did not enjoy full popularity then and were seen by many people as unfit to eat. Part of this "food inappropriateness" was associated with the status of the tomato plant as a nightshade plant and its potential poisonousness in this regard. (It's true, of course, that tomatoes belong to the Solanaceae or nightshade family of plants, along with potatoes, sweet and hot peppers, eggplant, tomatillos, tamarios, pepinos, pimentos, paprika, and cayenne. It's also true that tomatoes contain alkaloids —substances that even in small doses can be associated with adverse reactions in sensitive individuals. But it's also true that the levels of alkaloids found in nightshade foods are well-tolerated by many individuals in diets worldwide. For more on nightshades, please see our article "What are nightshades and in which foods are they found?")
Today tomatoes are enjoyed worldwide—to the tune of about 130 million tons per year. The largest tomato-producing country is China (with approximately 34 million tons of production), followed by the United States, Turkey, India, and Italy.
In the U.S., cultivation of tomato varieties is usually determined by their final destination: (1) consumption in fresh form by consumers or (2) use in processing by manufacturers of tomato products. Tomato processors need varieties that have a greater proportion of soluble solids in order to make products like tomato paste more efficiently. Between 80-90% of all commercial tomato cultivation in the U.S. is cultivation for eventual use in processing. (Processing tomatoes are needed for the manufacturing of pasta sauces, pizza sauces, and tomato pastes. Both processing and fresh market tomatoes may be used in the production of salsa—although fresh market tomato salsas or homemade salsas—like our Fresh Tomato Salsa—are the salsas that we like best on account of their minimal processing.) California and Florida produce about two-thirds of all commercially grown fresh market tomatoes in the U.S. During the winter months, because Florida tomatoes are generally shipped to other states along the east coast of the U.S., imported Mexican tomatoes make up a high percentage of commercially grown fresh tomatoes along the west coast.