Tips for Preparing and Cooking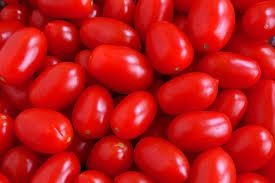 Tips for Preparing Tomatoes
Before serving, wash tomatoes under cool running water and pat dry.
If your recipe requires seeded tomatoes, cut the fruit in half horizontally and gently squeeze out the seeds and the juice. However, we encourage you to think about the recipe and consider whether the tomato could be incorporated with seeds intact. There are simply too many valuable nutrients in the seeds that you would not want to lose unnecessarily.
When cooking tomatoes, we recommend avoidance of aluminum cookware since the high acid content of the tomatoes may interact with the metal in the cookware. As a result, there may be migration of aluminum into the food, which may not only impart an unpleasant taste, but more importantly, may have a potentially unwanted impact on your health.
Whenever possible, try to develop recipes that make use of the whole tomato. We've seen research showing higher lycopene content in whole tomato products. For example, when the skins of tomatoes are included in the making of the tomato paste, the lycopene and beta-carotene content of the paste is significant higher according to research studies.
How to Enjoy
A Few Quick Serving Ideas
To make your own tomato paste, simply Healthy Sauté a couple of cloves of chopped garlic and/or 1 or 2 large chopped onions for a couple of minutes until they are translucent. Add 8 to 10 chopped whole tomatoes and a teaspoon of dried—or several teaspoons of fresh chopped—oregano, basil, and any other herbs you enjoy (such as parsley or rosemary). Simmer for 30-45 minutes. Remove from the heat, drizzle with olive oil, and add sea salt and freshly ground black pepper to taste. For a fancier version, Healthy Sauté chopped olives and/or mushrooms along with the garlic and onions.
Tomatoes are a great addition to bean and vegetable soups.
Enjoy a classic Italian salad—sliced onions, tomatoes and mozzarella cheese drizzled with olive oil.
Combine chopped onions, tomatoes, and chili peppers for an easy-to-make salsa dip.
Puree tomatoes, cucumbers, bell peppers and scallions together in a food processor and season with herbs and spices of your choice to make the refreshing cold soup, gazpacho.
Add tomato slices to sandwiches and salads. To keep things colorful, use yellow, green and purple tomatoes in addition to red ones.