Health Benefits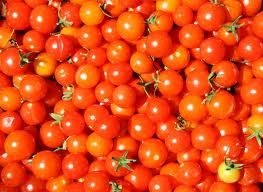 Tomatoes are a treasure of riches when it comes to their antioxidant benefits. In terms of conventional antioxidants, tomatoes provide an excellent amount of vitamin C and beta-carotene; a very good amount of the mineral manganese; and a good amount of vitamin E. In terms of phytonutrients, tomatoes are basically off the chart, and include:
Flavonones

naringenin
chalconaringenin

Flavonols

rutin
kaempferol
quercetin

Hydroxycinnamic acids

caffeic acid
ferulic acid
coumaric acid

Carotenoids

lycopene
lutein
zeaxanthin
beta-carotene

Glycosides
Fatty acid derivatives

9-oxo-octadecadienoic acid
Specific antioxidant nutrients found in tomatoes, whole tomato extracts, and overall dietary intake of tomatoes have all been associated with antioxidant protection. Sometimes this protection comes in the form of reduced lipid peroxidation (oxygen damage to fats in cell membranes or in the bloodstream). Sometimes this protection comes in the form of better antioxidant enzyme function (for example, better function of the enzymes catalase or superoxide dismustase). Better antioxidant protection has also been shown using broad measurements of oxidative stress in different body systems. We've seen studies involving tomato and specific antioxidant protection of the bones, liver, kidneys, and bloodstream.
Cardiovascular Support
Reduced risk of heart disease is an area of health benefits in which tomatoes truly excel. There are two basic lines of research that have repeatedly linked tomatoes to heart health. The first line of research involves antioxidant support, and the second line of research involves regulation of fats in the bloodstream.
No body system has a greater need for antioxidant protection than the cardiovascular system. The heart and bloodstream are responsible for taking oxygen breathed in through the lungs and circulating it around throughout the body. In order to keep this oxygen in check, antioxidant nutrients are needed in an ample supply. Earlier in this Health Benefits section, we gave you a close-up look at some of the best-researched antioxidants in tomatoes. It's worth noting here that conventional vitamin antioxidants like vitamin E and vitamin C are sometimes overlooked in tomatoes because of their unique phytonutrient composition. Yet vitamin E and vitamin C provide critical antioxidant support in the cardiovascular system, and they are an important part of the contribution made by tomatoes to our heart health. It's the carotenoid lycopene, however, that has gotten the most attention as tomatoes' premier antioxidant and heart-supportive nutrient. Lycopene (and a related group of nutrients) has the ability to help lower the risk of lipid peroxidation in the bloodstream. Lipid peroxidation is a process in which fats that are located in the membranes of cells lining the bloodstream, or fats that are being carried around in the blood, get damaged by oxygen. This damage can be repaired if it is kept at manageable levels. However, chronic and/or excessive lipid peroxidation in the bloodstream leads to trouble. Overly damaged fat components sound an alarm to the body's immune and inflammatory systems, and the result is a series of processes that can lead to a gradual blocking of blood vessels (atherosclerosis) or other problems.
The second line of research linking tomatoes with heart health involves regulation of fats in the blood. Dietary intake of tomatoes, consumption of tomato extracts, and supplementation with tomato phytonutrients (like lycopene) have all been shown to improve the profile of fats in our bloodstream. Specifically, tomato intake has been shown to result in decreased total cholesterol, decreased LDL cholesterol, and decreased triglyceride levels. It's also been shown to decrease accumulation of cholesterol molecules inside of macrophage cells. (Macrophage cells are a type of white blood cell that gets called into action when oxidative stress in the bloodstream gets too high, and the activity of macrophages—including their accumulation of cholesterol—is a prerequisite for development of atherosclerosis.) Many phytonutrients in tomatoes are likely to be involved with the improvement of our blood fat levels. Two little-known phytonutrients—one called esculeoside A and the other called 9-oxo-octadecadienoic acid—are currently under active investigation by researchers as tomato phytonutrients especially important in blood fat regulation.
Yet another area of increasing interest in tomatoes and heart health involves blood cells called platelets. The excessive clumping together of platelet cells can cause problems for our bloodstream in terms of blockage and unwanted clotting, and prevention of this excessive clumping is important for maintaining heart health. Numerous phytonutrients in tomatoes have been shown to help prevent excessive clumping of our platelet cells. (This ability is usually referred to as an "antiaggregatory effect.") In combination with the other heart benefits described above, this platelet-regulating impact of tomatoes puts them in a unique position to help us optimize our cardiovascular health.
Supports Bone Health
Bone health is another area of growing interest in tomato research. Interestingly, the connection of tomato intake to bone health involves the rich supply of antioxidant in tomatoes. We don't always think about antioxidant protection as being important for bone health, but it is; and tomato lycopene (and other tomato antioxidants) may have a special role to play in this area. In a recent study, tomato and other dietary sources of lycopene were removed from the diets of postmenopausal women for a period of 4 weeks to see what effect lycopene restriction would have on bone health. At the end of 4 weeks, women in the study started to show increased signs of oxidative stress in their bones and unwanted changes in their bone tissue. We expect to see follow-up studies in this area that will hopefully determine exactly what levels of tomato intake are most helpful in protecting bone tissue.