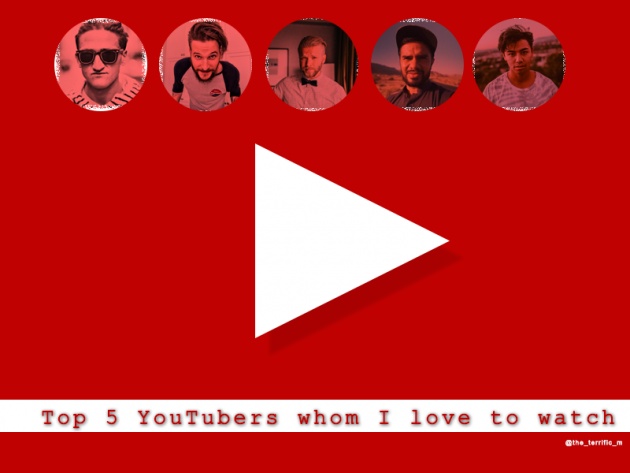 Image source: Designed by me.
YouTube is a major development in current's era. I don't think there is a person exists in this World who doesn't know anything about YouTube or haven't used it at least for once. Different people use it for different purposes. Some may use it to provide entertainment, some use it for their business promotions/advertisements, or for education etc. Meanwhile, YouTube has also been a great source of income for the content creators associated with it and they are also known as "YouTubers" as well. Above all, the greatest thing about YouTube is its community, which consists of those who watch videos on YouTube and the others keep sharing their content on it. It's just because of the community, the YouTube site has 1 billion active users each month – according to Reuters. And that's what makes YouTube, arguably the biggest video sharing platform in the World.
Since when I started surfing YouTube and got access fully to it, I've noticed a big change in my perspective. The one who loved to watch movies and T.V Drama's in early childhood is now in searching for travel guides and Vlogs. The word "Vlog" is derived from 'blog', which means it contains a description of something or someone's opinion. Where on the other side, the Travel logs are those which may shoot between traveling and contains a guide to traveling places.
I am not sure about you whether you are following any YouTuber or not, but I am following some. Those guys are pretty talented, artistic and intelligent. They keep me entertained every time with their content that shows their dedication and hard work. They got millions of subscribers and viewers from all around the World. And in their every video, you find some motivating/inspiring stories, or the taste of sensational cinematic sequence in some, tutorials and a bit of humor. In fact, their content deserves to be watched by every means. But the question here is, who are they? So let's find out below the YouTubers whom I love to watch.
1- Casey Neistat
Casey Neistat is an American filmmaker, vlogger, and co-founder of multimedia company Beme, but more than that he's probably one of the best YouTuber if not the best in the World. As of now, he has more than 9 million subscribers and around 2.099 billion views on his YouTube channel.
Casey is a famous YouTuber who make Vlogs about his daily life or present his version of something and sometimes do tech reviews too. Casey has a long series of achievements in his career, but he gained the International exposure for the first time in 2003 when he made a three-minute film titled "iPod's Dirty Secrets" criticizing Apple about not having a battery replacement program for their iPod line of portable media players.
Later in 2010, Casey kicked off his YouTube career, by uploading a video about when, and when not, to use the emergency brake cord in train cars in the New York, Subway. So on and so forth, Casey became popular by uploading a video about his nearby problems and others. And finally, in March 2015, Casey started to post daily Vlogs on YouTube and due to this, he has chosen to refrain from making any feature-length content.
If you're doing what everyone is doing, you're doing wrong. - Casey Neistat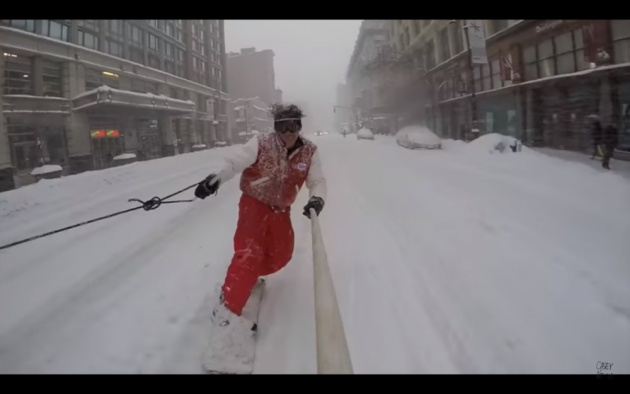 Image source: YouTube/CaseyNesitat
Casey loves skateboarding.
Reason to watch:
I've started following Casey Neistat on YouTube after my friend's recommendation. And to be honest, I've enjoyed watching every video of him. From First Class Air Line review to his daily life routine vlogs, all are just sensational and fine piece of creativity.

Image source: YouTube/CaseyNeistat
This is how Casey usually vlog from his studio.
Moreover, Casey's video also consists of some amazing emotional and inspiring stories. Since Casey is a dropped-out of a high-school and his life has been compromised of so much struggle, it's amazing to know about his life through his videos about how did he overcome all the obstacles in his early life and the reason behind his YouTube uprising. My favorite video which I like the most in the whole Casey's YouTube collection is "Do what you can't" and I also recommend everyone to watch it as a must.
Video source: Youtube/CaseyNeistat
My favorite video from Casey's channel "Do what you can't?".
2- Peter McKinnon
My no.2 favorite YouTuber is the super-handsome Peter McKinnon. Peter is a Canadian based photographer and filmmaker running his self-titled channel on YouTube. Apprentice of Casey, Peter is a multi-talented person. He always looks keen to educate viewers through his video and one can surely learn many things by watching his videos. Peter's YouTube channel is only 1.5 years old and in this few passages of time his channel gone over with 1.8 million subscribers and more than 89 million views. Peter engage his viewers through his vlogs and tutorial videos.
Image source: google
The crazy photgraphy skills of Peter McKinnon.
Reason to watch:
Image source: google
Peter's professional career surrounded by filmmaking and then later he switched to YouTube. Whenever I watch Peter McKinnon videos, it seems like I am watching any Hollywood film. Peter got amazing skills of direction, excellent cinematography which provides his video an aesthetic look. Indeed, Peter is an absolute treat to watch. Peter makes a video episode known as "Two-Minute Tuesday" on every Tuesday which is my most favorite piece from his channel.
Video source: Youtube/PeterMcKinnon
Peter's two-minute tuesday.
3- Matti Haapoja
Image source: YouTube/MattiHapooja
Do you want to get travel vibes? Or you want to travel through the World? Or want to get knowledge about the best travel destinations in the World? Then I don't understand why are you not following Travel Feels (now Matti Haapoja) channel on YouTube? Although a bit of video editing tutorials mostly consists of travel guides, I am sure this channel will fall you in love with traveling. Matti Haapoja got 321K subscribers on his channel with just 146 videos.
Reason to watch:

Since after I've started following Matti Haapoja (formerly known as Travel Feels), it seems like I've witnessed some heaven like places on earth. There are many videos about traveling, which is an absolute delight to watch, but out of all my favorite one is "Travel Feels: Norway".
Image source: youtube/MattiHapooja
4- Irfan Junejo
Now this turn is for my country's top vlogger Irfan Junejo. It has been a year since Irfan started Vlogging on YouTube, and with more than 100 videos on his channel, he's now having more than 100K subscribers on YouTube which is a kind of achievement for him. Irfan does make travel logs which have become more popular than his Vlogs. He also follows the footmarks of Casey Neistat and Peter McKinnon.
Don't run for money, run for your passion. The money will definately chase you. - Irfan Junejo
Reason to watch:
As a Pakistani, it's great to see someone making quality content with great dedication and that too in the national language "Urdu" which is really easy and pleased to watch. The very first time I watched Irfan's video, he had around 3,000 subscribers on his channel but after then he got sudden uprising after uploading his travel log "Travel Guide To Naran" which went extreme popular and that's also my favorite too. Now he has more than 100K subscribers on his channel, and his every video got a cinematic sequence that has become a signature of him which he shots on 120 frames per second. Another signature thing of Irfan Junejo when gone viral among his fans is his slogan "Scenes Kuch Aise Hain" which mean 'The current scene is like'.

Image source: YouTube/IrfanJunejo
This is the most viral video of Irfan Junejo which you can watch by clicking on the above link.
5- Play The Game Feels
PlayTheGameFeels is a YouTube channel owned by one of renowned content creator Justin Escalona, at which he got more than 200K subscribers. Escalona upload videos daily about his friends, life, routine and activities.
Reason to Watch:
Randomly, when I just clicked a video of PlayTheGameFeels, I really admired the lavish lifestyle the person adopted in the video. And later, I came to know that he's none other than Justin Escalona. Plus, I also like the episodes the channel's playlist to get entertainment according to the subject.
Image source: YouTube/PlayTheGameFeels
Conclusion:
The above five mentioned are my favorite YouTubers whom I like and love most. And there is no doubt about the fact that they have changed my perspective of how I see the world and I learn a lot of impressive things from them. So without any hesitation, I would recommend you too to please watch their videos or at least watch the ones which I liked the most (I've mentioned with their links).
That's all from my blog, I hope you've enjoyed the read. Till my next blog wish you all the blessing and love. Thanks!