Video Credits: Facebook via YouTube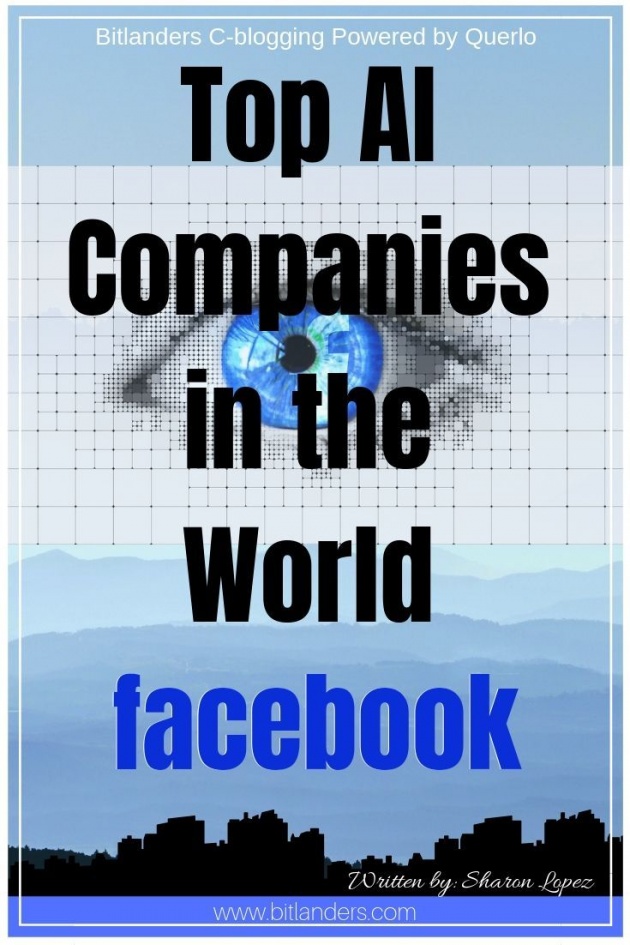 Image Credits: Sharon Lopez via Bitlanders
Based Image Credits: Geralt via Pixabay
With 2.32 billion active monthly users, there is no doubt that Facebook is the number one and still growing social media in the world today. Here's a data that shows how popular Facebook is at the current time.
Most famous social network sites worldwide as of April 2019, ranked by number of active users (in billions)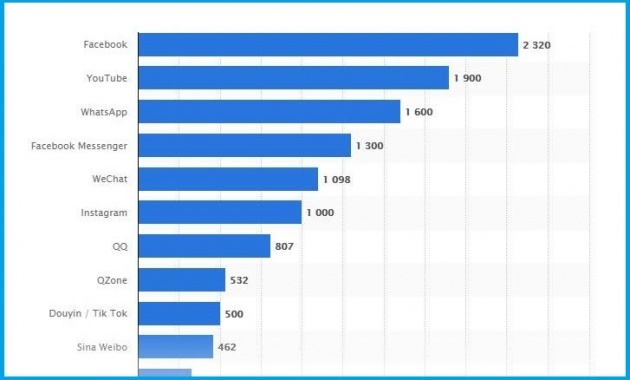 Image Credits: Statista.com
This is my third c-blog post about the top AI companies in the world. I wrote about Siemens and AI Brain, both belong to the top AI companies as identified by different online sites based on their contributions in the field of AI. I believe it's about time for another discussion concerning top companies playing a major role in the field of artificial intelligence.
FACEBOOK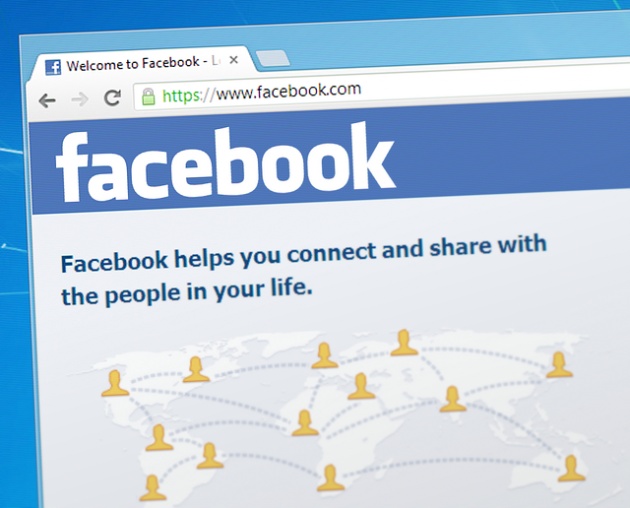 Image Credits: Simon via Pixabay
Facebook evolution is an amazing thing to watch. It could be inspiring how a simple idea would turn out to be a worldwide hit.
The Facebook Vision:
People use Facebook to stay connected with friends and family, to discover what's going on in the world, and to share and express what matters to them.
I discovered or should I say, a friend encouraged me to use Facebook so that she may have someone to share her experiences with. It was in 2008 when she created my first account. Because of the personal details we feed on the program, we had a chance to locate our old classmates and friends. We found new friend base don interests.
There are game apps which are really engaging like Farmville, Yo Ville and other apps which I tried but soon get tired of. One reason is that I don't have my own internet connection.
It was in 2011 when I decided to find an online work in order to get an additional source of income. While my friends are enjoying the games and sharing their photos and finding new friends, I was also trying to discover how Facebook is making money.
Due to my limited knowledge of the internet, I didn't find things easy. But being a persistent and hardworking person, I slowly learn and make things work for me.
FACEBOOK AND ARTIFICIAL INTELLIGENCE
We might be a regular Facebook user and know how to use many of its programs and apps. But did you know that Facebook is also one of the top AI companies in the world?
You might have experienced the power of facial recognition by Facebook. It is a feature that automatically identifies users as soon as their photos are uploaded.
Apparently, when we log in to Facebook, we are using an AI system or application developed by the site in one way or another. With all the data we are providing, it is not surprising that Facebook knows more about us than any other site in the world.
Facebook currently has three AI research labs across New York, Paris, and Menlo Park. Facebook recently introduced DeepText, an engine for reading text in more than 20 different languages. Facebook AI is already being used to curate the newsfeed and recognize faces in photographs.
Facebook is continuously conducting research hiring the best people in the world.
If you think you already know Facebook, think again.
You might be surprised but there are still a lot of...
THINGS YOU DON'T KNOW ABOUT FACEBOOK
I prepared this c-blog that you may learn more about Facebook and products powered by AI. You may click HERE for a full-screen view of the Querlo Chat.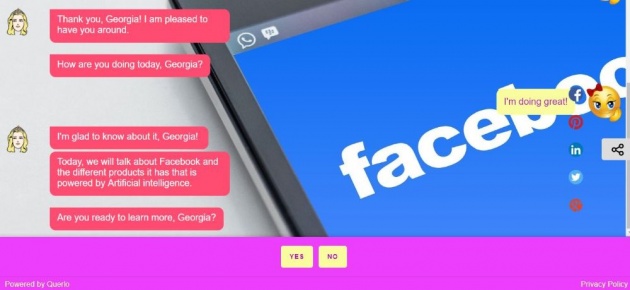 Image Credit: a screenshot of the Querlo Chat Top AI companies in the World - Facebook
Interact with me on this c-blog:
I hope you learned some good things from this blog. Facebook is a great place to share, connect, learn new things, and make friends. For some, Facebook is a place to earn money and pursue a business career. Whatever our purpose in using Facebook, they always have something for us.
Thank you for reading.
You may also find the following interesting:
Would you like to earn more from Bitlanders? Join Bitlanders AI-Themed blogging! Learn more about this from Micky-the-slanted-Salerno's post:
Important Update: BitLanders AI-themed Blogging!
***************************
Do you need help in creating your c-blog? Let me know and earn more from Bitlanders. You can connect with me on MY SITE and other social media accounts below.
****************************
C-blog background image credits: Geralt via Pixabay
DISCLAIMER: The views and opinions expressed in this c-blog post are that of the author and does not in any way represent the agency or department she currently belongs.
ADDITIONAL NOTE: The sites mentioned in this post are for information purposes only and links are provided for easy access. The author does not receive any remuneration from the said companies or sites.
♥_♥_♥
Written for Bitlanders
by ♥Sharon Lopez
Date: June 23, 2019
Connect with me!
♥ IDEAL CAREER IDEAS ♥ FACEBOOK ♥TWITTER ♥ PINTEREST ♥ LINKEDIN ♥
All Rights Reserved 2019