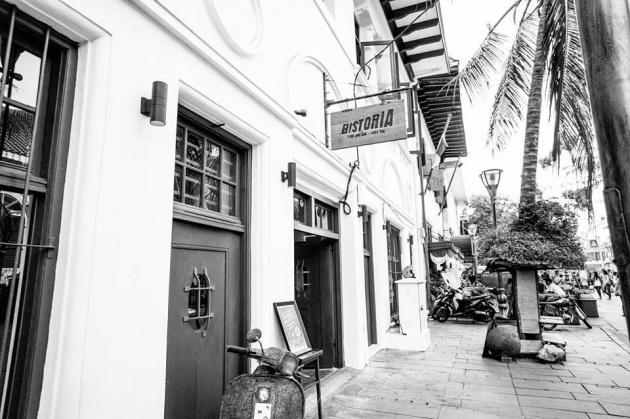 (source image : Google)
I liked visited the old town sites. I found it exotic and pretty vintage building that encourage you to builded the wild imagination about back in time. Many questions spinning at my mind when explored those places such as :
"What kind of life at that time? How they got an idea to build those fantastic place? etc...etc...etc

Indonesia has three old town sites, one of them at Kota tua Jakarta. According to wikipedia, Kota Tua is a remainder of Oud Batavia, the first walled settlement of the Dutch in Jakarta area. The area gained importance during the 17th-19th century when it was established as the de facto capital of the Dutch East Indies. This inner walled city contrasted with the surrounding kampung (villages), orchards, and rice fields. Dubbed "The Jewel of Asia" and "Queen of the East" in the 16th century by European sailors, the area was a center of commerce due to its strategic location within the spice trade industry in the archipelago. In 1972, the Governor of Jakarta, Ali Sadikin, issued a decree that officially designated the Jakarta Kota Tua area as a heritage site. Now, several building was turned into museums, local goverment office, landmark, restaurant, and cafe.
To gained the nostalgic moments, i am visited Kota tua (old town) last week. Normally- i just went and explored the museums and the square. However at this time, i am took the different angle – just enjoy the cuisine and the classic ambiance at the restaurant. I am decided to explore Batavia Cafe (one of the famous classic restaurant in Jakarta). Being the most beautiful colonial building restaurant, made me more curious to tried the ambiance and will taken a lot of pictures for my own blog. Unfortunatelly, they took fee charge for taking picture at there -around IDR 2 billion / hours ($ 14,3)- that`s quite expensive for a newbie like me. Because of the batavia cafe is one of the prestigious landmark at kota tua, they had often used for commercial industries. Its disadvantage for the newbie like me. They`re only allowed you to take picture with camera phone which is sad because i could not provided pictures with the high resolution. with Hence, I am walked around near fatahillah museum and saw Kopi Bangitiam, Kafe Djakarte, dan Historia Food and Bar. Looked at from the amusing outdoor view, i choosed to explored the historia food and bar.
Historia food and bar is a new cafe at Old town and established since last year. They preserved the old building – former the spicy warehouse of PT. Borneo Sumatera- they turned into the spacius bar and restaurant. At the enterance, they turned the boring hallway into mini spicy museum. A lot of spice jars at wooden shelf and boxes like Pepper , coriander , cinnamon , eucalyptus ,lemongrass , green beans , soya and turmeric. As known as the biggest spice producer, historia cafe encourage the customers to reminded our natural resources and the main reason why the colonial came in Indonesia.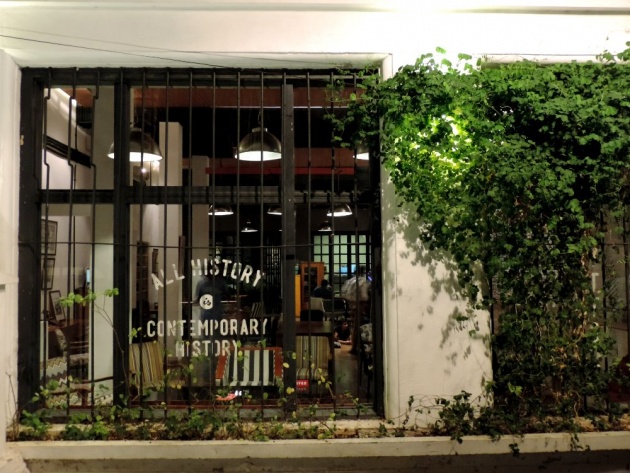 (The outdoor window. Source image : Photo taken by me)
THE INTERIOR
Historia food and bar was adopted the retro vintage with the industrial design concept. Check out the chairs and sofa was mostly had vertical pattern with the monochrome colours, bright colour with the chevron pattern, or solid colours like orange, maroon, and blue. The brick walls and the lighting gived the the perfect touch of the industrial design at the dining area. They`re added too the unique wall painting that told about lived at the colonial era.

( Spicy jars collection. Source image : taken by Me)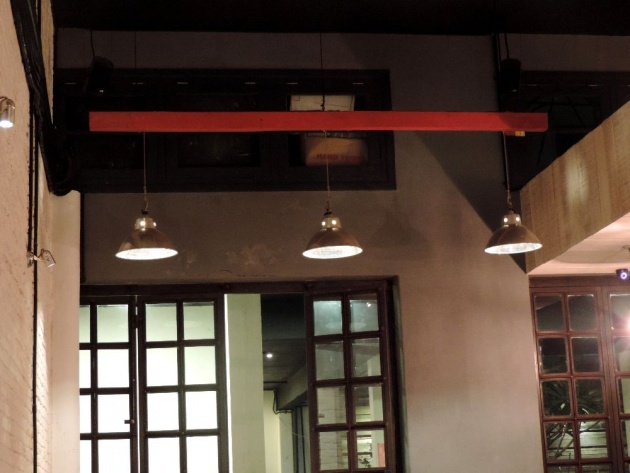 ( The perfect lighting industrial touch. Source image : taken by Me)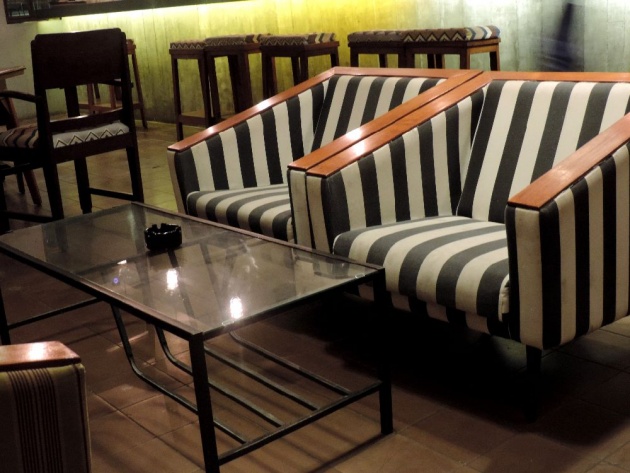 (Monochrome colours. Source image : taken by me)

(The Chevron pattern chairs . Source image : taken by me)
There`s splitted into two wings. At left wings, you will found a wooden bar station. At The bar station, they put many cocktail glasses and classic soda in the wooden shelf. It`s quite different with any bar station that usually put liquors at there. At right wings, many antique things displayed here like classic phone, the cash register, and the boxes was made from nethearland. They decorated the dining area like your grandmother living room.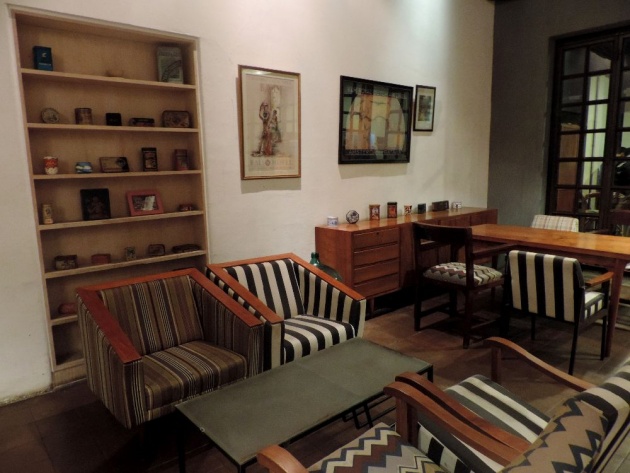 (The Vintage atmospher at dining area. source image : photo taken by me)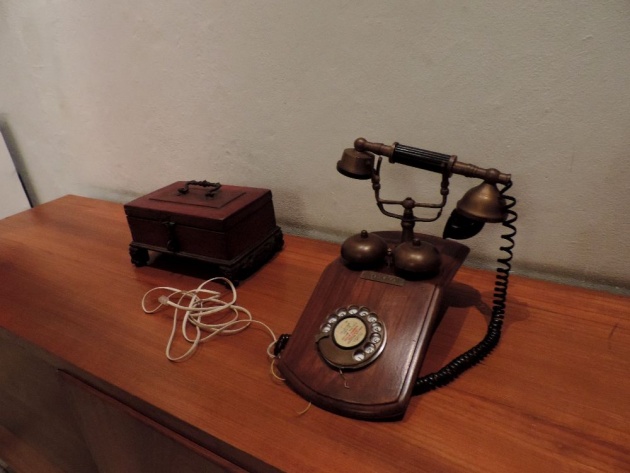 (The antique phone displays. source image: photo taken by me)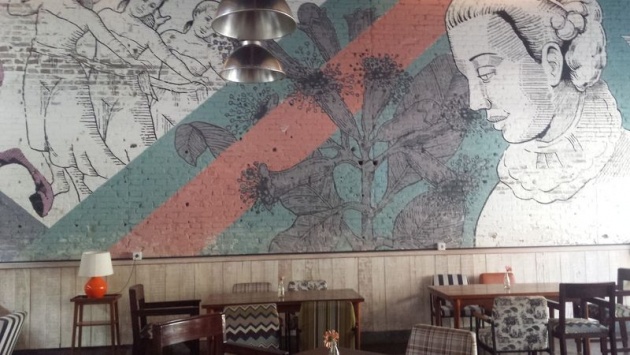 (The Wall painting . source image: photo taken by me)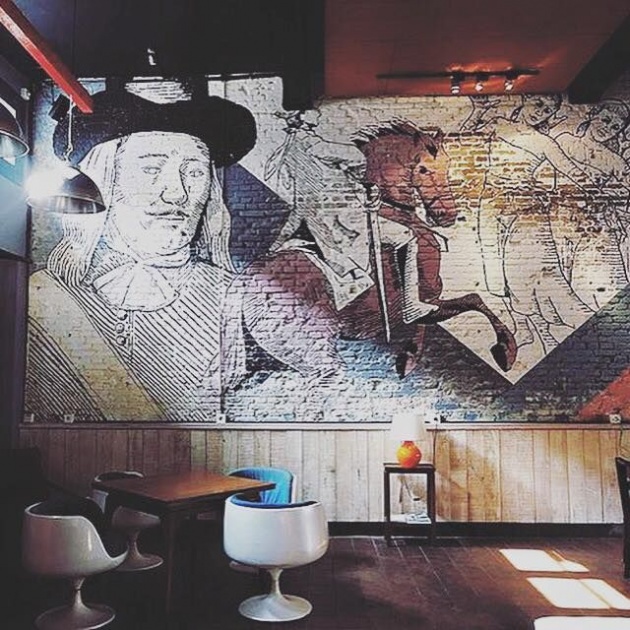 (The wall painting . Source image : photo taken by me)
THE MENU
Historia food and bar only Tprovided the old indonesia cuisine. For the starter, their chef recomended to tried Jalangkote and Lumpia. Jalangkote or pastel is Puff pastry filled with vegetable and minced beef served historia special sambal. Lumpia is a friend spring roll stuffed with tuna, capsicum, and onion. Both of them had price at IDR 35.000 ($ 2,5). The main course is quite affordable price ( start from IDR 40.000 - IDR 70.000 / $ 2,8 - 5,3). They`re recomended to several menu likes :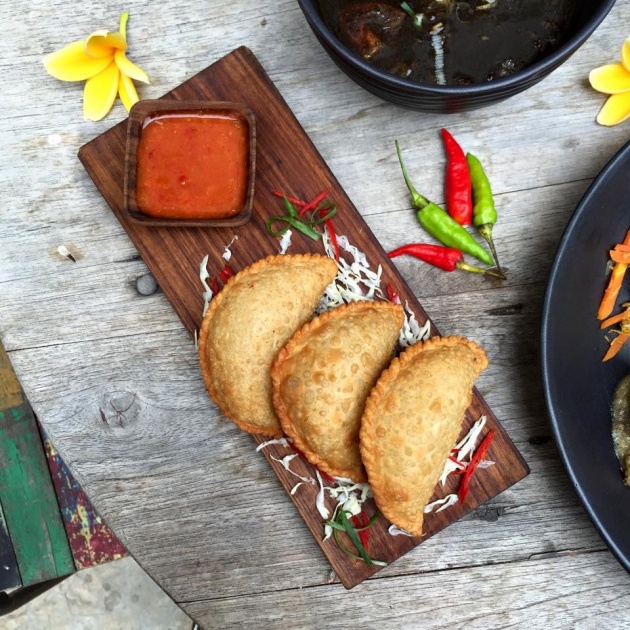 (Jalakote . source image : google)
Nasi babanci - a beef stew wtih shredded coconut, served with the steam rice. I thought only the heritage food an bar served this betawi long lost recipe. If you go to any restaurant in Indonesia, they only served common betawi cusine like soto betawi (beef stew with santan), kerak telor, nasi uduk, and soto tangkar.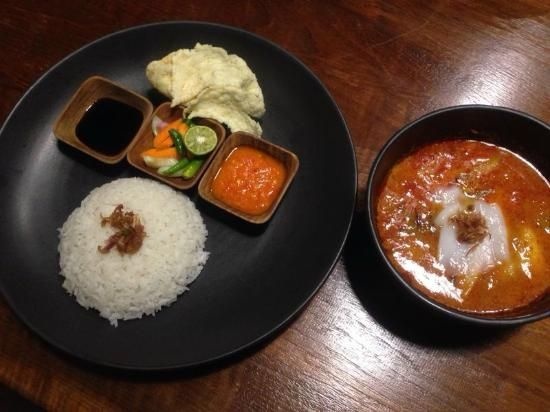 (source image: Google)
Nasi goreng - a fried rice, served with dash of salty fish, crackers, and pickles.
Sate Daging Belimbing wuluh – beef satay marinated in belimbing wuluh served with the peanut sauce.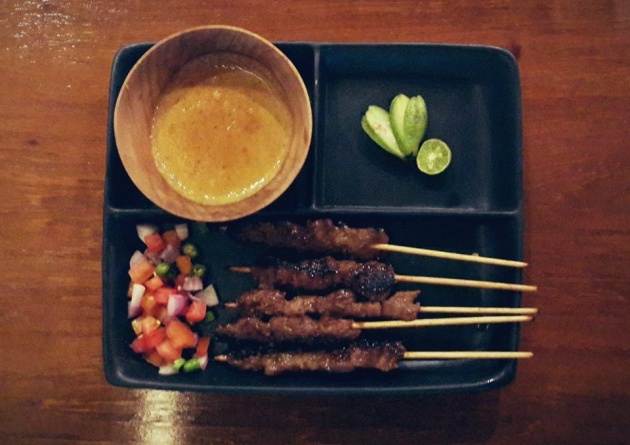 (source image: Google)
Ayam goreng kalasan – traditional fried chicken served with rice, fried tofu, and tempe with special sambal.
Oxtail dishes with the variant choice likes oxtail soup, grilled oxtail, balado oxtail, and deep fried oxtail.
For the dessert, their special menu are gemblong pisang – grilled banana dipped in melting coconut- and kreker tape, fermented cassava crispy served with sugar powder.
For the variant of drinks they served coffe who had partnership with Tanamera (local roast artisan), cold drinks like es kacang merah, air tajin, coctails, and spirits.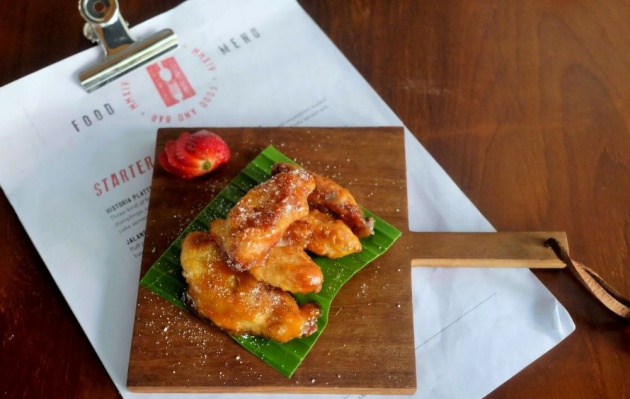 (Gemblong pisang. source image: Google)

(Fresh juice. source image: Google)
SHORT CONCLUSIONS
I am totally excited with the fresh concept of the Historia food and bar. Its a smart idea to bring the history behind that building into the cool cafe. Their tried to encourage the local young customer to appears the nostalgic moment and stimulates self creativity atmospher through the designed concept. When i went here, the dining area was reserved for a the young independent photographer to taken photoshoots. i guess, historia food and bar success to gbring creative atmosphere for the customers.
According to their cuisine menu, historia food and bar was consistent to served indonesia cuisine with good and fresh quality. Its quite different with any cafe in kota tua, usually they also served western or oriental menu, That`s made indonesia cuisine less populerespecially among the tourist. Considering in the kota tua area is rarely has a trendy cafe and on budget for any hipster, Historia food and bar is definetely great place to hang out with your friends, meeting with your business partners, or held the creative events.
In my opinion, historia food and bar only need more promoted their branding into any global website because Historia cafe had several market strong points that will be increased their brand and also attracted more customers especially for the tourist.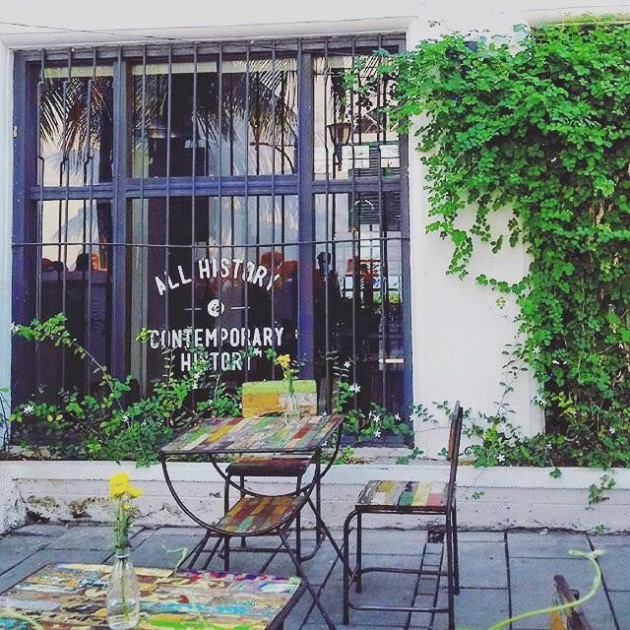 (The outdoor. source : Google)