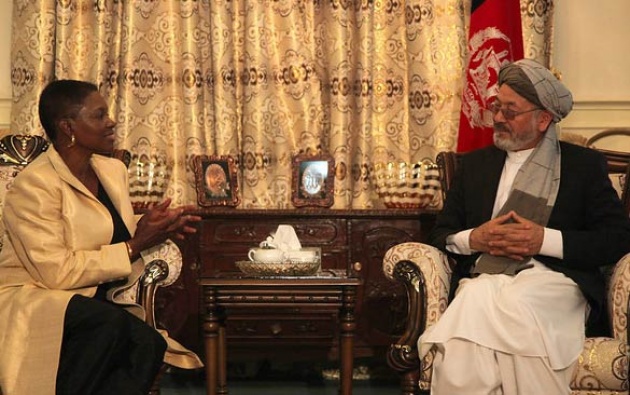 "Although overall international assistance is expected to reduce, we must continue to mobilize resources to help those in acute need. We need to balance support for the security sector with a very strong emphasis on basic service delivery, development and governance," according to the Under-Secretary-General for Humanitarian Affairs and Emergency Relief Coordinator, Valerie Amos speaking during her visit to Afghanistan.
The UN is anticipating along with US and NATO allies a draw down of the military combat mission. The UN shares the concern that Afghanistan could quickly be forgotten, both in terms of basic needs and the effort toward greater development. Ms Amos makes the following assessment: "Much has been achieved over the past decade, but there is still much more to do. There are five million Afghan refugees in neighboring countries and a significant number of people are still internally displaced."
Ms. Amos underlined that the Afghanistan government and humanitarian partners need to focus on ways of providing more effective relief to natural disasters as well as working to build the longer term resilience of local communities. "Afghans in acute need require timely relief and assistance, delivered impartially. We must continue to improve the humanitarian response and provide support in a way that helps the Government to build its capacity to respond and to better prepare for disasters."
As the UN's Ms. Amos points out it is about both immediate humanitarian needs but also establish the means toward enhanced development, education and ultimately self-sufficiency. An example of a program that meets the goal of transition from military to development support is Film Annex's effort in Afghanistan – most specifically starting with the connection of schools to the Internet. It is a highly efficient effort requiring minimum administrative costs and provides an excellent ROI. (Film Annex is not seeking cash donations but providing direct funding/equipment and establishing the foundation for a self-supporting project - See More on Film Annex building schools in Afghanistan & connecting them to the Internet - Afghan Development Project.) US AID is also emphasizing the US transition from military to development support. See Francesco Rulli's Bog on his meeting with and analysis of US AID efforts – Film Annex and USAID Vision for Afghanistan Education and Economy.
Clearly the US and international community as a whole does not want to make the same mistake committed 2 decades earlier – abandoning Afghanistan to Taliban and Al-Qaeda after the Soviet Union was defeated and kicked out. It was a cause which then Congressman Charlie Wilson (of "Charlie Wilson's War") embraced, but unfortunately was not successful in convincing fellow US officials. Now it is a similar vision/cause adopted by Francesco Rulli, and he, at least for now, appears to be gaining converts. Francesco Rulli Continues "Charlie Wilson's War
Ambassador Muhamed Sacirbey - FOLLOW mo @MuhamedSacirbey

Facebook-Become a Fan at "Diplomatically Incorrect"







Twitter – Follow us @DiplomaticallyX







PHOTO - Under-Secretary-General for Humanitarian Affairs and Emergency Relief Coordinator Valerie Amos (left) meets with Vice President Mohammad Karim Khalili of Afghanistan. (Credit-UNAMA)