Celebrating the establishment of the United Nations, "UN Day Concerts" became part of the scene relatively early. (Below archive UN photos with captions underneath). They attracted an elite guest list as well as the elite of the artistic/music community. The "Human Rights Day" Concert signaled the growing involvement of the United Nations directly with the global citizen and her/his rights as well as multilateral home for the globe's states.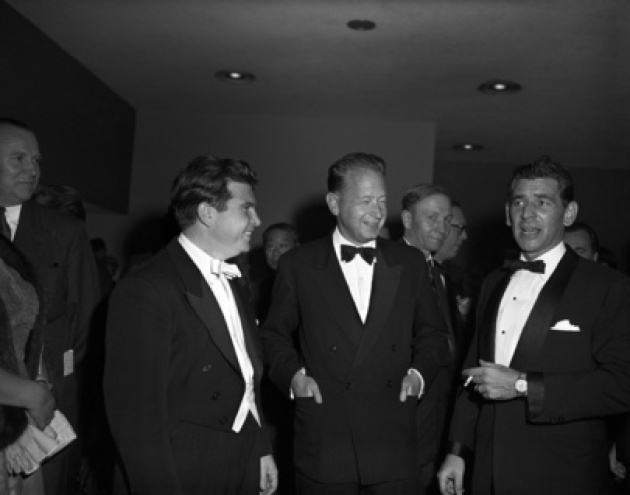 "United Nations Day Concert" (1955)
"An international concert was given yesterday evening in the General Assembly Hall, at U.N. Headquarters, to commemorate the 10th anniversary of the United Nations. The New York Philharmonic Orchestra was under the baton of Leonard Bernstein. Sir William Walton opened the concert conducting one of his compositions; he was followed by the celebrated Soviet pianist Emil Gilels, who played Tchaikovsky's Concerto Nr 1 in B flat minor; and by Hugh Ross' schola Cantorum which sang excerpts from Beethoven's Missa Solemnis.

This picture shows (l. to r.) pianist Gilels, U.N. Secretary-General Dag Hammarskjöld and conductor Bernstein enjoying a light hearted chat at the reception that followed the concert. United Nations, N.Y.C, 25 October 1955. United Nations, New York "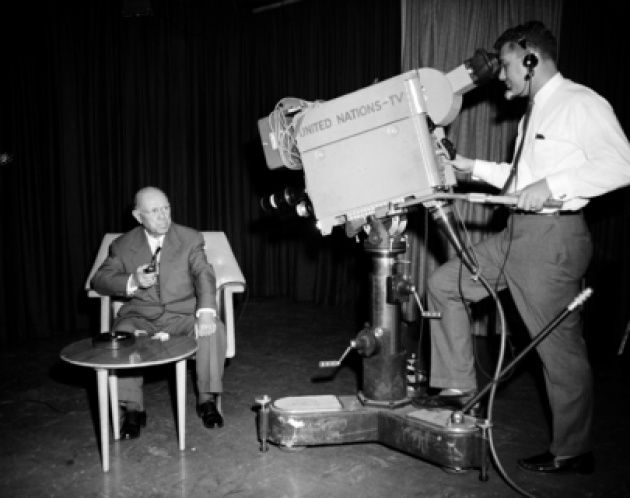 "Pablo Casals Visits United Nations Headquarters" (1958)
Pablo Casals, world-renowned cellist, who is in New York to participate in the special concert which will celebrate United Nations Day on 24 October, today visited UN headquarters and met with UN Secretary-General Dag Hammarskjöld and other officials.
Mr. Pablo Casals in seen here as he appeared before the UN-TV cameras in a televised interview during his visit here today. 22 October 1958 - United Nations, New York"
"Leningrad Philharmonic Orchestra and Violinist David Oistrakh Participate in UN Day Concert" (1962)
"On United Nations Day, 24 October, the Leningrad Philharmonic Orchestra and David Oistrakh, the violinist, gave a special performance in the General Assembly Hall. Seen here is Gennadi Rozhdestvensky, conducting Tchaikovsky's Fifth Symphony. 24 October 1962 - United Nations, New York"
"Human Rights Day Concert" (1963)
"The fifteenth anniversary of the adoption of the Universal Declaration of Human Rights by the United Nations was celebrated tonight at United Nations Headquarters by an international concert in which noted artists from many countries took part. President of the General Assembly, Mr. Carlos Sosa-Rodriguez (Venezuela) delivered the commemorative address.

Miss Rashida Abubakar, Cameroon (seated on stool), singing an African song and accompanied by Miss Edith Grootboom (South Africa) and Miss Eva Kiritta (Tanganyika). 10 December 1963 - United Nations, New York"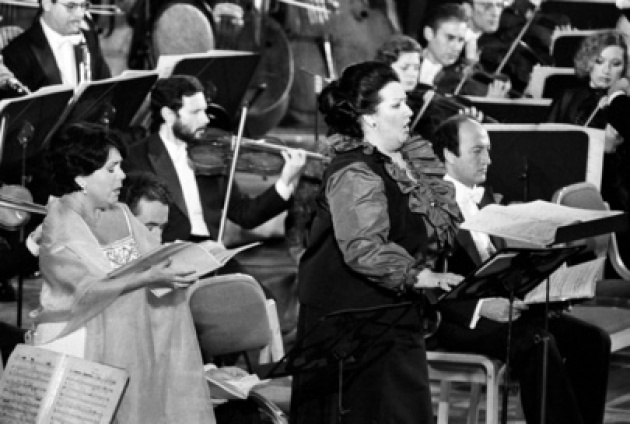 "National Orchestra and Chorus of Spain Appears at UN Day Concert" (1983)
"Jesus Lopez-Cobos conducted the National Orchestra and Chorus of Spain in the 1983 United Nations Day concert held in the General Assembly Hall tonight. The programme, which consisted of Spanish composer Manuel de Falla's "Nights in the Gardens of Spain" and "La Vida Breve", featured pianist Alicia de Larrocha, soprano Montserrat Caballe, and tenor Jose Carreras. Secretary-General Javier Perez de Cuellar gave the traditional United Nations Day address.

Mezzo-soprano Isabel Rivas (left) and soprano Montserrat Caballe singing in "La Vida Breve". Other soloists seated in front row are tenors Jose Carreras (partially hidden) Julian Molina. 24 October 1983 -United Nations, New York"
Ambassador Muhamed Sacirbey - FOLLOW mo @MuhamedSacirbey

Facebook-Become a Fan at "Diplomatically Incorrect"







Twitter – Follow us @DiplomaticallyX







For many further current news event articles, see our popular video blogs at Diplomat Artist Channels