Back in 2002 whilst I was at college in Bournemouth (South coast of England) studying film production at BTEC level, I pitched and was chosen to direct a film I had written and storyboarded. I had been using my own camera to film with years prior and had taken on lots of small and fun exploits which bettered my filmmaking to a basic level. Taking on a proper short film however, with a full cast and crew made me very nervous and excited. It was the first time I had that feeling like it's the ultimate opportunity to tell the story you want to share so badly and you want to put all you have into it to make it just how you have storyboarded it.
The film was very ambitious 15 minute piece and was shot, but was never completely edited in time for it's handing in date. The footage stayed on DV tapes for years and it was only until 2005 or 2006, I had facilities at home to digitise the tapes into Adobe Premier Pro. I ordered a training DVD for Premiere and learnt the program from scratch every day after work. Eventually, I became competent with the program and made a very rough edit of the film, some of which I used for my showreel that got me into university. I even re-shot some scenes, which I still feel aren't good enough.
Upon finishing university in 2010, my house mate, course mate and general mate Severin Gammon helped me get the files from my windows formatted hard drive onto my Macintosh.
Until a few days ago, I realised how incompatible the files were with both Mac and current generation software. Premiere Pro has come on leaps and bounds since the edition I was using and CS6 won't open anything prior to CS3, the music I was using was a WMA file (windows media) and the videos were all AVI files and is not supported in Final Cut Pro (which I'm most comfortable with these days). Basically; nothing worked, but the files were there. With a bit of a slog, the files are now converted into workable formats.
Looking back at the material, I was pleasantly surprised. It's easy to look back at old projects and shake your head with mistakes you've made and how silly things that weren't intended to be look. The film doesn't have professional acting, it's in 4:3 aspect ratio and the digital quality isn't great (Shot on DVX100), but it's clear it has been done off a storyboard, the costume and locations are great and most of all; the story is pretty good.
It's about a prototype 'planet chamber'. A sort of Tamagotchi virtual pet, but instead of the pet being electronic, it's an actual planet in a box which you can observe. There are two species the live on the planet which look similar apart from one specie wears white hoods and black dress and the other wears black hoods and white dress. The story revolves around the evolution of these species, their conflict, segregation and eventual demise in their compact environment.
Now it's out of its box, I think I'm possibly ready for another crack at editing it...sometime maybe ;)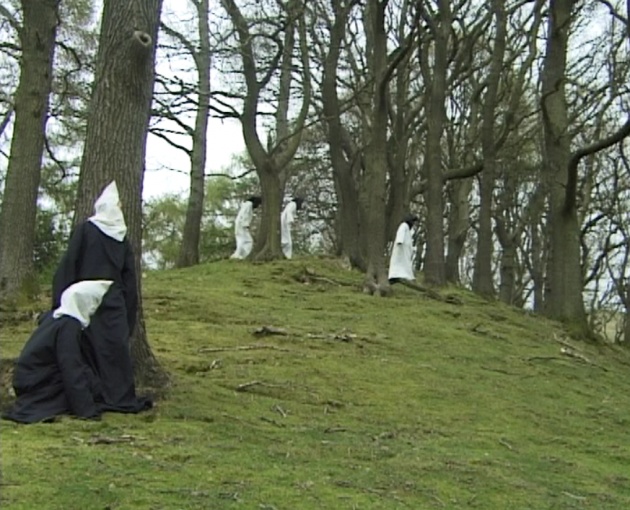 Many thanks for the continued support.
Peace!