MEDIA RELEASE – FOR IMMEDIATE RELEASE
U.S. Navy Captain and award-winning author publishes 15th Afghan Proverbs book in Pashto and English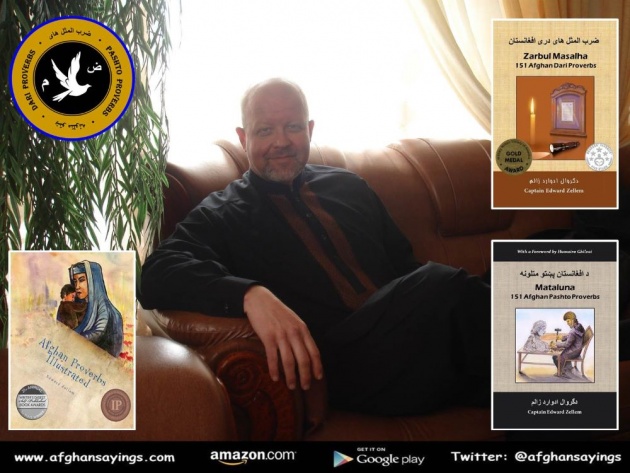 Tampa, FL - July 26, 2014 - If someone had told U.S. Navy Captain Edward Zellem that his off-duty hobby in Afghanistan would one day turn him into a global spokesman for Afghan Proverbs, he would have laughed out loud. But that's what happened. Since then, what started out as a simple hobby has led him to even more unlikely roles and projects on a global scale.
Captain Zellem, a trained Dari (Afghan Farsi) speaker, worked for 18 months in Afghanistan embedded with Afghan security forces in Kabul and Kandahar, including a year on President Hamid Karzai's staff inside the Afghan Presidential Palace. Zellem began using Afghan Proverbs at work and socially after observing firsthand that Afghans often use proverbs in their daily speech. He soon saw that many of the thoughts behind Afghanistan's most popular proverbs are universal messages found in every culture. Fascinated with these proverbs and the way Afghans use them, he began translating the ones he heard into English. He wrote them down in a battered field notebook as a personal hobby, and as a way to improve his Dari language skills.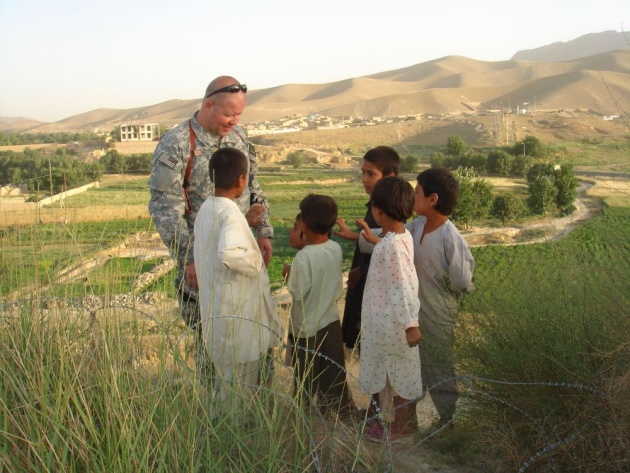 Since then, his hobby has grown into a global phenomenon that includes authoring three bilingual books of Afghan Proverbs, and leading a growing movement of devoted Afghan Proverbs fans who are promoting cross-cultural understanding around the world through proverbs. Zellem worked on his own with an Afghan high school to illustrate his books, which have received international acclaim and media coverage, a large and very active following in social media, three national level book awards in the United States, and interest in over 77 countries.
Captain Zellem's Afghan Proverbs books have been singled out for praise by luminaries such as General David H. Petraeus, Kabul University's Nancy Dupree, award-winning Afghan actress and UNAMA Peace Ambassador Leena Alam, and other celebrities and international thought leaders.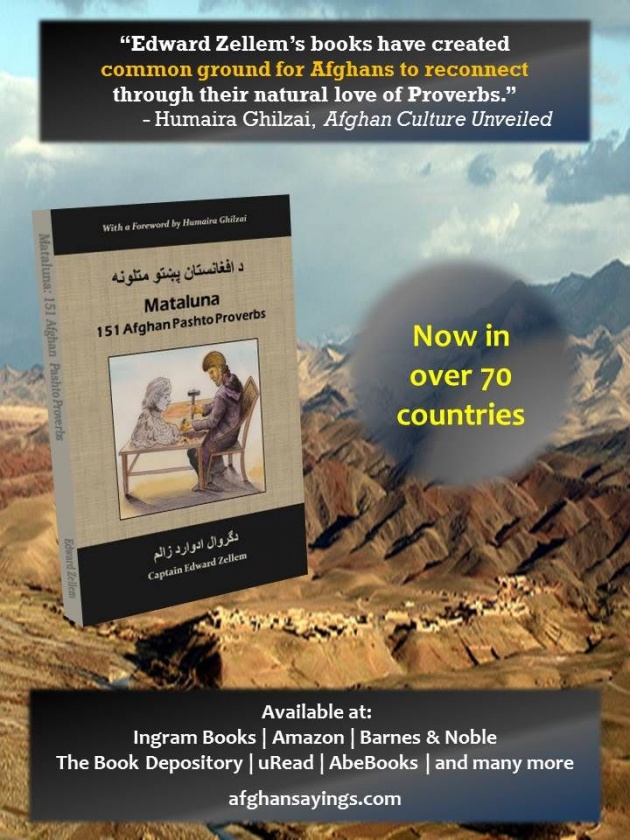 His latest book, Mataluna: 151 Afghan Pashto Proverbs, was published in June 2014. It already is receiving high praise from Afghans and many others around the world. Mataluna means "Proverbs" in Pashto, which along with Dari is one of Afghanistan's two official national languages.
Zellem's first book, Zarbul Masalha: 151 Afghan Dari Proverbs, achieved unexpected worldwide success after the second edition was published internationally in 2012. (Zarbul Masalha also means "Proverbs" in Dari). 40,000 copies of the first edition, published in Kabul by a small Afghan-owned local press in 2011, had already been distributed as textbooks to over 200 Afghan schools, Kabul University, and other educational institutions across Afghanistan. The second edition of Zarbul Masalha went on to win a 2013 Military Writers Society of America Gold Medal, and has been selected as a Finalist for the 2014 Readers' Favorite Book Awards (winners to be announced Sept. 1).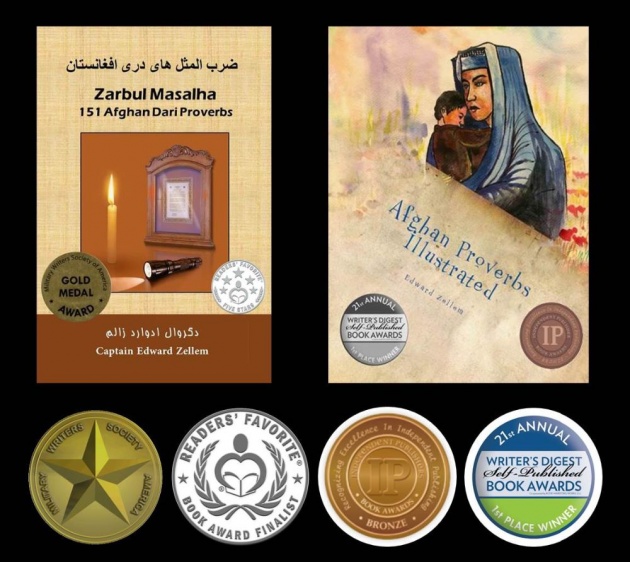 His second book, Afghan Proverbs Illustrated, was published in 2012 after readers in the Afghan Diaspora asked for a large-format, full-color book to help their children learn to read Dari using Afghan proverbs and sayings. That book also has won national-level awards from Writers' Digest (2013) and the Independent Publishers (IPPY) Awards (2014). In response to popular demand, the original English-Dari edition of Afghan Proverbs Illustrated has been translated by volunteers around the world and published in 12 additional languages. More translations are coming soon, including bilingual editions in Danish, Hindi, Urdu and Hebrew.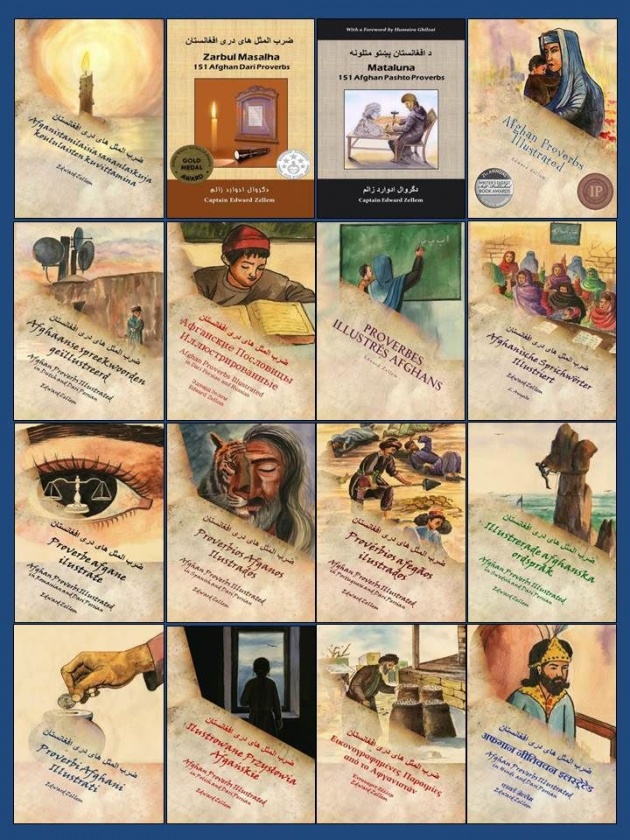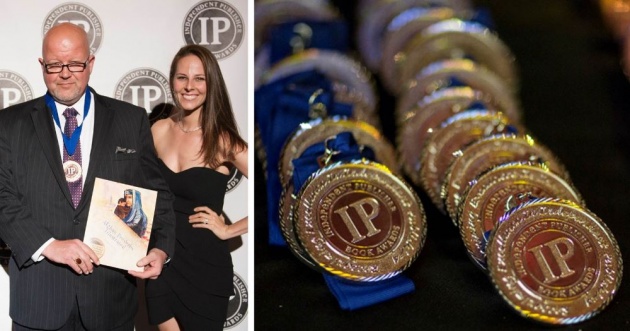 All the books are available in over 100 countries through Amazon, Barnes & Noble, The Book Depository, uRead, and many other leading international booksellers. Net proceeds support Afghan literacy initiatives and charities.
Captain Zellem and his Afghan Proverbs books have been featured in over 30 media appearances in radio, television and print.
More information, links to media, and media kit at www.afghansayings.com.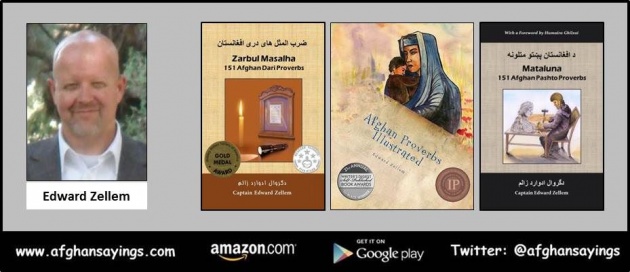 ABOUT EDWARD ZELLEM
Edward Zellem is a 27-year U.S. Navy captain currently serving at U.S. Central Command in Tampa, Florida. A veteran of several wars, he is known for his work on President Karzai's staff inside the Presidential Palace of Afghanistan, and for his three award-winning books of Afghan Proverbs: Zarbul Masalha: 151 Afghan Dari Proverbs (English-Dari), Afghan Proverbs Illustrated (in 14 languages) and Mataluna: 151 Afghan Pashto Proverbs (English-Pashto). Zellem wrote the books "to show how Afghan Proverbs demonstrate our common humanity and the humanity of Afghans." His books are available in over 70 countries worldwide through Amazon.com and other leading international booksellers.

Visit the #AfghanProverbs Photo Gallery
###