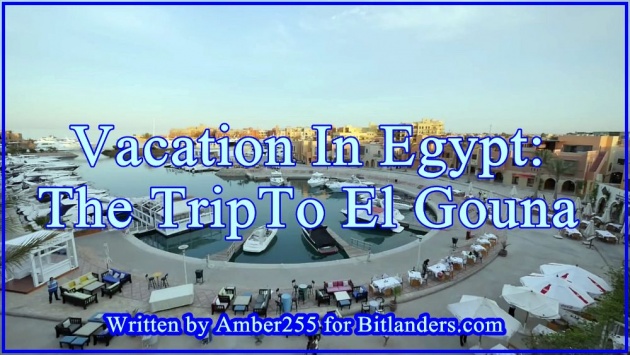 Vacation In Egypt: The Trip To El Gouna - Photo credit: Amber255 via Bitlanders.com
At November we had 12 days vacation in Egypt, and all time I wanted to write about this trip something, but my photos and videos still were in a big mess. Of course, when you go on any trip, you get a bunch of information that with time simply little by little disappear from your memory if you have not recorded it. I love active vacation, so the hotel review I will leave for a later time, and now I want to tell you about our trip to one of their resort cities EL Gouna, famous for its artificial canals. Exactly because of these canals, the city got a name - Egyptian Venice in the sands.
El Gouna had started as one man's search to find the most beautiful spot on the seaside to build a house and small boat jetty.

Credit: elgouna.com
Why Egypt? It looks we could choose any other close to our culture country. It was not the first time I visited Egypt as it is a very popular destination for our people because of a warm climate. When summer leaves us and comes rainy days with an easy chill, our people start traveling to Turkey, Greece, its islands, Spain, Portugal. But just till the middle of October. Then the trips to Egypt starts in full strength. Sometimes, it is even hard to get a place in the plain to get there - Egypt is very popular because of given service for tourists and their outside heated pools, and of course, of its culture objects.
When at home you have rain and cold, and even snow later, it is so great to pamper yourself in the warm beach, in the warm sea or heated pools, so people love Egypt, and it is really very popular tourist destination in our country when you want to run out for a short vacation.
We planned our trip a month before leaving and chose a hotel Picalbatross Palace in Hurghada for our 12 days vacation. I forgot to say that we went on vacation four people - two couples. And of course, we searched for some trips to Egypt famous places. As we have been in Cairo, Alexandria, and Luxor in the past, now the first our trip was visiting so-called Egyptian Venice.

El Gouna - Video credit: Amber255 via Bitlanders.com
A Little Info About El Gouna - The Paradice In The Desert
What is El Gouna? It is a small, fully enclosed town just 30 kilometers north of Hurghada, one of the first private cities in the world that belongs to one person. As I already mentioned, it is called Egyptian Venice. Everyone who comes to this town, set in twenty islands, loves it at first sight. This unique oasis of peace, with 17 hotels and a population of about 20,000, offers a wide range of entertainment and complete security.
At El Gouna's entrance, we are welcomed by security and roadblocks, and the security guards come to inquire where and for what purpose we are coming with tourist bus in El Gouna. They talk a little with our bus driver and guide, and we are allowed to move further. Such a responsible attitude makes us feel calm - our holidays will be cool.
And, in fact, no intrusive street traders that are very usual thing in the streets of Egypt, we did not meet here, nothing disturb our peace. And the car beep, eternal bustle remains only a reminder of the past vacation in Egypt. Samih Sawiris, a millionaire who founded this city, thought up everything that could be helpful for a comfortable rest. He set up a town on the 10-kilometer coast, dug out the canals you can sail.
Imagine the excitement caused by canals mining work, that even a delegation from Venice itself had come and tried to ban the construction of such a city between the canals.
Boats carry hotel guests to the most beautiful beaches for free, and townspeople or visitors are offered a ticket (its price is less than $ 1 per person per day and just $ 4 per person per week). You will be able to get to Marina (the marina is where millions of moored rich yachts are floating), the town center (Tamr Henna) or your hotel by boat that runs daily according to schedule. The same ticket will also provide access to city buses. At first glance, they cause a smile to many, and thoughts move you to India. Colored with carvings, they rush through the narrow streets of the city, allowing you to admire the views of the town and the unified architecture.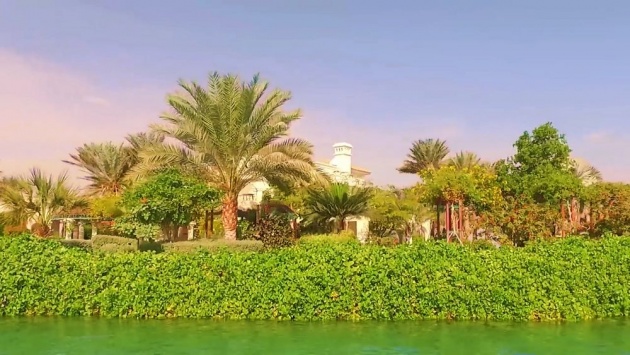 The trip to El Gouna - Photo credit: Amber2545 via Bitlanders.com
Creating an entire town and its infrastructure, the rich Samih Sawiris invites world-renowned architects to design a seamless architectural style of El Gouna. And the laws of the town helps to follow its rules - even with the purchase of millions cost villa, it will not be possible to change its exterior, repaint or plant new palm trees, or to remove already growing ones.
You can also find the outermost beaches, the desert, and the colorful underwater world with sunken ships.
When we were visiting this town, I got the impression that I was in one of Hollywood's filming sites. I know I will return to El Gouna again.
Samih Sawiris - The Creator Of El Gouna
Who is Samih Sawiris? This is a certain Egyptian rich man, who is also the owner of one of the Egyptian TV channels. All the land of El Gouna and all the hotels and facilities that are present on it belong to him. Officially, El Gouna is operated by Orascom Development, which is owned by Egyptian billionaire Samih Sawiris.
Twenty five years ago Samih Sawiris, chairman of Orascom Development, El Gouna's parent company, found that beautiful spot, conveniently located just north of Hurghada on the west coast of the Red Sea. It wasn't long before Sawiris' friends, struck by the splendor of the azure waters and dramatic backdrop of mountains, asked to join him, and the town slowly blossomed into the vibrant community that it is today.

Credit: elgouna.com
So, as the guide said, this billionaire Samih Sawiris, for a small bribe to the Egyptian government got a piece of desert on the Red Sea, hired Egyptians for small money, who manually dug canals in El Gouna, created the territory, and then turned it all in rent for the construction of hotels. An interesting fact - the beginning of his business this Samih Sawiris started with the collection and recycling of garbage in Egypt. The resort of El Gouna has its infrastructure, even the airport and a small aquarium with the local underwater inhabitants. The resort is guarded round the clock.
There is not a single building that is older than 1989. This year is considered the year of creation of this beautiful resort. He built the entire resort on small islands, which are surrounded by picturesque lagoons and canals, in which pure seawater flows. All the hotels of El Gouna Samih Sawiris built on these green-covered islets, boats slowly and proudly floating between them, sailing under beautiful bridges.
The trip to El Gouna, Egypt - Photo credit: Amber255 via Bitlanders.com
Judging by what we have seen, this person knows perfectly well what real coziness and comfort are. Rest in such a place can be rightfully called exemplary. It is conveniently located, beautiful nature and comfortable hotels speak for themselves. This place is great for a vacation.
Samih designed El Gouna in such a way that near each lagoon there is a district of comfortable hotels with shops and restaurants for every taste. The city does not stand in one place; it is constantly expanding, and new lagoons are being built, which originate from the red sea and slowly go deep into the desert.
Samih Sawiris has his own villa on the one for islands there. On this island stays only his vila. As we were said, even his dog has his own apartments with TV room, entertainments room, and many other rooms.
Samih Sawiris has its own huge golf courses, which of course do not pay off, because you have to spend 700 cubic meters of water for irrigation.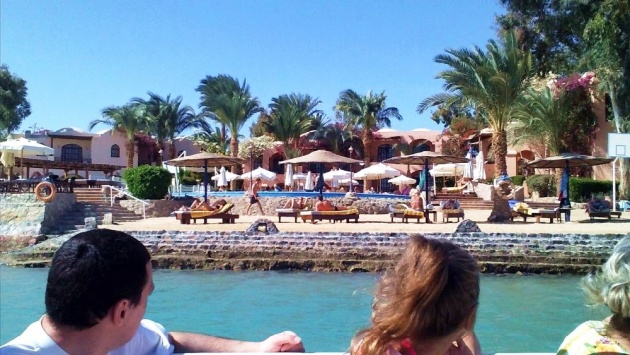 Boat trip in El Gouna - Photo credit: Amber255 via Bitlanders.com
Entertainments Offered In El Gouna
In El Gouna, in addition to excellent European-style hotels, you can also find sea museum, where you can get to know the fish found only in the Red Sea.
You can go cinema in the open air, by the way, the entrance to the cinema sessions is absolutely free!
For golf lovers, El Gouna also has something to offer - an 18-hole golf course.
Every day in the town of El Gouna (center and marina), there are many concerts, shows, and parties for the residents and guests of the city.
In the center of the city and marina, there are a wide variety of restaurants offering different countries' cuisines, cozy cafes, bars, clubs, and shops.
El Gouna also has something to offer for water sports enthusiasts. There are plenty of kiteboarding clubs and schools, diving clubs, water-ski, and water sports clubs. The continually breezing breeze on the coast allows this area to be well-known as a paradise for kite sg sports fans.
El Gouna also has an Alexandria library, a school, a kindergarten, a private airport, and a community of El Gouna residents. This is perhaps not the main reason for your decision to visit and spend your vacation in El Gouna, but the little things make this town even more attractive.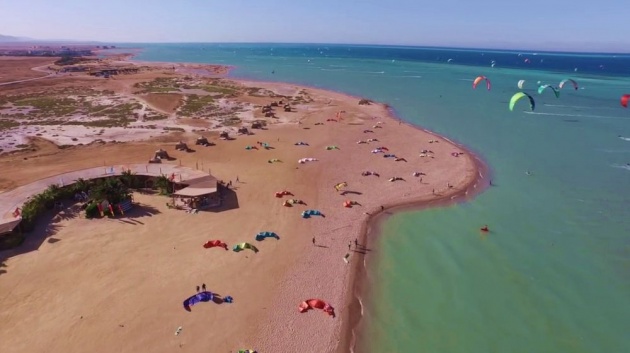 Kitesurfing in El Gouna - Photo credit: Amber255 via Bitlanders.com (photo made by drone)
El Gouna Hotels
There are no multi-story buildings in this Egyptian Venice. The hotels of El Gouna have a unique style. Usually, these are low-rise bungalows, connected by bridges. You will be taken by boats sailing through canals. This is very reminiscent of Venice. El Gouna has the title of friendliest environment's resort in Egypt.
Interestingly, all hotels have a common entertainment infrastructure here. El Gouna holidaymakers can travel by minibus and boat free of charge. The dinner at the hotel, where you stayed, you can change for free or with great discounts at other hotels or famous El Gouna restaurants, owned by Dine Around.
What does this mean? For instance, you stayed at a hotel with four stars, so you can go to any other hotel with the same amount of stars or less, eat and drink there, use their beach and other entertainment. If you visit any other hotel with five stars, you may be asked to pay a little fee or sometimes it is also everything for free. If you stay at a hotel with five stars, you can use all hotels services for free in El Gouna. It is attractive, right? I guess, it is impossible to feel boring there - every day you can visit any other hotel, just come back to sleep in your room.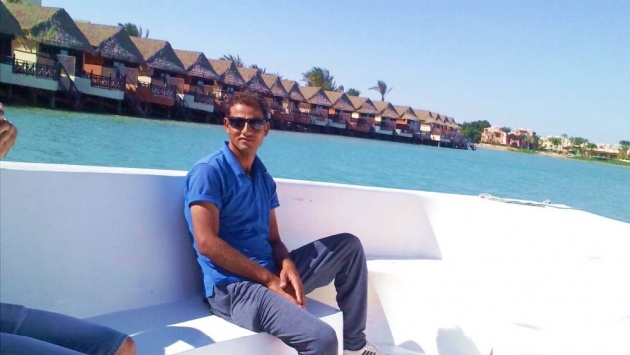 Panorama Bungalow resort, El Gouna - Photo credit: Amber255 via Bitlanders.com
Above is the photo of a popular hotel Panorama Bungalow, it is popular with the newlyweds who spend their honeymoon and romantics here. Stylized huts with palm leaf roofs, a semicircular terrace with a table and chairs is very convenient. And right from it - a ladder into the sea. Impressive, isn't it? Though, the absence of the beach (coast) and the fact that boats with curious tourists constantly float by are confusing.
In general, initially, the idea here was to build and then sell villas for wealthy Europeans, but then it was decided to build hotels. They are now no more than two dozen. Hotels are both as expensive networks and several pretty budgets. But if you wish, you can rent a beautiful villa for a month or two, if the owner is absent and the rich also know how to count money.
Villas and expensive hotels are very comfortable here; they have everything they need: their own small beach, swimming pool, restaurant, spa, etc.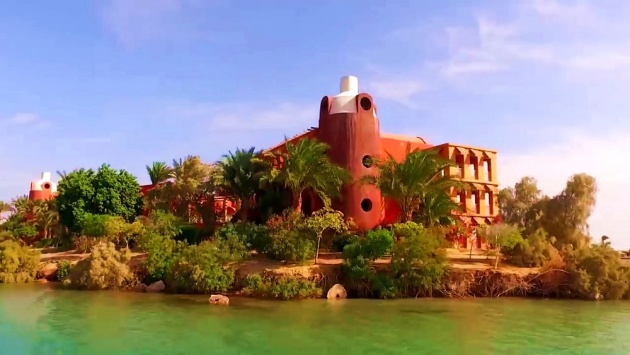 The Villa in El Gouna - Photo credit: Amber255 via Bitlanders.com
My Impressions and suggestions for short visit to El Gouna
El Gouna is a very pleasant resort town. Despite that it is not so well known as the other central ones, I really liked it. Somewhere remotely but still the region is very similar to Greece: small streets, small houses, beautiful parks, and gardens. What surprised most of all is that here compared to Hurghada or Cairo is very clean and well maintained. However, it is, of course, Egyptian Venice. Hotels float on the islands, and tourists are transported on yachts, boats, and canoes. This is pretty unusual for this area but still gives a special interest.
You can easily to visit El Gouna, even if you did not come to rest at the hotel right here but stayed in Hurghada. Best of all, of course, buy a special tour of El Gouna. So you are probably almost taken by the hand in all the interesting places here. You can, of course, come here with your own, but just keep in mind - this city resembles in part a labyrinth: tangled paths, numerous bridges. To navigate here without a map or navigator is very problematic, and if you don't speak English, you can be stuck here for a long time. What, however, is it bad ?! After all, the city is very beautiful and unusual.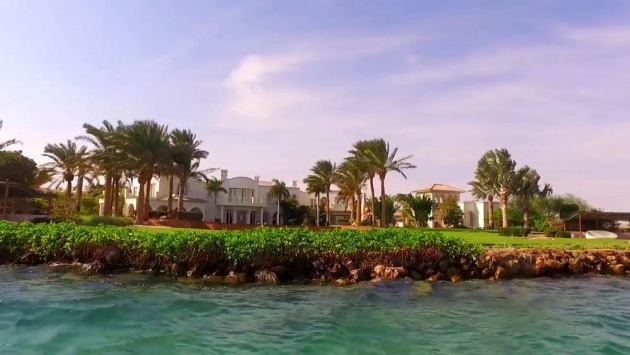 What to do in El Gouna, Egypt - photo credit: Amber255 via Bitlanders.com
Here you can go diving, as it is not far from El Gouna that there are water areas with the largest wrecks in the Red Sea. But the pleasure to descend into these depths is quite expensive and requires a certain level of training, so we decided to postpone this event until better times.
There is plenty of entertainments, here and I really recommend trying it out. There is a great route of quad bikes and cross-country motorcycles as well as a wakeboard - one of the largest parks in the world.
What I really recommend doing is renting quads in the city center. Their rent is not really expensive, and the most fun part is that you can go wherever you want. You'll be able to go through the entire El Gouna across and along, ride a sandy beach, etc.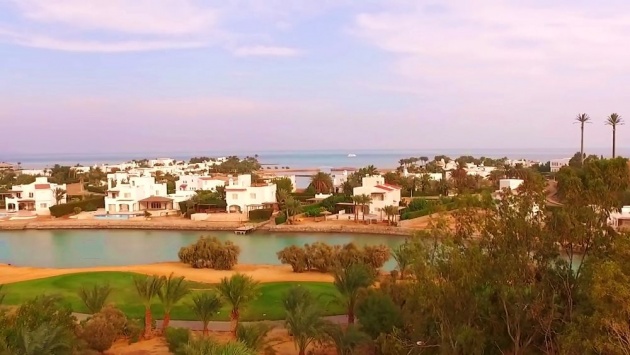 El Gouna panorama from the Tower - Photo credit: Amber255 via Bitlanders.com
I very advise visiting the Moods restaurant, which is located on the seashore among many luxury yachts. All the dishes that were served in this restaurant were great. I especially recommend trying the Shrimps Curry if you like shrimps.
If you will also independently wander around El Gouna, find the highest tower and climb it. So you can watch from its top the whole town and make a lot of picturesque photos from above.
If you sail on a boat through canals, you will enter under the Bridge of Wishes. We must make a wish and make loud applauds when going through the bridge arch. The bridge of the two arches is quite high. They say wishes come true, and this bridge is very loved by lovers and newlyweds, but you cannot swim here. Our guide said that a couple people came back to thanks her because their wishes came true. believe it or not. I think, if you very believe and do something for that - your wish always come true.
The Bridge of the wishes, El Gouna - Video credit: Amber255 via Bitlanders.com
On The Final Note
Egypt often looks to Europeans as a completely different world. Everything is going much slower here than we are used to, so it is necessary to be patient. On the other hand, why and were to rush during the holidays? When you come to Egypt, you will feel that you are in a peaceful and careless mood. We have what to learn from the locals - they really feel the joy of life, and their optimism is just infectious.
The sun heat round year, the warm sea at any season and the slow enjoyment of holidays are sometimes that is needed, so it is not surprising that Egypt is a very popular travel destination. Although the first impression may be a bit of a surprise, you will quickly become accustomed to everything that is new to you. Do not forget that when you visit the marketplace, you just have to negotiate - the merchants expect it from the buyers. Negotiations are a form of communication or a game where it is important to keep in mind the essential rule - the most important thing is not to show the interest in the product. But while negotiating, you can become good friends with those people.
Elegant, modern, with excellent infrastructure - El Gouna is just perfect for a romantic getaway or perfect family vacation. There are no gigantic hotels here; instead, you will live in cozy bungalows housed in islets. The islets are connected by bridges, and to go to sea you can with small boats that sail through the islands sinking in lush flowers. There are fascinating canals, lagoons, bays, green and flowering plants - no desert spirit here.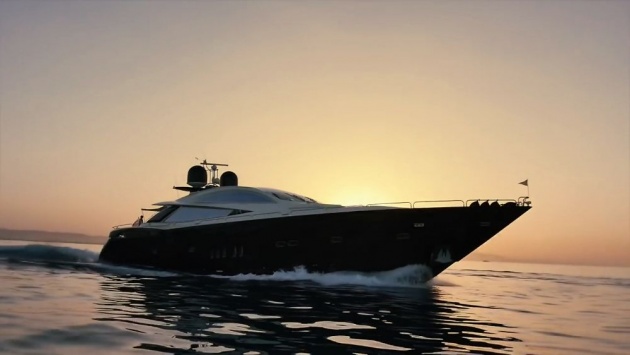 El Gouna, evening - Photo credit: Amber255 via Bitlanders.com
A rest in El Gouna, in my opinion, is worth a visit, but only to a good expensive hotel to enjoy all the local entertainment. In an inexpensive - you will feel like a "stranger at this celebration of life." And if there is not much money, then it is better to Hurghada or Sharm El Sheikh.
El Gouna is a city that lives a very special life, it is carefully guarded against the strangers' eyes, it is almost autonomous, and it doesn't depend on the world around it.
Have Fun At Your Vacation
**************************************************************************************************
Thank you for stopping by and reading my blog.
2018, All Rights Reserved.
You are very welcome to join Bitlanders and share your valuable knowledge and opinion.
**************************************************************************************************