Hello bitsers how are you all? I hope you all are fine. Today I have brought something different and horrible for you all guys. I hope you will enjoy it.
Lets start with a question!
Have you ever watch Annabelle, Child play, or any other horror movies and got scared from them? If yes, then a town of Japan will take your sleeps away. While you are thinking about the scariest movie you have ever watched, let me introduce Japan.
Yes, Japan, the inventor of the Square-shaped watermelons. You might have heard about the Square-shaped watermelons, grown in Japan. If you haven't heard, I won't dig it deeper because here I am gonna tell you guys weirder than that. Anyhow, you can check out the link here==> Square Watermelons.
Introduction of Japan
Japan is located in the far east of Asia continent. It is the tenth largest-populated country in the world. The number of islands in Japan is around 6,850 and the four main islands are Honshu, Hokkaido, Shikoku, and Kyushu that comprise about the ninety seven percent part of the country. Most of the islands have Mountainous territory and there are many mountain peaks in Japan but the highest peak is Mount Fuji. Tokyo with Mount Fuji view is the capital of Japan.
Nagoro: "Valley of dolls"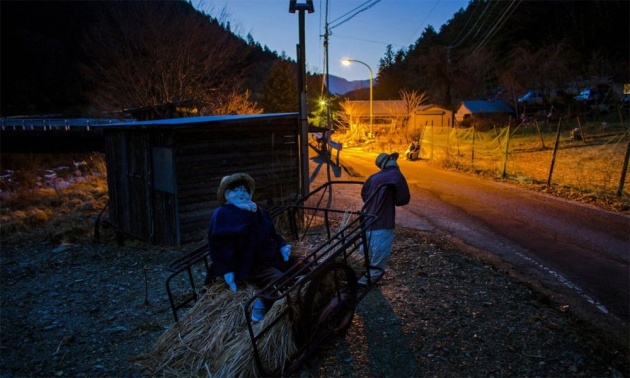 ( Photo Credit: google.com )
Have you done thinking about that scariest movie? lets continue talking about the town, called Nagoro.
Nagoro is a small town of Japan where sixty to seventy percent of the total population is based on different dolls. Here humans can be seen rarely. But in schools, Markets, streets, and in fields, everywhere human-sized dolls appear. Little tiny dolls here at the crossroads seem to be hearing fairy tales from an elderly doll and other can be seen working in the fields. How would you feel if some dead eyes watch your every moves? I think it would be a scary feeling in nights but not after the sun shines. Anyhow, its about me but you might get scared in the morning as well. The town is also known as 'The valley of dolls'. You will see some teachers and their little students, made of cotton and old-cloths, in the class rooms of the local schools. This wonderful and weird handiwork is done by Tsukimi Ayano.
Creator of the dolls


( Photo Credit: google.com )
In fact, its all by virtue of a 67 years old woman named Tsukimi Ayano, who have kept these human-sized dolls in every corner and place of the town. She is one of the youngest resident of the town. It started because she returned from Osaka to take care of his elderly father and began farming. She sowed seeds but nothing grew. So she thought she'd try making a scarecrow, to help in keeping away birds. Now there are around three hundred and fifty dolls in various costumes and different places, exist in the town and many of them with realistic look of young people who moved to the cities. She made the first one to keep the birds away from eating the seeds and that first scarecrow resembled to her father. At first glance, they look much like people but reality speaks when we come closer to them. Some of them seem to be working in the fields, some can be seen waiting for a bus that never comes while you can see some dolls studying in the class room of a school. She also teach local people how to make dolls as a volunteer.
Video Credit: Vimeo.com from Fritz Shumann (a visual journalist from Berlin).
Making of the dolls
The dolls are made of cotton, papers and old-cloths. She also applies makeup to give the doll a Human likeness but making it look real seems so difficult. Tsukimi says that she love to make grandmas because she easily makes a grandma-doll with less time than other dolls. The hardest part of the face is Lips, She says: "Because lips are the main part to put an expression in a face whether the doll is smiling, sad, angry or what." Tsukimi also crafted a doll of her mother Ayoka and her grand-father, who passed away.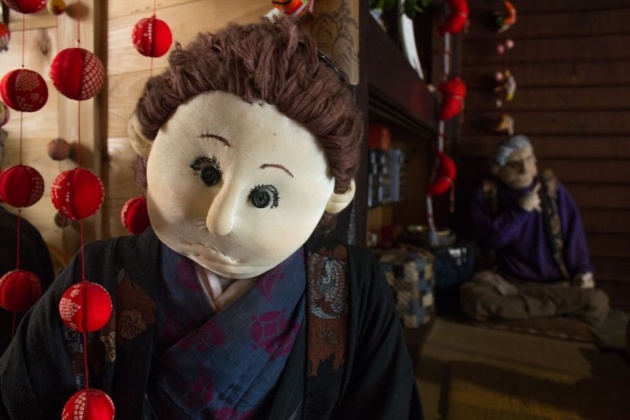 ( Photo Credit: google.com )
The doll in this picture is the replacement of Tsukimi's mother. The dress she is wearing is called kimono. It is an actual kimono that her mother used to wear when she was alive. She is still with Tsukimi but as a doll.
School of the town
I feel very sad about the only school of the town which is deserted since 2012 after that the school is occupied by dolls. The building of the school is full of dolls. You will see the dolls having a parent-teacher meeting in the principal's room. Trophies and books are still there. 4 years ago there were merely two students left and when they left the village they crafted their own dolls because they thought it would be a nice idea for the rest of the villagers to come and see them after the school had closed and that's kind of emotional I think.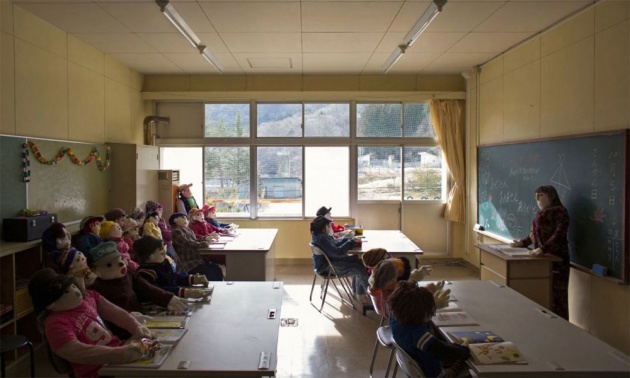 ( Photo Credit: google.com )
Here in this picture you can see the student dolls and their teacher as if they are alive but unfortunately the only school of Nagoro is full of emptiness. Therefore, Tsukimi ayano populated that classroom with these dolls to recapture the atmosphere. When Tsukimi was in school it was a lively town and there used to be a summer festival too. I hope to see the school populated with Humans in the future and to be resounding with children's voice.
Population of the village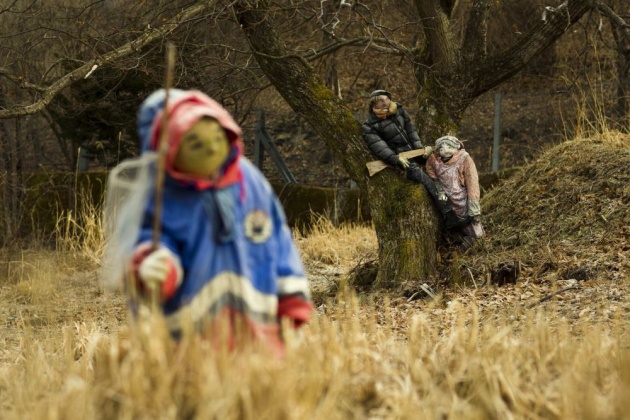 ( Photo Credit: google.com )
But the fascinating and weird thing I heard about this town is its population. The total population of humans is merely 30 to 35 and most of the them are old-aged and it sounds secluded enough. Now these dolls have been adapted in the form of everyday life. Nagoro used to be like a big city in the middle of the mountains when the Shikoku electric power company constructed the Dam in 1961. At that time they built temporary accommodation for the 200 to 300 workers who were involved in this project. The young moved to the big city, leaving only the old ones in the village. When the older villagers finally departed from this world, the village just turned empty. It is a problem in so many villages in Japan that the government even try to help promote villages so that people will go back and live there. So far I don't think the effort work that well for most young population (most of the work is field work and it doesn't seem they are interested).
Human likeness in dolls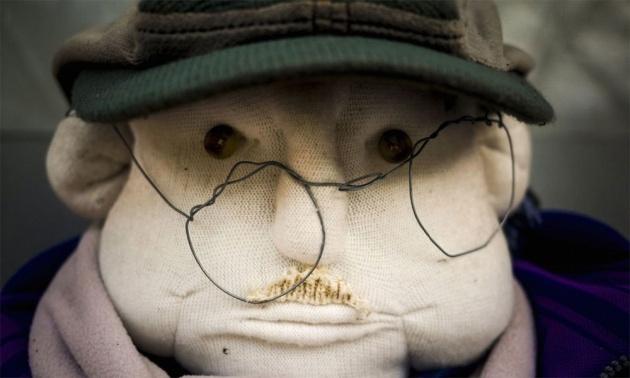 ( Photo Credit: google.com )
In this picture, you can see an old-aged scarecrow made with such a warm heart with real expressions, looking over the glasses at someone or something. We often see our old-aged relatives looking over glasses. As same as she endeavored to put realistic look in it with this expression. The quality of the hard work of Tsukimi Ayano, demonstrates in this picture.
Nagoro for tourists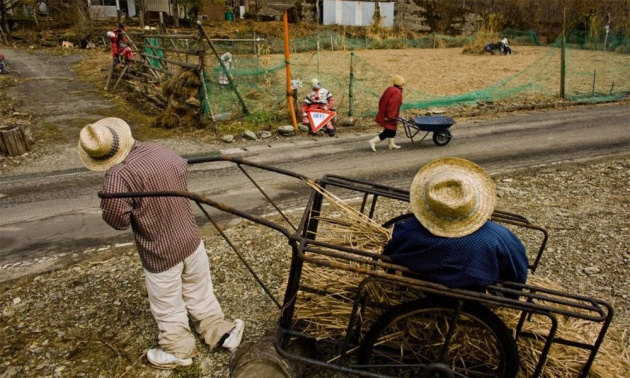 ( Photo Credit: google.com )
Since the handiwork of Tsukimi attracted a lot of overseas media attention. All sort of people have been coming to see them. Now it has become a well-known village for tourists in Japan. Every travel lover (including me) cannot help stopping their self to visit the village after hearing about these Human-sized scarecrows. Ah! Wish, I could go :-( . Tourists have started to come, drawn by the two delegates guarding the road leading to the village next to a board identifying Nagoro as "scarecrow Village". Meeting with Tsukimi Ayano is a must for every tourist who visited there. Visitors know they have arrived when they see the three farmers in floppy hats resting against a telephone pole by the side of the road. They're always there.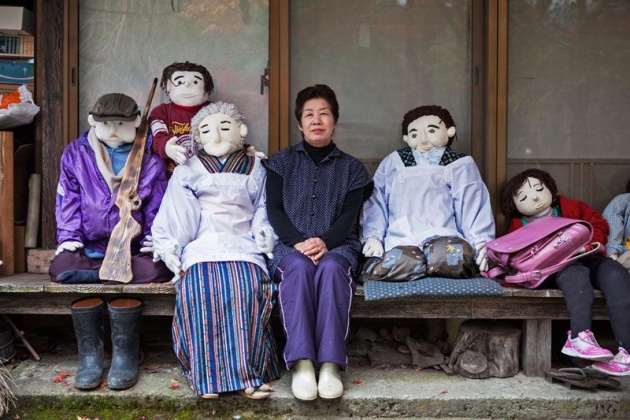 ( Photo Credit: google.com )
.
Last words!
Some people say the dolls are creepy and they're afraid and to me it does something so normal that a person does not wish to be alone.
More afraid I get people who instead of understanding, take it as a lesson of love of neighbor and wish for a better environment, so that no one will see the need for the lady, just once again shows that we have a social evil, and judge To sentence what is different as something creepy and scary, instead of opening ourselves up and be a little empathetic.