Fluo-Diving - A Brand New Science - A unique Dimension
Experience a new dimension in diving so new and exclusive that more people have seen Earth from space than have seen corals in this totally new light! Fish suddely speak and coral communicate through fluoresecence.
Did you know a human has just three colour channels and binocular vision, whereas a mantis shrimp has twelve and trinocular vision!?...
Not only does Wakatobi have the most pristine reefs on the planet - and perhaps the only reefs on earth which are actually thriving, getting healthier, richer and more diverse each year - but now you can discover something so different and magical, that you will never see marine creatures the same way again. Taking you back to premier ocean discovery, we call it " FLUO-Diving".
Not to be confused with phosphorescence, or bio-luminescence, Fluorescence is the absorption of one wavelength of light (or colour) and the re-emission of another, totally different wavelength of light (or colour). A fluorescent object under white light reveals its true colour. But under near UV light, it absorbs the blue and re-emits a fluorescent colour, transforming the blue into a brightly glowing, totally different colour.
Thus, underwater, marine animals that fluoresce have the ability to convert one colour into an entirely different colour!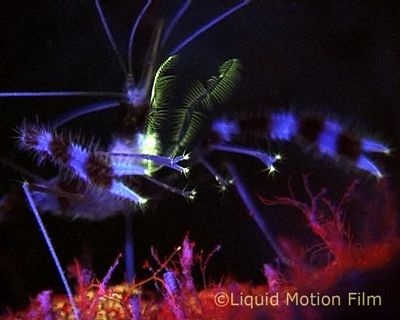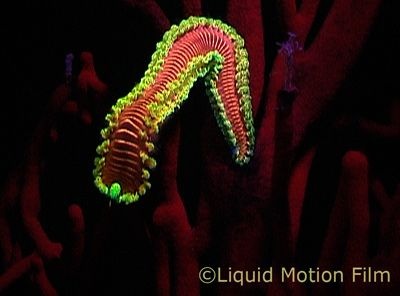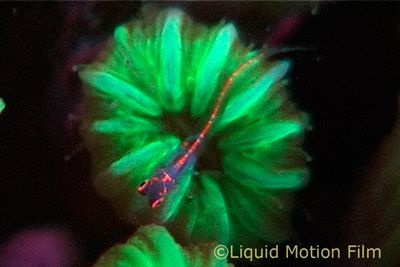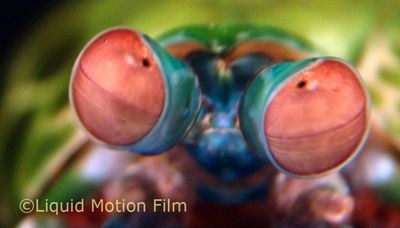 Dr. Charles Mazel Ph.D & leading Fluorescence Research Scientist & inventor of fluotechnology: "The odds of you going in the water and finding something, seeing some animal fluorescing, that no-one else in the entire history of the universe has ever seen is probably over ninety percent! Anywhere in the world. Simply because so few people have done this"...
The true reason for fluorescence in corals remains unclear today, but the reason for fluorescence in more complex creatures is completely obscure. The subject of fluorescence extends all boundaries in understanding and even now remains as controversial in the science community as it is fascinating.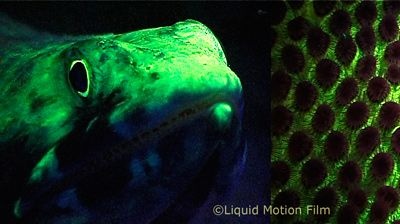 Wakatobi Resident Filmmakers
In what has been labeled 'the underwater series of the decade' and 'a pioneering breakthrough in underwater communication' internationally acclaimed cinematographers Liquid Motion Film recently brought the phenomenal imagery of underwater fluorescence to giant screens around the world for the very first time.
Working alongside the worlds leading Marine Research Scientists to unravel the mysteries of underwater communication, a 4 year journey of documentation and research culminated in international press, highest accolades, global recognition, over 35 major Awards and a revolutionary series which fast became a National Geographic Television exclusive.
Asking "Why are marine animals such incredible colours?", and conclusively proving that "colour is the prime cryptic language of the fish", Liquid Motions' Guy & Anita explored marine animals visual systems, unraveled crypsis and camouflage, deciphered how fish
change colour and pattern to express emotion and mood and, in a world premiere, for the first time ever, documented the integral role that fluorescence plays in marine animals daily lives. From Green Blennies becoming pink, to the exhilarating first ever 600m deep fluorescent shark, their vivid, electrifying images of marine animals changing the very course of nature enraptured viewers - yet only heightened
the ultimate questions of how they do this, and why.
Wakatobi Back to Premier Ocean Discovery
Last year, in a quest to live beside the worlds most pristine reef, with the planet's most stunning house-reef just footsteps from their door, Guy & Anita relocated to Wakatobi - and brought the special technology, know-how, cutting-edge equipment and this mesmerizing discovery with them.
New and exclusive to Wakatobi, join the pioneers and be the first to discover something no-one else has ever seen! Witness extraordinary behaviour, brand new science and mind-blowing phenomena the worlds leading Research Scientists are still striving to understand! Experience the magic of underwater fluorescence - "the inconceivable ability of marine animals to change one colour, into another"!
New creatures are being discovered every dive, every day. New discoveries are made, yet with each answer comes more questions. In an environment dominated by blue, bright colours are quickly absorbed in just a few feet, But fluorescence is a way to maintain bright colours.
One of the worlds leading Research Scientists, Professor Justin Marshall, Neurobiologist, Zoologist, Doctor of Philosophy, Marine Biologist and the worlds leader in colour vision, visual behaviour, colour change, colour signals and more, theorizes: "For the fish, for the animals on the reef, being colourful is about really wanting to say something. They're using fluorescence as part of their colour communication channel. It's a way of being even more colourful than colourful" ...
During a recent NOAA Deep Scope Expedition, Prof. MIKHAIL V. MATZ PH.D , Research Scientist at the Integrative Biology Section of the University of Texas was around 1820' depth in a sub and, for the first time ever, came across a fluorescent shark. Why a shark at such depth would be using the subs lights to fluoresce is a total mystery to science, but perhaps since this shark's known to ascend up to 60 meters, where light IS available, we can theorize that his fluorescence may help him communicate and find some mates.
Comments from Wakatobi founder, Lorenz Mäder
"Having seen the UW fluorescence movies of Anita and Guy, I was of course burning to see this exciting new effect with my own eyes.
Taking my teenage daughter along for a thrilling lesson in physics made it even more fun; with the yellow filter over the mask and the eerie blue dive light in hand we started right off the beach.
Gliding over the reef top, hidden animals in screaming bright fluorescent colours were suddenly easy to spot - we felt like 007 with a secret weapon:-). The familiar house reef wowed us with glowing organisms such as soft corals, hard corals, fish, snails and others. I noted that some corals were glowing, while others of the same species were not; some hard corals would even show different patterns in individual corals of the same species! One really cool discovery was that the Pygmy seahorses show fluorescence and easily stood out on the fans! There is much more to explore and no explanations yet for these phenomena.
We spent a fun filled hour and marveled in awe the new discoveries - truly a new visual dimension in diving!
|Equipment Rental |Camera Facilities | Air Supply | Nitrox | Fluo-Diving | Technical Diving & Rebreathers | Deep Diving Slide Show |

No where else do you have such an ease of access to miles and miles of pristine reefs with diverse topography, life and highlights - in other locations you collect the good dive sites together over large areas with long and arduous boat journeys in between and might not even get close to what Wakatobi offers out there right at the doorstep.

Our house reef is world-famous. Some guests never go on a boat dive because the reef and wall right in front of our resort provides enough territory and diversity to keep them exploring for several days. There is no need to swim long distances. We even offer "taxi-boat" services to transport you to extended parts of the house reef.

Abundant and Diverse Marine Life

Biodiversity is a measure of the variety of species that can be found in an ecosystem. Wakatobi is located in an area that encompasses the highest coral reef biodiversity in the world.

What does that mean for the average diver?

It simply means that at Wakatobi will have the greatest opportunity to see the greatest variety and diversity of marine life. While diving at Wakatobi, you'll not only see beautiful vistas or pristine coral reefs, but also abundant colorful reef fish and rare and unusual cryptic "critters". New undocumented species are being discovered at Wakatobi.

There are other areas of the world where you can see larger schools of fish, bigger animals and experience more adrenaline-filled underwater "rides", but for shear reef scenery and marine life variety, you won't be disappointed with a diving holiday at Wakatobi.

Pristine and Protected

The entire Wakatobi region has been turned into a sustainable protected marine park. The local village and surrounding communities have "bought in" to the conservation plan and as a result, illegal fishing, reef walking and other activities detrimental to the coral reef have been halted. Part of your payment for staying and diving at Wakatobi goes back to the community to sustain and support this new way of living. Living in harmony and in respect of the coral reef ecosystem. For more details on our conservation program, Click Here

Live-a-board Adventure

Expand your exploration of the Wakatobi region on a live-a-board cruise.
Wakatobi owns and operates the Pelagian dive yacht. This vessel is based at Wakatobi resort and can comfortably accommodate up to twelve divers in spacious cabins Pelagian guests never feel crowded, whether diving on the reef, mingling in the common areas, or relaxing in the cabins. View our latest HD Pelagian video Click Here! To learn more about the Pelagian Dive Yacht - Visit the Pelagian web site.

TDI Technical Diving Services

Advanced and fully trained technical divers can utilize their skill by taking advantage of Wakatobi's new TDI Technical Diving Services. At Wakatobi we offer Advanced Nitrox diving in all oxygen concentration. CCR divers with Trimix certification can take advantage of Trimix (HeliAir) diluents and bailout gases. Advanced diving packages are available. Click Here for more information on these diving services.

Dedicated Professional Dive Staff

Our highly qualified professional dive staff are second to none in the industry. All of our dive guides are trained instructors, with an average of 3,000 dives each. Your safety, comfort, and enjoyment is their up most concern. Regardless of your skill level, they will take the time to make sure you have a great time cruising the reefs. For advanced divers, we also have instructor-level guides with cave diving and rebreather specialties. And naturally, all of our guides know the reefs of Wakatobi like the back of their hand. If there's a critter you have always wanted to see (like a pygmy seahorse?), they will know the place to find it.