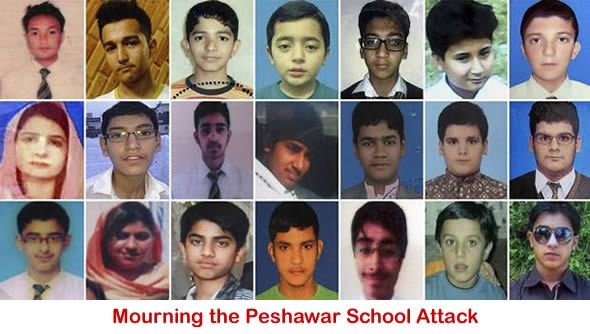 I learned on the six o'clock news about the attack on the school in Peshawar in Pakistan where the Taliban murdered and injured so many children.
The Taliban and other terrible terrorist groups are abducting and killing people all around the world, bringing grief and darkness. They all come from similar political and religious organizations that fund the supply of guns and other tools of war. These backers enable Taliban and the others to create dangerous environments for people, while encouraging the terrorists to continue to kill and bomb in the name of martyrdom.
The terrorists all have the same specific objectives. They are against a progressive world; they want to take control, especially in vulnerable countries that lack military forces to defend themselves, like Afghanistan.
They want all people to have the same backward ideas to suppress human rights and education. This is why they slaughtered 132 innocent children at the Peshawar school. It is why they bombed the French-funded Istiqlal High School in Kabul on December 11. A teenage suicide bomber detonated during a performance at the school condemning suicide bombings. It is the reason behind the suicide bombing attacks in the Paktia province of Afghanistan in September.
Through these attacks, the Taliban expects people to leave their jobs and stop sending their children to school. The Taliban wants to ban all forms of education.
Fortunately, the children of Afghanistan, Pakistan, and other countries are brave and will not conform to the terrorists' vision. The youngest generation is stronger than all those that have come before us. The Taliban will continue to fail in reaching them.
Pakistan, when you grieve, the Afghan people and the rest of the world are also in mourning.