What is a WebTV?
WebTV is a Web devoted to showing audiovisual content; It is a promotional tool that lets you create your own TV channel on the Internet with its own identity and without relying on other websites such as YouTube, Vimeo, etc.
The main differences and particularities of the web television with traditional television are:
Videos can have a layer of interactivity to the links they may appear or annotations in the video itself, depending on the software used to distribute.
Usually access the videos one by one and at any time, as opposed to traditional television where you had to watch programs at a certain time and one after another.
The formats tend to shorten with videos shorter overall.
Access to audiovisual content can be done through a variety of devices, most notably the Smart TV, computers, laptops, tablets and smartphones.
Measuring viewing statistics (audiences) can be much more accurate than traditional TV.
With the advent of smart mobile phones chats anyone can become micro issuer videos for small communities, which further expands the spectrum of web TV.
Hello my bitlanders friends. I hope you all are fit and fine. Here I am with a new blog post, in this blog I will tell all about web TV. As you have just read in first paragraph what web TV is and about its particularities, now I will tell you more about it.
Here is a Youtube video explaining what web tv is, watch and learn about it.
The most common audiovisual content created specifically for the type internet webseries are either real or cartoon image; variety shows with interviews and monologues with guests (very own Youtube, where we can find totally new genres such as the type videos are going to play or Let's play in English), and additional content to programs that are broadcast on conventional television. You can also find short films, television pilots trying to gain public attention or attract financing (sometimes using crowdfunding), corporate videos for companies, home videos very often fall or pets, parodies of commercials or public figures, or other minor genres.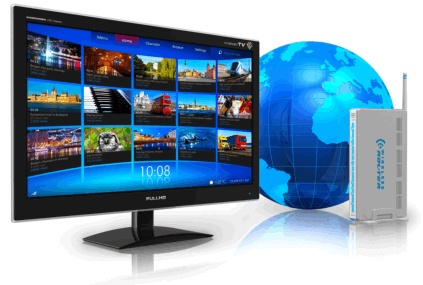 Here is an other Youtube video where you can learn how a web TV works, watch and learn.
A bit more about wed TVs in general: For cartoons and interactive animations Flash Player software is used for a long time (until 2005 approx.). During the years 2000-2005 the videos on the Internet are mainly distributed using the Microsoft Windows Media software. Since 2005 the Flash Player software mentioned also focuses on the distribution of video and Youtube and other platforms, they adopt becoming the standard for Internet video. From approx. 2010 this system coexists with the implementation of the HTML5 standard, which provides the basis for distributing mainly in the H.264 video format, although other codecs depending on the web browser used is also used. In smartphones, often you access the videos through specific applications.
Bitlanders Web TVs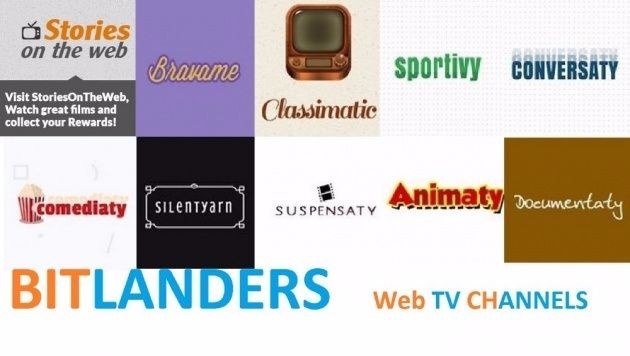 Now let me tell you about Bitlanders Web TV channels Which micky-the-slanted-salerno mention in his Blog, writing on those channels you can earn double rewards. All these channel have their own theme for showcasing independant videos and films, each one of them is its own kind.I will be giving you a detailed introduction to all these channels.Lets talk about channels now.
Bravame Web TV

Bravame is one of the those bitlanders tv channels which Micky listed in his blog. Bravame showcases more of animation videos and independant work or films, and than it then it has its own film channels for every genre of movies i.e sci-fi, thriller, comedy, drama web series etc.
Homepage screen short taken of Bravame.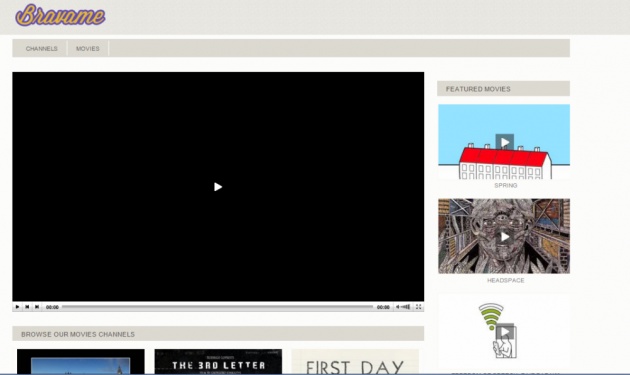 On Homepage (Here) of Bravame web tv channel you will see two options just below the channel's logo, one for channels and the other for movies. Click in Channels you will get access to all its channels for each kind of films like comedy, drama, thriller, sci-fi, horror and animation.
Here are links for Bravame web tv channel.
http://www.bravame.com - https://www.facebook.com/Bravame
Classimatic Web TV Channel

Classimatic is a movie channel for those who like more classic films and series. Classic movies or films considered as the the movies from past. It showcases old movies and it also its own channels for showcasing each kind of movies and videos. It also showcases carton videos and public domain movies.
Homepage screen-short of Classimatic.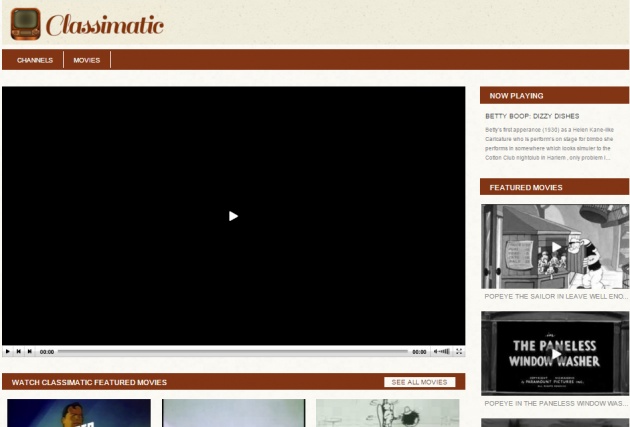 links for classimatic web tv channel:
http://classimatic.com - www.facebook.com/classimatic
Sportivy Web TV Channel

Sportivy is also one the bitlanders web tv channels. It showcases sports videos from competition matches and also videos of interviews with athletes. This is one of my favourites because I like sports and I like to watch sports video. Its showcases videos for almost every sport i.e. car racing, boing , judo karate and also extreme sports videos.
Homepage screen-short: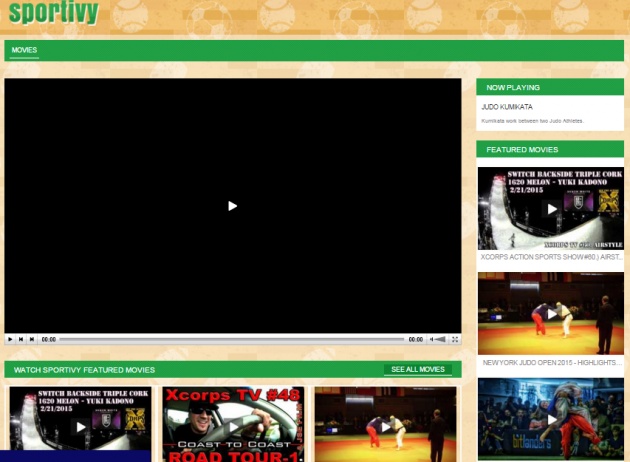 On the right and side of the screen it tell which movie is being showcased or played at the moment and just below that you have an option for the movies which already has been featured.
links for sportivy web tv channel:
http://sportivy.com - https://www.facebook.com/sportivychannel
Conversaty Web TV Channel

Conversaty is a web tv channel for interviews with showbiz celebrities or other well know personalities like business men and women and also sports athletes.It also showcases extreme sports videos. This is a very interesting channel to watch. You get to know of people you see on screen. Watching their interviews you get to know them even better and learn more about what they are working on at the moment. Like movie directors, actor, sports athelets the shared their upcoming events and tell about their upcoming projects.
Homepage screen-short of sportivy web tv channel: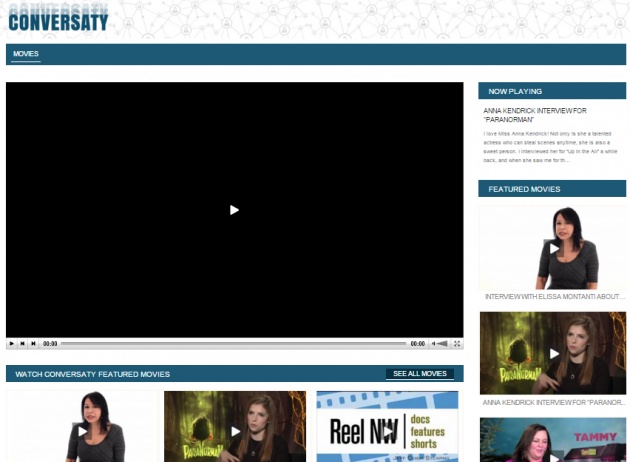 As you can see in thi picture above there is an option to go to movies and watch all featured movies if you have missed them.
links for the channel:
http://www.conversaty.com - https://www.facebook.com/Conversaty-1662829800619609
Comediaty Web Tv Channel

Comediaty, well you might have already guessed about this channel, Right! it is a comedy channel. It showcases anitmation videos along with comedy film. It has featured almost all kind of comedy films.
homepage screen-short of comediaty: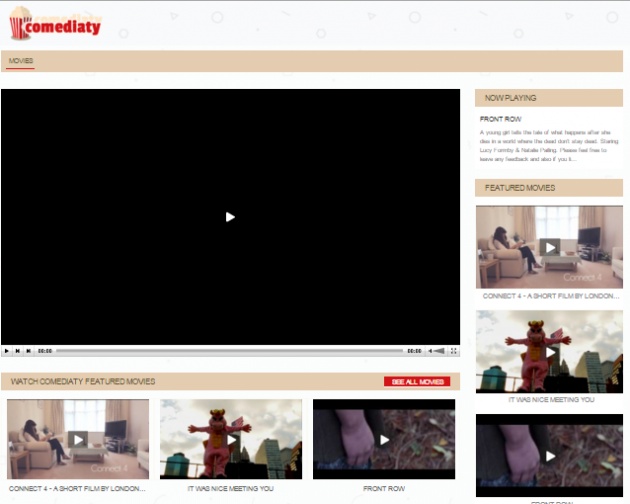 Looking at screen short you can see "Movies" option just under the channels logo. clicking on there you will be redirected to the all movies featured on the channel and can watch them anytime you want.
links for the channel:
http://www.comediaty.com - https://www.facebook.com/comediaty

stories on the web is channel where you can watch web series, independant films and also animation videos or films. It showcases web series episode by episode. You can watch any kind web series on this channel.
homepage screen-short for stories on the web tv channel: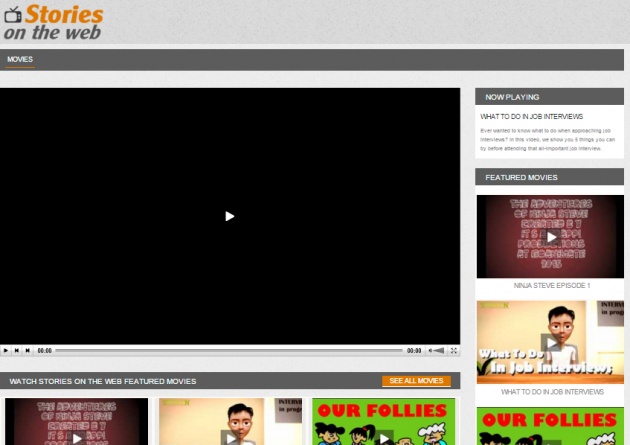 Just like others channel this one also has many featured movies which u can see anytime you want.
links for the channel:
http://storiesontheweb.com - https://www.facebook.com/WebSeriesOnline/
Animaty Web Tv Channel

Animaty is a channel more of animated films and videos as its name shows. showcases indepandant animation films and also classic cartoons.
homepage screen-short for animaty web tv channel: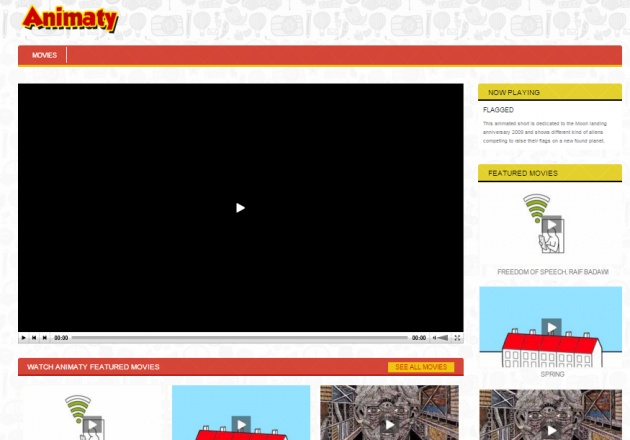 clicking on the "movies" you will be able to watch all the animation movies which have been featured by the channel.
links for the channel:
http://animaty.com - https://www.facebook.com/animatychannel
Documentaty Web Tv Channel

Documentaty is a channel which showcases documentaries about many topics related to sports, education, politics, environment, news and world issues. This is a very informative channel, watching documentaries you can learn about things, their history and facts behind.
homepage screen-short for documentaty web tv channel: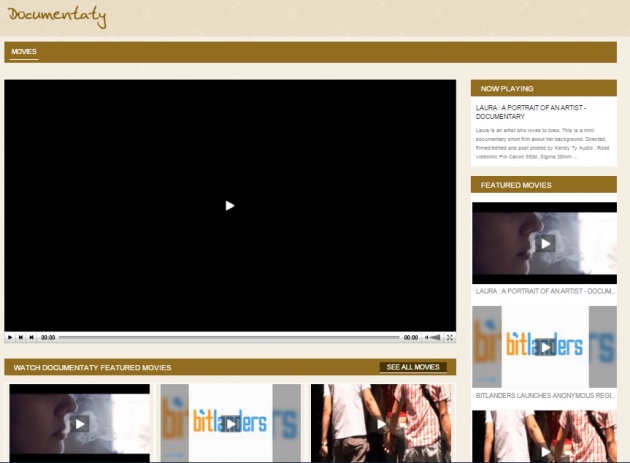 you can watch documentaries about various topics ont his channel.
links for the channel:
http://www.documentaty.com - https://www.facebook.com/documentaty/
There are two more web tv channels created by bitlanders which are Silentyarn and Suspensaty.


Silentyarn is a channel which presents silent classic films and Suspensaty is more of showcasing suspence and thriller movies.
now I will talk more about web tv channel's history.
History
In 2008, the International Academy of Web Television or International Academy of Web Television (an organization based in Los Angeles) formed with the mission to organize and support executives, actors, producers and authors of web television was created. The organization administers the selection of the winners of the Awards Streamy (Raudalosos Awards).
In 2013, Netflix made history by winning the first nominations for the Primetime Emmy Award for web site and television series House of Cards, Arrested Development and Hemlock Grove in the 65th Primetime Emmy Awards.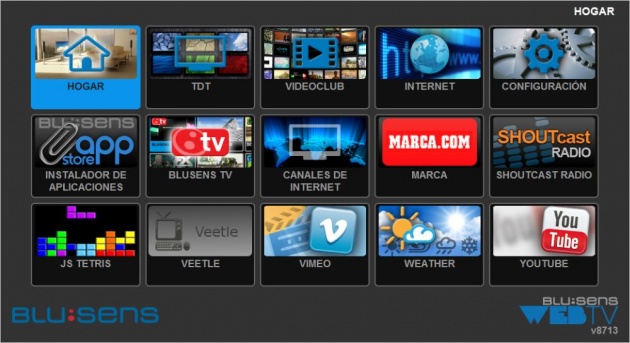 A series web or web series is a series created for distribution over the Internet, and is part of the emerging new medium called web television. They use scripts and are structured seasons divided into episodes, which can be called webisodes. They can be distributed for free via platforms such as YouTube or Vimeo, or by subscription or Netflix and Crackle. Being a new emerging medium marked the definition encompasses all production made for distribution for the first time on the Internet, so that is indifferent duration, thematic and gender may be real image or animation.
The standard Web format, seasons and episodes of series 5 to 15 minutes, has been delivered to the creativity and resources of its producers, so we see series with scarce resources but at the same time as other award-winning House of Cards, Netflix web television, which won nine nominations Primetime Emmy Awards in 2013. in relation to the success of the web series House of Cards and Orange Is the New Black stated: "the two stars fictions of the online platform Netflix haveIt made it clear that the traditional consumption model of the series, if there was any doubt, has changed. not only have premiered their second seasons to consume intact demand but competing on equal terms (quality, billing, actors .. .) with traditional series and also not issued a television."
The growing popularity of internet and the increasing quality of the technology to transmit video over the Internet has resulted in the distribution of the web series will be relatively cheap compared with traditional standards, enabling producers to reach a global audienceYou have access to programs 24 hours a day.
The emerging potential of successful web videos have attracted large ejetuvidos platform of entertainment in the United States, including former Disney executive and current manager of Tornante Company, Michael Eisner. The Vuguru Tornante division at Eisner joined the Canadian conglomerate Rogers Media on October 26, 2009, ensuring increased production plans for 30 new web programs annually. Rogers Media will help finance and distribute new Vuguru production of firna tak the connection between the old and new media will be solidified directly.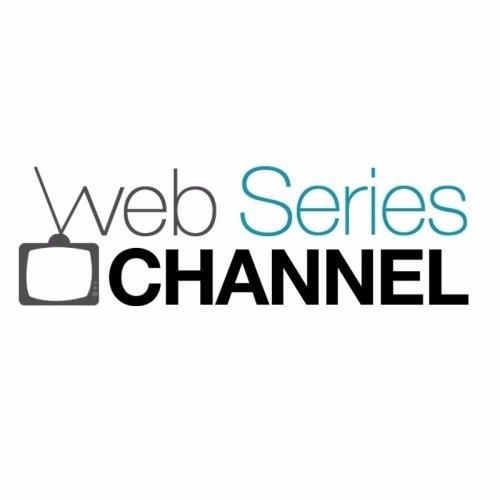 The web series have a rigid format as in other media. Its structure has changed over the years and is usually determined by the creators of the series in particular and the budget that you have obtained. Established that a web series is a scripted series specifically made to be released and distributed by internet we found a variation in their genres, lengths and audiovisual techniques applied.
In its most popular series are lasting from 3 to 15 minutes and your budget can be low or high. So as we lonelygirl15 series with three seasons, a total of 354 episodes lasting contained between 2 and 13 minutes. At the same time have high budget series like those produced by Netflix and Crackle web television, you have created the first House of Cards and Orange Is the New Black, among others, on these two series and Crackle has created series like The Bannen Way and Chosen.
The webseries not have a specific genre, today we find a cross bet their creators. For example in Spain are the webseries "Pygmalion" and "Private Number" which are the first web series bet on Spain in the thriller genre. "The ennead" on the other side bet mystery. "Drakonianas Chronicles" by the fantastic medieval genre. "Tantalus" with a post-apocalyptic genre. Recently it has begun to explore new formats and is about to debut a web series of terror, as it has "Hex" a Venezuelan webseries and "Lost Souls" of Colombia.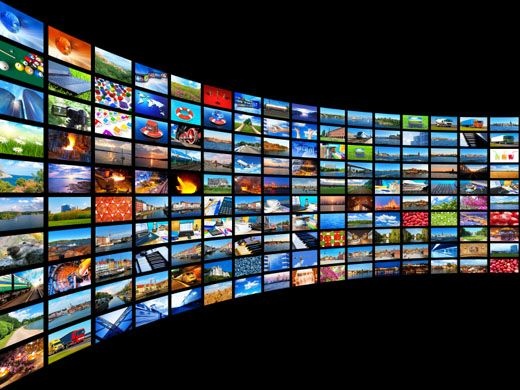 The web series videoblogs differ in that the former contain a script that guides the story as video blogs tend to be While there are many who confuse both genders is not the same as a web series that a videoblog but often share characteristics. The videoblog is a video where someone is facing the camera talking about what interests you talk, this is how LG15 began. While many web series not speak to the camera but merely to show the actions rather than to relate them.