It was almost 11 in the morning when I got the confirmed news from a source while I was in office at Sarai Chai Faroushi, Mandai Kabul.
"Yes, the gate has been reopened just now"
My cousin sitting besides me also heard and asked me if he could come. I replied,
"Get permission from your dad, I would be happy to have your company on the way"
I was almost over with my packing when my uncle came and asked me if the news was confirm, Yes i replied. He looked at his son and said, "I will drop you both in 'Addah' (Eidgah). That sounded good, we set out at 11:30 and got a 'Darbas Taxi' from Kabul to Torkham, with lunch included in whole it's a 4 hour journey.
After travel recitations, we set out on our journey to Pakistan both having only "NADRA Afghan Refugee Cards and Student ID's" we were hopeful of having no trouble on the way. It turned out to be a very calm one though we were aware of the stories from last two days '27-28 December', regarding 100's of Afghan being refused entry at Torkham, both Afghanistan and Pakistan governments had agreed after the incidents of torture of both nationals across the borders not to allow anyone without legal documents.
On 27th December, many people returned back while some families had to stay in Torkham border on Afghanistan side for a night due to personal issues hoping they would be allowed because of emergency and some having patients, unfortunately they were not. With limited rooms and facilities available many of the refugees had to take shelter under the polio eradication center whilst some had to spend the night on the streets, it was terrible, worsening to their stay was the heavy rainfall at night that left them in a devastating situation resulting in the deaths of a collective 28 people that included 20 children.
"It really brought me to tears, Ah, in distress I uttered for the suffering of the poor Afghans"
The news left me perturbed as I was almost near, in a span of 10 minutes we reached and left for the border-gate where I came to know about the fresh restrictions by officials from both sides which was bad news for many Afghans who used to cross the border with Afghan Refugee Cards. The fresh restrictions stated that "None will be allowed to cross the border without a passport and visa"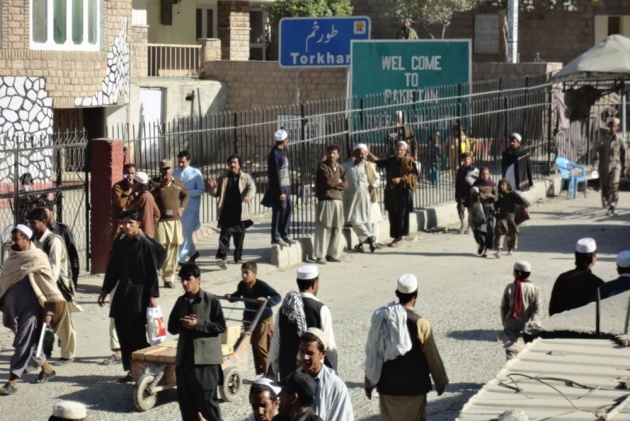 This really was discomforting news for us too, but we carried on walking towards the gate. Torkham was far busy today, On the gate, they let go my cousin because of his tender age, however, I was stopped and one of the officers (Khasadars) said,
"Show me your passport, C'MON!"
To this I replied,
"I am a student in Peshawar, here is my College ID and this is my Afghan Refugee Card"
In a heavy Pashto accident, one of the officer sarcastically replied,
"Da card de Pul-e-Charkhi ke Afghani Polisaano ta okhaya kum che emunga Pakistani passportuna oshlawal ao wewahal"
(Show these cards to the Afghan Policemen who beat Pakistani Nationals in Pul-e-Charkhi and tore their passports)
Why is he saying this to me, I thought to myself and replied indulgently,
"What does that have to do with me, Sir?"
One of the officers got very offended with my question and said,
"Give me 3000 Pk rupees or I swear if you could cross this border, I won't be a Pashtun, I won't be my father's son"
I persisted and asked him again,
Excuse me, Are you in your senses? What did I say wrong?
Without giving any thoughts to my questions, the officer started shouting, he said everything that came to his mouth, he finished all the abuses he knew against me, my family, my nation, my country and even warned me of tearing my passport and beating me...
I was shocked, illiterate he is, I thought to myself and In a calm manner I replied,
"Chill down, there is no need for abuses and beating. I am sorry if my questions offended you but I have to go home, it's an EMERGENCY Sir?
This got him really mad, and he started with his abuses again and swore not to let me cross the border. During this time I twitched my eye to my cousin who was standing silent all this time to inform the senior officer, he understood the sign and asked him to come. The senior officer looked through my cards and told him,
"He is clean, don't be to aggressive"
The senior officer went back but his comment not only calmed him but suddenly changed him as well, now he couldn't think of anything else against me and started asking for money. Hearing this, I offered him 200 Pk rupees note and crossed the gate.
I really felt bad for myself and all the Afghans who suffers daily despite having the authorized refugee cards from United Nations and Pakistan government, we are not only being forced to bribe them but also disrespected, abused and even beaten at many occasions. This is happening from the past 30 years, Afghans are being looted from the start at Torkham border then Chimkani Chowki, then by whole Pakistan police. I am speechless as majority of the Afghan officials with authority are unable to do anything despite all the sufferings the people go through.
It really was a learning experience for me from this encounter, I am fearful of the corruption and harassment.
Since that day, Torkham seems more daunting and disturbing...