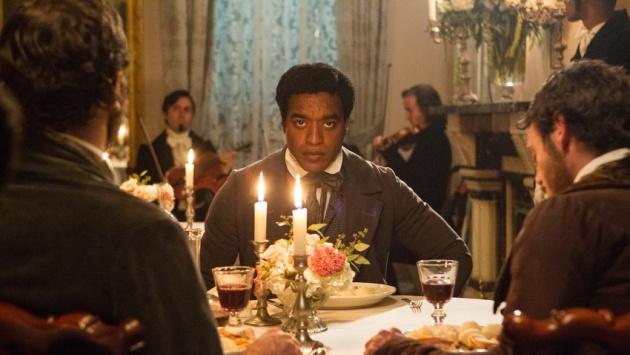 For reasons best understood by specialists in accumulated betting, the Golden Globes hold a particular place in the Movie Awards Season. They are the first. Actresses have to be careful not to peak too soon in their wardrobe choices because you can't wear the same gown twice – apparently. The Awards, given by the Foreign Press Association, an obscure group of journalists who reportedly fondle type-setting according to totally unreliable sources, are supposed to be 'indicators' of what will do well at the Oscars. Should we care? Could we not instead have 'indicators' in how to solve the crises in South Sudan or Syria? The Golden Globes are, of course, escapist trivia masked as something serious that is actually all about adding millions to the box office gross of some minority interest movies, but for the most part not ones that actually matter.
I watched the Golden Globes on something called E! TV (Channel 151) which I should explain to my Afghani readers is a form of torture. It is best described as sensory deprivation. Self-obsessed people praise or insult other self-obsessed people and have names like Kardashian, Lohan or Handler, which should be a firm of accountants. Commentators talk a lot about the Red Carpet, but we never properly see it. When they talk about weave, they are referring to someone's toupee. I am sure there are viewers who really want to hear about the fabric and its sound insulating properties of the carpet itself. Please don't sit next to these people at a wedding.
There was no clear winner in the film category. Leonardo Di Caprio was named as the Best Actor in a Musical or Comedy; he didn't know THE WOLF OF WALL STREET was the latter. Amy Adams won Best Actress in a Musical or Comedy and Jennifer Lawrence Best Supporting Actress, both for AMERICAN HUSTLE, which also won Best Picture (Musical or Comedy). Now if I worked in Bollywood, I would be peeved that my musicals weren't nominated; at least they have actual singing and dancing. The Best Actor in a Drama was Matthew McConaughey in DALLAS BUYERS CLUB, whose co-star Jared Leto won Best Supporting Actor. Leto apparently quit acting for something better only to be lured back by director Jean-Marc Vallee. Predictably, Cate Blanchett picked up the Award for Best Actress in a Drama for BLUE JASMINE.
The strangest presentation was to the absent Woody Allen who was given an honorary award for services to extended montage. Had he really directed 49 films? Call the accountant. Emma Stone introduced a clip reel and Diane Keaton in INTO THE WOODS get-up paid tribute to him by singing a song about a square which was, well, toe curling. Keaton sported long grey hair that was a cause for concern; it should have spawned its own celebrity appeal. I respect Ms Keaton's eccentricity; you have to wonder whether it was for a role.
12 YEARS A SLAVE was named Best Picture Drama because it was serious – none of that rolling around in space malarkey. We were privileged to see a shot of the teleprompter message 'Wrap it up' that was displayed when Steve McQueen, his actors and producers finally arrived to the stage.
I have to say something about the venue – it is too small. To get to the stage inevitably involved shaking hands with some A-lister for reasons I didn't understand. Some of the awards weren't broadcast in the United Kingdom, like Spike Jonze winning Best Screenplay for HER; presumably because we really wanted to see DOWNTON ABBEY and MASTERS OF SEX in the TV Awards come away with nothing. (Yay!)
The hosts Amy Poehler and Tina Fey did a reasonable job with jokes that flattered the audience or had been trialled on LATE NIGHT WITH JIMMY FALLON. The show came to life when Amy played Tina's teenage son looking for her father amongst the celebrities (Idris Elba, Harvey Weinstein). Mr Weinstein was, of course, beyond a joke – or rather, I should say, not the object of one.
The speeches ranged for the unmemorable to the forgettable, with blank faces in between. ALL IS LOST won Best Original Score. U2 won an award for Best Original Song for Ordinary Love (featured over the end credits of MANDELA: LONG WALK TO FREEDOM). For most of the winners, it was a long walk to the stage.
Some commentators get Award Fatigue by the time we get to the BAFTAs. I was there already. At the end, Tina and Amy were toasting each other in differently shaped glasses. I searched for the subliminal message.
The Golden Globes were held on Sunday 12 January 2014 without any musical numbers - phew