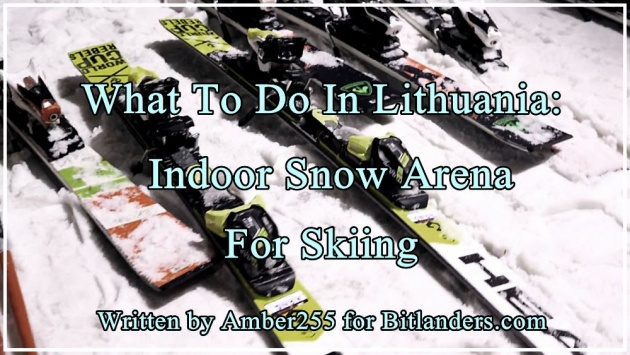 What To Do in Lithuania: Indoor Snow Arena For Skiing - Photo credit: Amber255 via Bitlanders.com
I already mentioned that one of my favorite activity in the winter time is skiing. I love it; I adore it. Unfortunately, Lithuania is not a country with mountains fitting for skiing, especially region where I live. There are not even any bigger hills; all around only forests and plains.
If to talk about winter sports, we have not any prominent champions. We are great in basketball, but skiing is not a kind of sport we are proud of.
Anyway, many of our people go to the mountains in Switzerland, France or other countries. I could not say that skiing is not popular. Even between my friends, there are some who love skiing and buy a package for winter resorts. Include me.
But this time, I will not talk about any famous winter resort. We have what to praise about too, even if we live in the very plain place. Yes, we have indoor winter complex named Snow Arena. It is in Druskininkai city, so pity it is too far away from my living place, but yes, I have been there a couple of times with friends. And our Snow Arena is the biggest indoor skiing arena in the Baltic region. It is well-known in our neighboring countries as we hold many winter sports competitions there.
Indoor Snow Arena, Druskininkai - Video credit: MY FAMILY TRAVEL ZONE via Youtube.com
A Little Info About Snow Arena
It was a very ambitious project to build an indoor Snow Arena in our country. But if to think, we live in the North where the snowy season is a usual thing here. However, we have snow, but we have not mountains. Fortunately, Druskininkai has a big hill where now staying Snow Arena. This region is more hilly than the western part of Lithuania where I live.
This is the only winter sports complex open all year round in the Baltic States. Three skiing tracks designed for alpine skiing and snowboarding are built on an area covering 8 hectares.

Credit: snowarena.lt
I think that the decision to build an all-year-round winter entertainment complex was right and started on time. We already had Water Park there, one of the biggest in Europe, and next to it now stays Snow Arena, also attracting many guests and our people. The ability to combine winter and summer entertainment simultaneously increased not only the attractiveness and competitiveness of the Druskininkai resort but also of all Lithuania as this city now is well-known in neighboring countries.
There are indoor, open-air, and beginner ski slopes in the Snow Arena, with a total length of 1 100 meters. Half a kilometer from Druskininkai, in Mizarai Village, we have three mountain ski runs: a year-round beginner track, main indoor skiing slope, and an outdoor ski slope. People can use the outdoor track at an air temperature of + 5 degrees Celsius. Average inside track's temperature in the Snow Arena is -2 ° C. Mountain height is 66 m.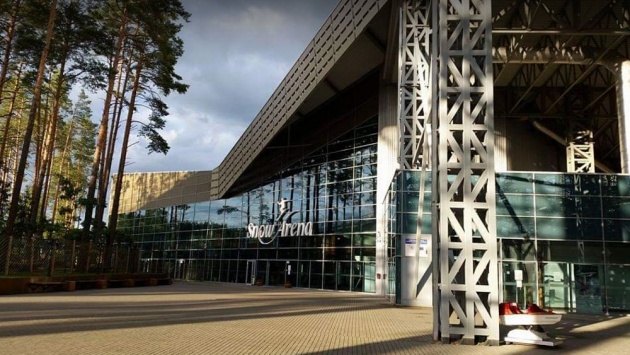 Indoor skiing arena - Photo credit: akcentcity.lt
There is also a snowboard park, a ski school, cafes, restaurants. One of them is at 47 meters high and allows you to admire the magnificent views from the terrace and through the windows while watching the lifts and the skiers skiing.
Our Snow Arena opened its doors at 2011. It is the first winter skiing entertainment complex operating all year round in the Baltic States. Together with cafes and restaurants, the complex can accommodate around 1,500 people at a time.
By the way, if you would like to entertain there, you can come even in festive clothes: you can rent the entire outfit and ski inventory on site. There are 1000 cabinets for personal belongings, changing cabins, and showers in the dressing area. The prices differ at summer and winter season.
If you ever thought that it would be interesting to try different winter activities, but have never dared to try, we encourage you to set your hesitations aside! You don't need to worry about anything. At the rental point in the Snow Arena you can find all that you need – including professional equipment and thermal gear.

Credit: snowarena.lt
Perfect tracks, perfect snow, perfect location - all in one!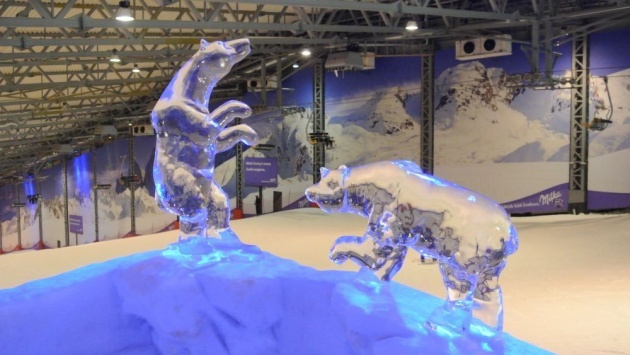 Indoor skiing arena - Photo credit: 15min.lt
The Cable Road To Snow Arena
In 2015, the cable road was opened to the Snow Arena connecting it with Water Park. The length of the cable Road which crosses our biggest river Nemunas is 1 km 165 meters.
The Cable Road consists of four closed, transparent glass cabins - gondolas with a capacity of 10 people. Gondolas rise to a height of 45 meters. They are made of clear glass, so they are like moving viewing platforms that allow you to see the Druskininkai panorama. The ride on the Cable Road takes about four minutes.
More than 200 people can be moved within an hour. A one-way ride cost three euros and a ticket way back and forth - five euros. Actually, it may be changed; this price was after Cable Road's opening when we visited and used it.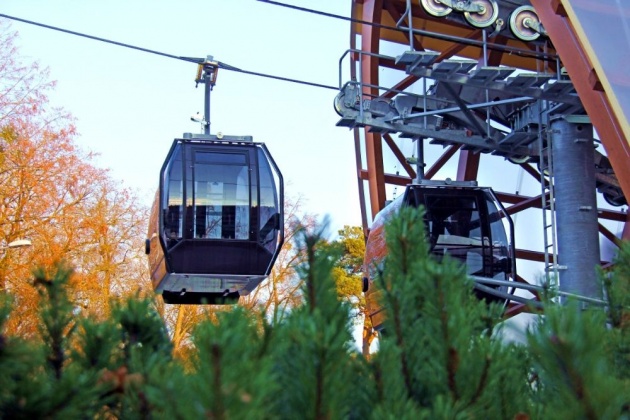 What to do in Lithuania - Photo credit: alfa.lt
Snow Production
For the snow production, Snow Arena uses PowderStar Series technology.
The snow machines produce white fluffy snow of the cold water and compressed air. The snow is very clean as there are not used bacterial or chemical additives to preserve it longer. This technology provides the opportunity to provide tracks with the highest quality snow all year round.
Every night in Snow Arena is going new snow's production, and we can see it directly through the installed webcams on the arena's website. The produced snow almost not differ from the natural one.
The average temperature in indoor skiing slopes is -2 ° C, so skiers better have warm clothing. Visitors who have not purchased a ski pass with equipment rental and have no skiing clothes or equipment can rent it at the rental point at an additional cost.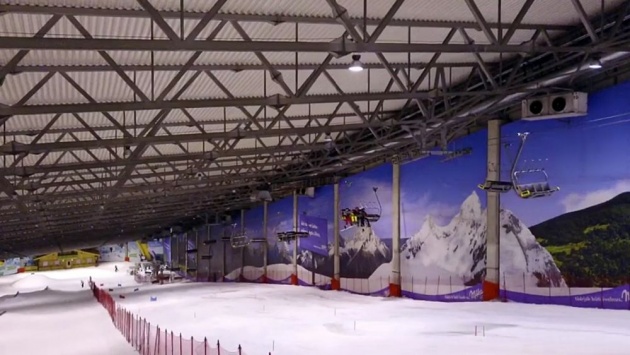 Skiing tracks - Photo credit: Amber255 via Bitlanders.com
Night Skiing And Competitions
Snow Arena organizes night skiing at an attractive price. Such night skiing brings over 1,000 winter sports enthusiasts to the arena in just a few hours. Every night in Snow Arena is going new snow's production, and it can be seen directly through the installed webcams on the arena's website.
Night skiing attracts skiers not only from our country, but we can hear many other languages of neighboring countries. People are well aware of low prices at night skiing. Undoubtedly, this entertainment is most appealing to young people, because the student is not used to sleep until morning. They do not need accommodation in Druskininkai - they return to their city by car in the morning and continue their fun there. And before that, in the night, they have fun in the cafes and on the tracks in the Snow Arena.
Night skiing takes place 10 months a year, once a month. The flow of skiers is from 1200 to 1660 skiers. During the winter months (3-4 months), night skiing takes place twice a month and both nights are getting a similar number of skiers.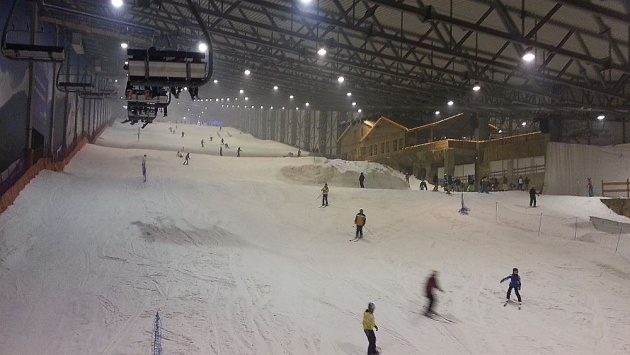 Skiing tracks - Photo credit: 15min.lt
Professional athletes from all over the world every day visit Snow Arena, such as national ski teams from Finland, Italy, Sweden, and Latvia. A few hundreds of athletes are training every day there. The requirements of these athletes and their coaches are extremely strict, but it looks the conditions fit them.
Also, there are going a lot of competitions, both local and worldwide. Preparing for these competitions is extremely difficult, the arena is checked several times and very responsibly. The international ski federation after checking the Snow Arena tracks several times gives their authorization for the competitions.
My Visit To Snow Arena
In my still quite short life, I had traveled a lot around the world. As I mentioned, I was interested in skiing from school time, when with my family we went to Alpine mountains for skiing. I always thought how it would be great to have some indoor skiing slopes in Lithuania. Yes, we have a couple outdoor skiing slopes, but Snow Park is kind of different. There we can ski all year round.
I heard a lot of feedback and read reports of perishable lifts, snow scarcity or not interesting snow park - so I did not rush. However, one weekend with a company with friends we headed to Snow Arena. It is better to see everything with your own eyes and try by yourself.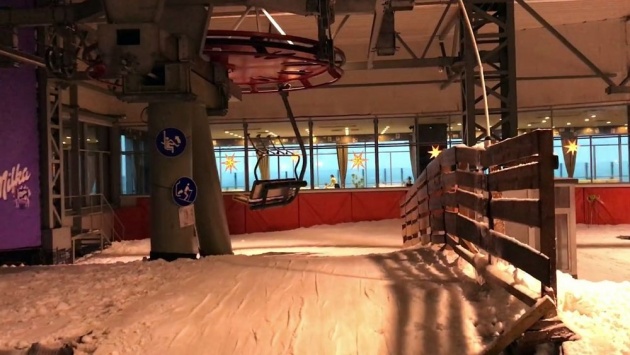 Indoor skiing slopes - Photo credit: Amber255 via Bitlanders.com
Tracks
At the moment, all three tracks worked because it was a winter middle and temperature outside was minus C. The beginner track is wide enough - 30 meters, good standing, but lacking in length. The Snow Arena site says its length is 150 meters, but the trouble is that it is split in half - the first half is great, but the second one is quite flat, so it's not much used. It is great to have a lift next to this track, for beginners it's just perfect.
The main track is wide enough, and most of our time we spent there. I loved it. The main track really did make a good impression. The width is quite enough, and the length is probably the longest track in Lithuania. The track itself is not boring. There was enough snow to have great descending.
The outdoor track is great too, with a big curve, so you feel great pleasure skiing there. And the surroundings are so peaceful, so nice. Just one big joy. The outdoor ski area pleasantly surprised. Snow Arena managers formed a layer of snow on average about 1.5 meters (in some places up to 3 meters) on the frozen basis of the track. Part of the skiers and snowboarders is skiing there. However, the snow is much easier inside, and the track is of higher quality.
I love skiing on skis, for me personally; it gives completely different feelings — much better than on the snowboard.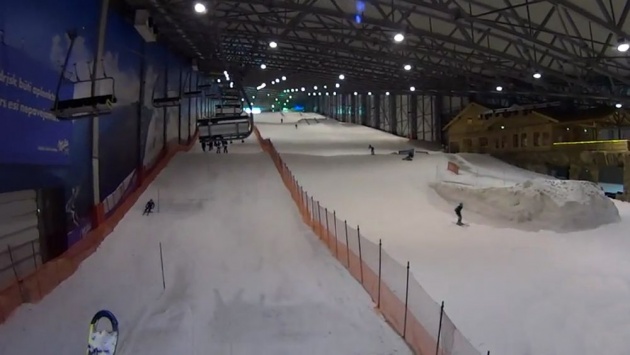 Snow Arena In Druskininkai - Photo credit: Amber255 via Bitlanders.com
Snow park
It's fun that we already have a snow park there. I know how many young people like making tricks with skiing figures. I am not a fan of snow parks; I feel more pleasure just from simple skiing. At the time of our last visit, there were six figures for adventure skiing: two low rails for children, one box, one thick tube, one table, and one triangular wall.
The figures and the accesses to them were kept under control and were fitting for skiing all day. Colleagues mentioned that the box and table were not slippery enough, but to me, everything seemed good, but I already mentioned I am not a fan so may my opinion did not count.
Skiing at Snow Arena - Video credit: 15min via Youtube.com
Outside the track
The common ski center system is simple and convenient. Enter, get paid for the time you plan to spend, and get a card that passes through all the gates and can pay in credit at the entire ski center for food, drinks, rentals, or any other service. When you leave, pay your accumulated credit, and you can leave, but you are kindly invited to return to visit again.
Inside, everyone can choose a locker with the same card and safely put the clothes, things, food, etc. There are also showers inside for no charge - come and go fresh and fragrant. It's a big plus. There are a few cafés in the complex; I recommend a bakery right next to the lockers - perfect, tasty pizzas. The Ice Bar and Carlsberg finish's bar are inside the main track for real ski enthusiasts.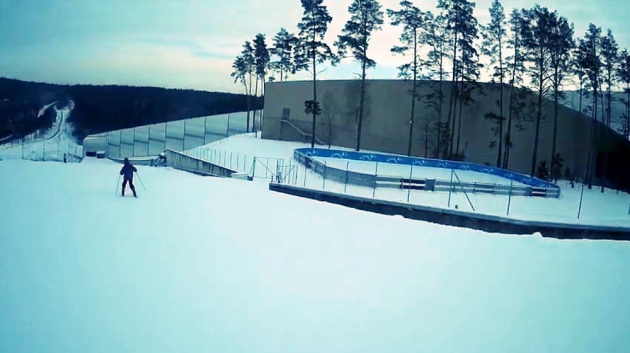 Outdoor skiing track - Photo credit: Amber255 via Bitlanders.com
On The Final Note
There are created real mountain views and impressions in the Indoor Snow Arena: the interior of the entertainment complex repeats the mountain town, where walking people get on the hill.
Of course, there is still room for improvement, and I hope Snow Arena will improve, but even what we have now is somehow delighting. We spent a perfect entertainment time there, and after the first time, we came back a few times more.
It is a complex of all Lithuania and this region, for which there are no analogs, and I think we will not have another one in the near future. When designing and constructing an infrastructure object, it is better to do it well or very well. You need to build a very large and even luxurious luxury if you want a real attraction.
The mountain is definitely impressive for those who have learned to ski. It's not like most of the indoor skiing slopes. It is not flat, but with a height reduction of 3 percent up to 23 percent. There are all opportunities to experience great skiing pleasure.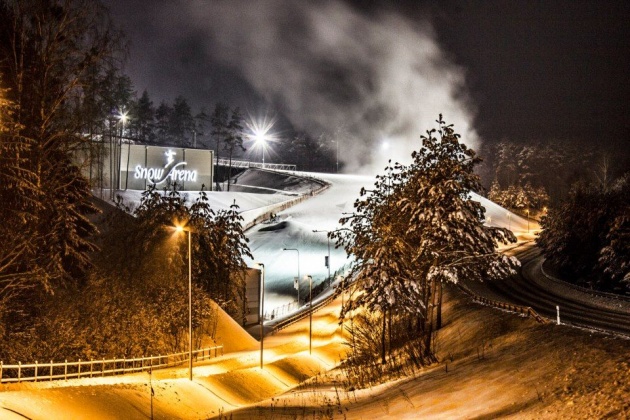 Indoor Snow Arena, Lithuania - Photo credit: 15min.lt
The Snow Arena itself is very beautiful. Everything is new, in good order, and it looks modern: from video screens and a children's playground to service and lifts. I would like to try the night skiing, but it is all in the future.
SUCCESS!
***************************************************************************************************
Thank you for stopping by and reading my blog.
2019, All Rights Reserved.
You are very welcome to join Bitlanders and share your valuable knowledge and opinion.
***************************************************************************************************