(Stares at the laptop for few minutes....)
Image credits: Brian A Jackson via Shutterstock
Before creating my blog account here in bitLanders, there are so many stories and ideas I wanna share. I told myself that I will enjoy since I have few things that I consider as my hobbies and interests that I really want to blog about. However, at the moment I clicked the plus sign to create my first blog entry, all the things I had in my mind were washed out! Is this normal for a first time blogger? Or is it just me? And actually, I even have no idea if I am blogging correctly. Maybe I should just stop worrying too much and just be myself, express my feelings and just type down all the thoughts that are coming out from my brain cells!
I'm Finally Blogging!

Image credits: mhaiiiself via bitLanders.com | Part of my room where I do my blogs
So here it goes, this is the real start. The first one is just a warm up. So now I will share why I decided to finally start blogging for real.
And Here Are The 7 Reasons Why I Want To Blog:
1. I

CAN

Write but

CAN'T

Speak So Well
Image credits:http://www.positivedifferenceiow.co.uk
This blog serves as my media to open myself to other people and my way to socialize. I love to socialize but I really don't have the skills to start a conversation and to speak well to the crowd. I also admit that I am bad at grammar, vocabulary so it is really hard for me to explain my ideas and share my stories well even with my friends. So this blog really helps me at least to be friends with strangers and to do the things I am comfortable doing which is sharing through writing.
2. I'm a Frustrated Blogger
Image credits: www.rightmixmarketing.com
I don't mean the literal meaning of frustrated. What I mean is that I dreamed of becoming a blogger but some things just came up so it will never ever happen. Well, we all have that aspirations in life, right? I never told anyone about this yet, but yes, being a blogger is one of my dream jobs. I just don't have the skills to become one, so I didn't pursue it. What I just did is just create my "puchu-puchu", personal, private, password-protected blog where no one can see the contents except me! Sometimes, I just suddenly write on my cellphone memo pad and on notebooks. Then I thought about blogging wherein I could just be myself, and like casually talking to some readers, endless sharing about my interests in life which may be boring to other people. But, as well blogging in a higher level with following simple rules, reaching the quota of the word count, and inserting appropriate pictures and videos, etc.
3. Can't Vlog so I Blog
Image credits: Tom Grill / Getty Images

Blog is the shortcut term for "web log" which means writing an online journal or diary to be posted on the internet. In the other hand, the word Vlog is a shortcut term for "video blog", which is very similar to blogging but instead of writing, you are creating a video to explain and share your thoughts and whatever things you want to talk about and then post it on your blog. It is really hyped nowadays especially on YouTube, there are thousands or even millions of Youtubers that are now on Vlogging.
One of the things that I really want to do is to vlog. But of course, I know I can't do well and maybe I can't even reach a hundred of views so I am contented with watching my favorite vloggers on YouTube. I just don't have the confidence to start vlogging because as you can see I am having a hard time in speaking. But who knows, maybe someday I will try simple vlogging but I will just post my vlog in bitLanders.
4. Earn Money
Image credits: cyberbuzz.com

Some of the people may always question this; "Is it true that you can earn money just by blogging?". There are bloggers that make it as their job with patience and hard work of course. Just take note that not all bloggers earn a lot of money, it really depends with how much dedication you put into blogging.
Personally, my answer to that is a big YES! Does it apply to all blogging sites, that thing is I am not sure about. But for me, in my case, this is legit! My friend, who introduced me to bitLanders, already used her money from blogging for her personal expenses. So here I am, trying to blog as well to earn money.
5. Exo Expenses
Image credits: https://weheartit.com/fresoo12

EXO is a South Korean and Chinese KPOP boy group, and they both sing in Korean and Mandarin. EXO expenses include EXO albums, EXO DVDs, EXO Photobooks, EXO Lightsticks, EXO Tickets, EXO Magazines, EXO merchandise, and any expenses I will spend for the love of EXO! I wanna buy all their albums including repackaged albums and winter albums but I can't because they are so pricey so I am stopping myself right now to spend money just for the albums. To save money, I even DIY some EXO merch to be added on my collection. The picture below shows some of my EXO merch that I did myself.
In the future, I don't need to restrain myself anymore, I can imagine myself buying the albums and everything I want without hesitations if I can save enough money from blogging.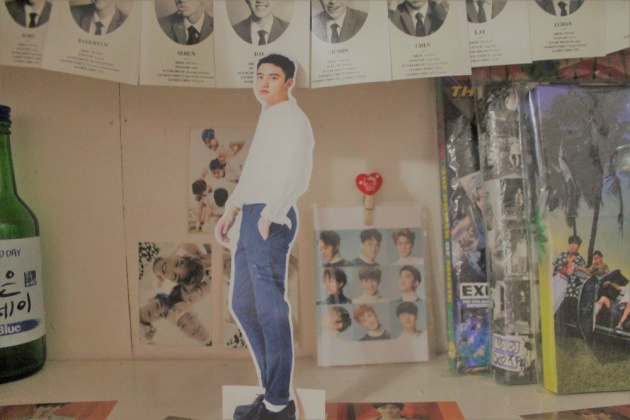 Image credits: mhaiiiself via bitLanders.com | DIY D.O Standee and Some EXO Photocards
6. Extra Savings
Image credits: Jessica Dang
"A penny saved is worth two pennies earned . . . after taxes. "

― Randy Thurman
Of course I know my limit when it comes to spending my money. I will not spend all my earnings for just EXO stuff. I will still keep an amount for my extra savings, even it is just small amount, it will still make difference when it is all added up.

Image credits: Happee Sy via Twitter
And this is my final and main reason why I wanted so bad to start blogging right away!
YES! You have read it right! I am really working hard to find ways to earn money so I can attend the Elyxion in Manila this coming April 28, 2018 at SM MOA Arena! The ticket selling is fast approaching and that will be on February 25, and I am desperate to earn money because my savings is not enough yet for the ticket that I want to avail. As of the moment, I am jobless and broke so here I am blogging my heart out. I don't want to ask money from my parents because my Nanay is against me going gaga over kpop group, so automatically my Nanay won't give me any single centavo from her pocket. Furthermore, if she'll discover how much is the VIP ticket, we will be in a World War 3 (hahaha).
Back to the concert, I am looking forward for to it and I should make sure that I'll see my boys. The reason is that, older members are going to enlist in military by next year so it will take few years for them to be complete in a concert. In addition to that, I have already seen the Elyxion in Seoul, in different places in Japan.. and their performance was so lit and perfect! I want to witness the moment with my own eyes! (See below video for some of the clips of their performance). And lastly, I just happened to read that once in your lifetime, you should go to a concert to enjoy life. It will be my first EXO concert because I am a baby EXO-L (name of the fandom of EXO). I've just joined the fandom last year, July 15. I will do separate blog for my EXO journey and maybe I'll show a small kpop room tour. (I am so excited for that!!!) and this is so special to me coz this is not just my first EXO concert, but also my first EVER concert in my whole life. Isn't it great?
Video credits: IndyKHJM M. via YouTube
Video credits: K14B06 M. via YouTube
Blogging is just one of the ways I know on how to earn money at home, so I grab this opportunity since it is FREE and CONVENIENT! I am just going to work hard and do my best! This whole blogging experience will going to be a happy ride. Please give me some love and support. Thank you!
This is how special EXO to me, my favorite singer in the world! How about you? I hope you could also share who is your favorite singer so we can exchange stories about him/her/them?