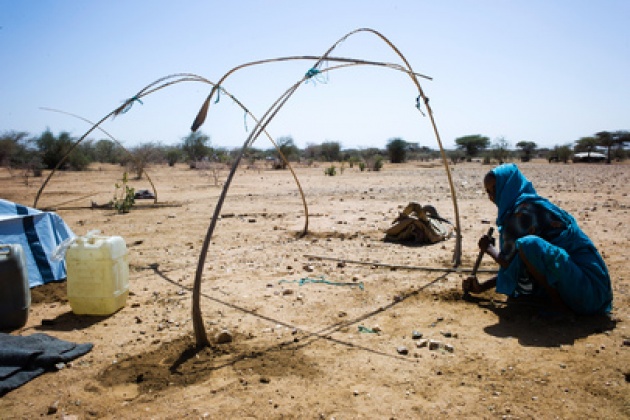 Urged on by the African Union, South Sudan and Sudan have apparently resolved at least part of their dispute over the transfer of petroleum. South Sudan had accused Sudan of "stealing" it's oil which was being transported via pipeline to north to Port Sudan and export. While petroleum may have helped both Sudan and South Sudan move forward from poverty toward development, it has manifested itself more as oil on a long simmering fire. See: "Sudan-South Sudan Sanctions" . Civil conflicts both in north and south have been escalating. Along with a lingering drought, a humanitarian emergency has been only becoming more dire – the UN's World Food Program has initiated air drops. In the meantime, health emeregencies are compounding the humanitarian situation.
Food Air Drops:
South Sudan is currently hosting more than 150,000 refugees from Sudan, many of whom have fled conflict and lack of food in their homeland. A large number of these are in Upper Nile State. To address the lack of infrastructure to deliver aid in South Sudan, WFP has been moving food to the camps on river barges, trucks and helicopters. However, the recent influx of 35,000 refugees into Maban County in the state of Upper Nile has sharply increased the food needs. The surge in refugees, coupled with the start of the rainy season has made movement of food into the area more challenging, the agency said. It will air drop up to 2,000 metric tons of food into Maban County, to allow vital food distributions for refugees who have fled Sudan's Blue Nile State. Last month alone, WFP supported some 105,000 refugees in the area, and the air drops will allow assistance to continue uninterrupted.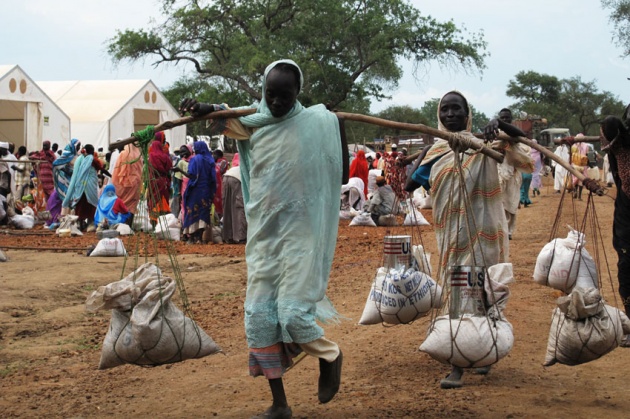 "WFP is pulling out all the stops to keep providing desperately needed food to refugees in Upper Nile State," WFP's South Sudan Country Director, Chris Nikoi, said in a news release. "Our food assistance has been a lifeline to more than 100,000 refugees in Maban County, but continuing that lifesaving support will require some extraordinary measures given the size of the refugee influx into an area with limited infrastructure.
Malnutrition & Illness:
Meanwhile, health workers have reported alarming levels of malnutrition among children in the Yusuf Batil camp in Upper Nile State, where many new refugees have arrived in a weakened condition and were battling illness. "People in camps have told me how they arrived weak and hungry after weeks of trekking and foraging in the forest before crossing the border," Mr. Nikoi said.
According to the UN's Refugee Agency, there are some 170,000 Sudanese refugees currently in South Sudan, with more arriving from Sudan's South Kordofan and Blue Nile states every day after fleeing conflict and food shortages. UNHCR has begun distributing more soap, jerry cans and blankets to over 8,200 families with children under the age of five in the Yida camp in South Sudan's Unity state, where health workers first saw a significant hike in death rates among refugee children in late June and early July.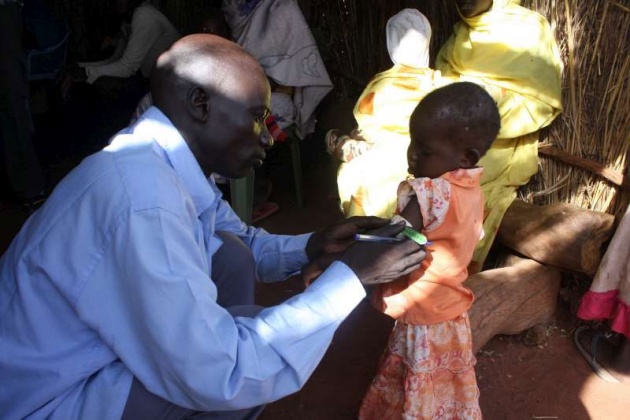 "We are targeting the most vulnerable refugees in the camp to improve sanitization and minimize the risk of respiratory infections in these households. The distribution of other supplies such as plastic sheeting and buckets will continue throughout the month," UNHCR spokesperson Melissa Fleming told reporters in Geneva. In the last three weeks, mortality and morbidity rates have stabilized and even decreased, as aid agencies took urgent action to address the root causes. "Nonetheless, the challenges remain daunting in Yida," said Ms. Fleming. "This remote border camp now hosts some 60,000 refugees from Sudan's South Kordofan state, a four-fold increase since April. Children form more than a quarter of this population."
1 in 3 Children Malnourished?
Refugees have been arriving in a very weak state – exhausted, dehydrated and malnourished. The rainy season has exacerbated the situation, bringing seasonal diseases to an already fragile population, according to Ms. Fleming. UNHCR is now planning to airlift an additional 8,500 plastic sheets and 15,000 mosquito nets for immediate distribution to the new arrivals. Many are currently sleeping under poorly-thatched roofs, which increase the risk of respiratory illnesses and malaria particularly among children under five. Meanwhile in Upper Nile state, one in three children is believed to be malnourished in Batil camp, UNHCR reported. Common health problems in this camp of 35,000 refugees include watery diarrhoea, respiratory tract infections and increasingly, malaria. To address the high malnutrition rates, aid agencies started a blanket food distribution across the camp last Sunday, followed by a therapeutic supplementary feeding program to help children recover from moderate acute malnutrition. In addition, some 12 per cent of children under five are receiving treatment for severe acute malnutrition.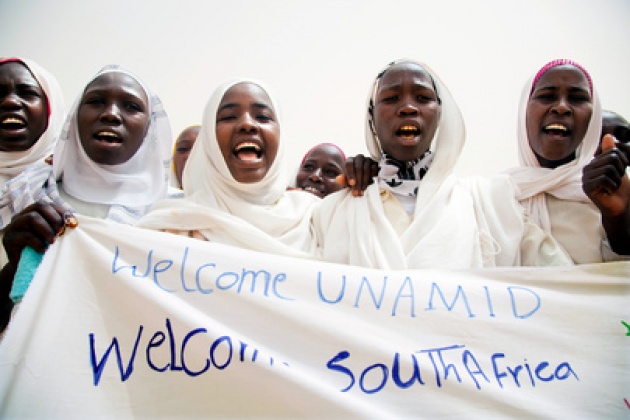 A Political Solution:
Overwhelmingly though in the border area of Sudan and South Sudan (as well as Darfur) the cause for hunger and malnutrition is a man made problem. Some have accused the current Khartoum government of employing hunger as well as conflict to further an ethnic cleansing campaign. Protests against the repressive regime in Khartoum have not as yet seen the Arab Spring flow up the Nile. (The Regime of Omar Bashir not so surprisingly has effectively sided with other despots looking to hang on to power, including Assad of Syria). While the current humanitarian emergency is addressed through a patchwork of aid agency efforts, the only real longer term solution is political change and a government accountable to all its people. The Khartoum Government has managed to lose half the country - See Blog for Video – "The Two Sudans: Separation Yields More of War-Less Peace". South Sudan's record as government and cascading conflictcs may not be much better, although it has had much less opportunity than the current Khartoum Regime to get its house in order. See Film for Blog Report – "Tribal War South Sudan" As for the now long standing Bashir Regime, not much has changed for the better either in terms of relations with the new South Sudan or its own citizens from Khartoum to Darfur to the border regions of Kordofan and Upper Nile states.
See our Blog for Film - "China Sudan Kingmaker"
Ambassador Muhamed Sacirbey - FOLLOW mo @MuhamedSacirbey

Facebook-Become a Fan at "Diplomatically Incorrect"







Twitter – Follow us @DiplomaticallyX







See more at our Popular Video Blogs & Current News Event Articles – www.diplomaticallyincorrect.org