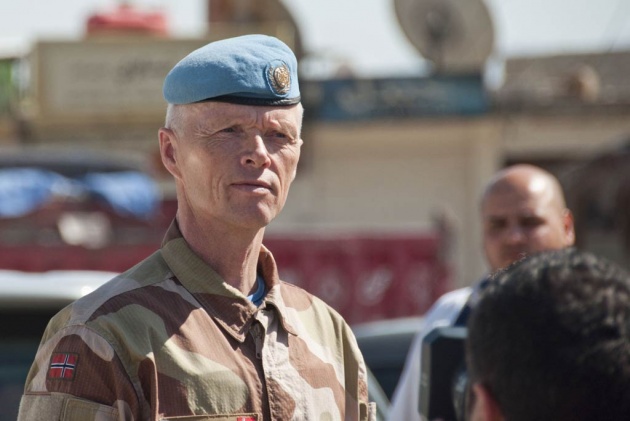 "UNSMIS is not a static mission – it will continually adapt and reconfigure to best serve the needs and aspirations of the Syrian people, and that is what we are doing now," Chief UN Military Observer Major-General Mood told reporters at a press encounter in Damascus according to UN News Centre. However, I question whether the UN Observer Mission in Syria has a mission left in Syria. The comments of the General appear more defining a wish rather than a reality as the presence of observers in end proved largely irrelevant to the conflict and particularly ever escalating human rights abuses.
Do UN Observers have Legal Obligation to Report/Deter Crimes?
Perhaps the fault is not with either the General or the Mission. The UN Security Council has undertaken more cosmetic steps that indeed camouflage inaction. Nonetheless, it is appropriate to ask two questions:
---Why has not the UN Security Council referred Syria to the ICC (International Criminal Court) as both evidence dictates and the UN Human Rights Chief has demanded? See our Blog for Film – "UN Security Council Must Refer Syria to ICC says UN Human Rights Chief"
---As part of the UN Mission, does General Mood intend to have his Observers act as both witness and deterrent to the grave violations of international humanitarian law? (There is a growing view that UN mediators/observers are obliged to report and deter such offenses under international law rather than provide implicit acquiescence by continuing to act neutral in face of such crimes).
General Mood's statements appear to sidestep the latter question, but then it is also hard to take his comments seriously or as anything else than Mission save rather than a mission to save Syrians and Syria: "We will reinforce our presence into Regional Team Sites to give us, once our operations resume, the flexibility to effectively work on facilitating political dialogue and stability projects. "The escalation of violence, allow me to say, to an unprecedented level, obstructed our ability to observe, verify, report as well as assist in local dialogue,"
Redefining UN Observer Mission but to What Purpose?
According to the UN News Center Reports: UNSMIS will consolidate its eight local team site locations, spread out in different parts of Syria, into the regional locations, with monitors and assets moved from locations in Hama, Idleb and Tartus to boost the Mission's presence in other locations. Major-General Mood added that the consolidation will not affect the Mission's current mandate or the number of deployed personnel.
"The escalation of violence, allow me to say, to an unprecedented level, obstructed our ability to observe, verify, report as well as assist in local dialogue. When the Mission was established in April, we needed to locate in cities to establish and build contacts with the local populations on the ground and to get to know the geography and social fabric of the country. This was also very useful in monitoring the ceasefire, when it was adhered to, and reporting on violations." However, I judge General Mood's implicit assessment of the Mission's success as too generous regarding its success and too optimistic regarding its potential for the future, at least as currently defined.
"Now, we are in a situation in which we have the contacts and knowledge, but we have no ceasefire," offered General Mood "So it is time to stop spreading ourselves out too thin and restructure in a way that will allow us, once we resume our activities, to conduct targeted tasks that require longer periods of stay in particular area as well as larger number of observers, specialized in a variety of civilian and military affairs."
Could General Mood's Optimistic Picture be Timed to Need to Renew the Syria Mission Mandate?
UNSMIS initial 3 month mandate will expire July 20, and the is due to review the extension in the next few days: "Whatever decision the Security Council makes, the international community's continued responsibility to the Syrian people is moral as well as political. We cannot and will not turn our eyes and ears away from your plight and will continue our work to find new paths to political dialogue and peaceful resolution to the crisis."
However, I have to ask the obvious question, a kind of "emperor has no clothes" observation: Have Kofi Annan, General Mood and indeed the UN Security Council come to fear the end of the Syria Mission each for their own reasons more than the Assad regime is concerned about its effect on reining in its military and abuses? Milosevic, Mladic and Karadzic made a similar calculation for almost 4 years in Bosnia, Like any other, UN Missions are not immune to the first rule of bureaucracies – self perpetuation. Read our Blog for Film: "Institutionalizing Syria Conflict ala Bosnia"
Read our Blog for Film: "Disingenuous (In)Action Group on Syria Peace" ­
Ambassador Muhamed Sacirbey - FOLLOW mo @MuhamedSacirbey


Facebook-Become a Fan at "Diplomatically Incorrect"








Twitter – Follow us @DiplomaticallyX







See more at our Popular Video Blogs & Current News Event Articles – www.diplomaticallyincorrect.org