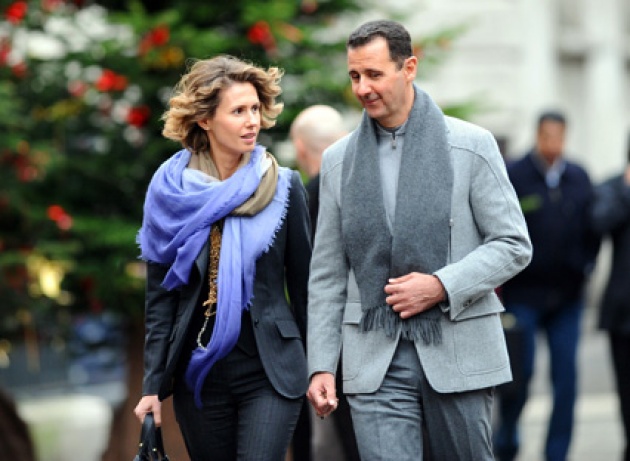 Asma Assad, Syria's First Lady and wife of despot Bashar Assad, has been called out by wives of UK and German Ambassadors to UN, (Sheila Lyall and Huberta von Voss-Wittig). Asma comes from prominent British-Syrian family. She has been strikingly silent in the face of a brutal campaign execute by her husband's regime, although hacked/leaked emails would indicate either a total disregard for Syria's ordinary citizens or some form of delusion. For a woman that at one time pressed forward her role as the progressive face of Syria's ruling elite, Asma appears to have shrunk from duty as enlightened, educated personality even as she stands by her husband without dissent. (Asma was born and raised in the United Kingdom. She had become known for her outspoken work on women's rights and education in Syria).
The two Ambassador's wives spoke publicly and through YouTube: "As the spouses of powerful men, we have the extra responsibility to speak out when we see our people suffering. I implore Asma to take a stand and call for peace, not only for the women and children of Syria, but for her own children, too," says Huberta Von Voss-Wittig.
The initiative of the two Ambassadors' Wives is somewhat unprecedented. Generally, UN Ambassadors do not speak/act on their own behalf, and spouses generally address cultural, educational and/or humanitarian causes. Syria and the actions of the Assad Regime still are highly divisive and viewed in political context. The wives may be consistent with the positions of the Governments their husbands represent, but they are not formally spokespersons for such themselves.


It also opens up the interesting, perhaps compelling, possibility of how will the wives act if it was their husbands/Governments that was being criticized for some action or inaction - for example neglect of Bosnia's plight in 1992-1995 or even now failure to have Syria referred to the International Criminal Court. Nonetheless, it is probably a positive evolution of the role of diplomatic spouse. Although not formally a representative of their government's spouses are still vetted. Further, they are limited in their ability to work privately outside of the diplomatic mission (if they want to hold private sector job, they must get permission from both host and their own government's generally).


Spouses, men and women, should not be defined exclusively by career/duties of their wife/husband. And, they might come to see their roles in more dynamic and perhaps more universal role as global citizen.Afterall, as Asma Assad should, we also must bear responsibility for our own roles and conscience.
Ambassador Muhamed Sacirbey - FOLOW mo @MuhamedSacirbey

Facebook-Become a Fan at "Diplomatically Incorrect"







Twitter – Follow us @DiplomaticallyX







See more at our Popular Video Blogs & Current News Event Articles – www.diplomaticallyincorrect.org